Cashy's Critical Care ER Bills
Our sweet baby Cash has fully recovered!!!! Thank you so much again for all your love, prayers, and support... You are all his angels. This is truly a miracle story with a very happy ending. We are forever grateful to each and every one of you!!!! XOXOXO
With infinite gratitude,
Taylor, Colleen, Jill and baby Cash
Cashy's first day back at the beach! :) Enjoying the beautiful day, warm sunshine and fresh ocean air: Romping and frolicking with his sister Veda and big brother Bas!! LOVE FROM US ALL!!! :)
Our sweet, brave little boy.. Home with his family, sleeping in the sunshine. ☀️ Miracles do happen. 🙌 It's said that a miracle is to choose love over fear. We experienced a true miracle this week with our dog Cash. He was poisoned by the most lethal neurotoxin on the market in the form of rat poison from a neighbor's yard. The ER vets had no hope for his survival. They had almost no belief that he could possibly survive this, and thought that even if he did he would have suffered permanent severe brain damage. They also quoted that the cost to try to save his life would be around 10k. The choice was in my hands, and every minute counted, time was crucial. Every cell in my body believed in my baby. That I had to give him a fighting chance to beat this. I thought, I don't care how much it costs, you don't know my dog, he can do this!!!! We immediately started the emergency detox treatment and started this page for him to raise the money to help save his life. And within the first 24 hrs you all donated over 7k to save my 7 pound baby's life!!!! Truly unfathomable what the power of prayer, love, faith and positive thought can do, no matter how dismal the situation. The doctors say he is a true miracle. I know in my heart that it's thanks to all of your prayers, faith, hope, love and support that he is still with us!!.... Because we BELIEVED that this miracle was possible!!!! Miracles do happen!!!! I learned one of the most powerful lesson this week.. That miracles are in our reach if we have the strength to choose love over fear. We are infinitely thankful to all of YOU... Cashy's guardian angels all over the world who have been praying for him and supporting his survival and full recovery. We are overwhelmed with gratitude!!!! ✨✨🙏🙏🙌🙌❤️❤️✨✨
MORNING UPDATE: FIGHTER ON THE ROPES...
Our little miracle is still fighting the good fight!! Cashy has been allowed to come home with us now to continue his care, as they feel it's best for him to be in the comfort of his own home. He is doing better but is not out of the woods yet. Cash is bedridden and sleeping most of the time, and has a healthy appetite which is a really good sign. He's still on a lot of medication, including an anti-seizure one that he takes 3 times a day. We are giving him 24 hr care, and doing all that we can to keep him comfortable during this fragile time. We are closely monitoring his lungs and breathing, as they have fluid in them as a result of the neurotoxin's attack. We are also testing his liver and other organ functions.
PLEASE CONTINUE SENDING CASHY YOUR LOVE AND PRAYERS!!!! WE KNOW IT HAS HELPED HIM GET THIS FAR: WE BELIEVE IT WILL CONTINUE TO ENCOURAGE OUR BABY CASH TO PULL THROUGH AND WIN THIS FIGHT FOR HIS LIFE.
THANK YOU THANK YOU THANK YOU.
WITH INFINITE LOVE & GRATITUDE,
HIS LOVING MOMMAS
NEW UPDATE!!! 
Miracles do happen. Cash is awake this morning, alert, and responsive!!!! He even was able to give me a little kiss on the nose. I know he can feel all our love... I know we are all saving him!! The response his page has received in the last 24hrs is unreal. Truly incredible. Beyond grateful. 🙌🙌🙏🙏❤️❤️
He's our little miracle. His doctors are in awe of his survival.. that he is still here with us today. He has totally opened their eyes to miracles being possible. ✨✨✨✨
THANK YOU THANK YOU THANK YOU.
YOU ARE ALL HIS ANGELS!!!!:..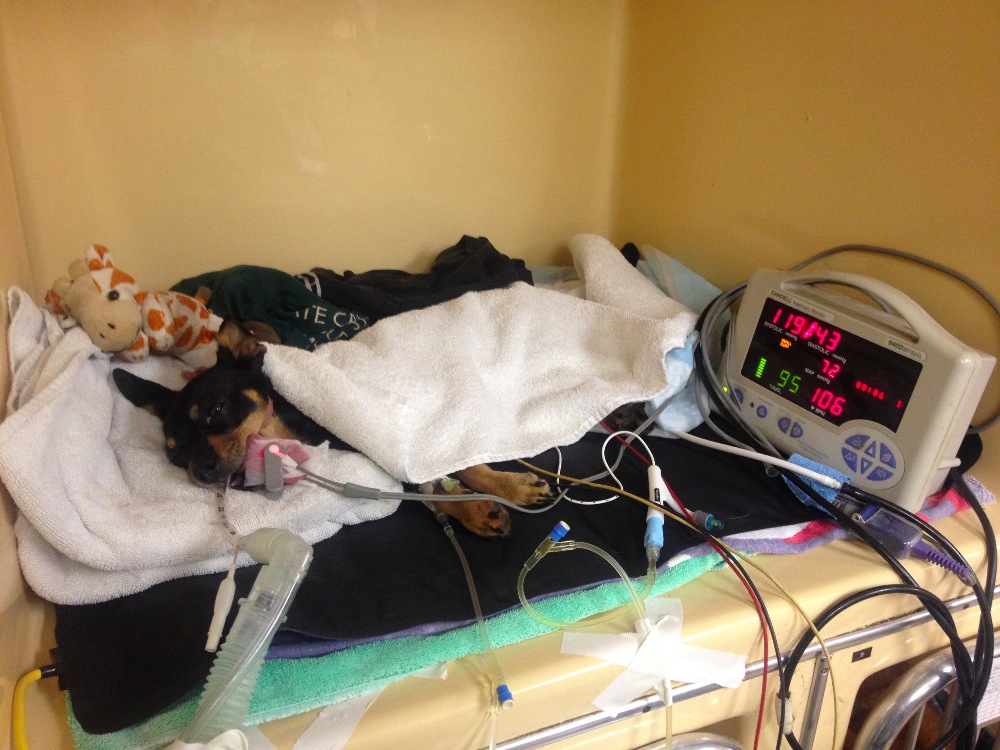 UPDATE: Our sweet boy is still fighting for his life, he is such a brave little guy, we know that he is feeling all your love and prayers, and is giving his all to stay with us. We can't thank you all enough for your support these past 24 hrs. We're overwhelmed with gratitude. Cashy is still in critical care and unconscious but his vitals are stable. All we can do now is wait and pray that when the doctors attempt to bring him out of the anesthesia the seizures will have ceased and he won't have any brain damage. It is a waiting game now, and we are on pins and needles, but are remaining strong and hopeful, and YOUR LOVE AND SUPPORT IS EVERYTHING NOW. So please KEEP PRAYING FOR CASH!!!
THANK YOU SO MUCH!!!!! YOU ARE ALL HIS ANGELS!!!!  
URGENT UPDATE: CASH HAS BEEN POISONED. HE IS CURRENTLY FIGHTING FOR HIS LIFE. SOME HEARTLESS PERSON SET OUT RAT POISONING IN OUR NEIGHBOHOOD THAT IS THE MOST LETHAL RAT POISON ON THE MARKET. THE 24 HOUR EMERGENCY CARE HE IS BEING GIVEN TO TRY TO SAVE HIS LIFE IS EXTEMELY EXPENSIVE. WE NEED ALL THE HELP WE CAN GET. PLEASE. THANK YOU!!!!
AND PLEASE PRAY FOR OUR BRAVE LITTLE CASH.... THANK YOU.
Cashy
A love so innocent and infinite,
A love so unconditional and simply joyful,
The purest form of caring and selflessness,
This is our dog.
Cashy is the sweetest, most loving little creature that will bring a smile on your face and laughter and joy into your heart. The love that he gives is unlimited.
Now it is different, Cashy has seizures that are not stopping.
The doctors are trying their best, but the life within his eyes is dimming. His spirit is lost within his little body. He is now in critical condition with uncontrollable seizures that just won't stop. There are more drugs being pumped into his little 7 pound body than imaginable. He has now been put under in hopes to stop the violent convulsing, and is being monitored closely in the ER.
We need your help to bring him back to us. Please help in any way that you can during this difficult time, so that we can provide all the care and support that he needs.
We would be beyond grateful.

Thank you,

Jill, Colleen, and Taylor

Organizer
#1 fundraising platform

More people start fundraisers on GoFundMe than on any other platform. Learn more

GoFundMe Guarantee

In the rare case something isn't right, we will work with you to determine if misuse occurred. Learn more

Expert advice, 24/7

Contact us with your questions and we'll answer, day or night. Learn more