***Update as of 11/5/14:
Wallace just arrived back home after spending a week and a half at University of Michigan Hospital. Wallace started retaining water and his kidney function was compromised so he was unable to get rid of the extra fluid. He was also retaining CO2 in his body and not receiving enough oxygen, so his first night at the hospital he stopped breathing and was intubated for almost three days. When the breathing tube was finally out the doctors worked hard and gave him medicine to get rid of the excess water. With the help of fantastic doctors, Wallace was able to shed 20 pounds of water, yes 20 pounds, and is now breathing on his own. His CO2 levels are going to continue to be monitored while at home and he will have to start wearing oxygen while he sleeps.
The Wallace Prough Story:
My father, Wallace, received a heart transplant on March 17, 1993, at the young age of 36 years old. This year was his 21st heart transplant anniversary which is an incredible feat! Although his new heart is stable, Wallace is dealing with another health issue; Muscular Dystrophy.
Wallace's Heart History:
Wallace grew up playing sports and staying active. Even while waiting for a heart for more than two years, Wallace remained as hopeful and active as he could, such as giving public speeches in a support group for transplant patients and their families. He even tried to go back to work, but was unable to perform his old tasks due to his weakened health.
In 1985, at the age of 29, with only one year of marriage under his belt and his whole life ahead of him, Wallace was diagnosed with cardiomyopathy, a vascular virus which caused shortness of breath and the retention of fluid in his lungs. As a result of this condition, his heart swelled and began to deteriorate and beat slower.
In 1991, Wallace was hospitalized at Henry Ford Hospital in Detroit for 11 weeks and during this time he suffered 3 cardiac arrests and had a "balloon" catheter inserted into his heart. Wallace continued to fight for his life with the help of a great team of doctors and the love and support of his family and friends at home waiting for him. Wallace was placed on the transplant list and waited patiently for 2 years until finally receiving a new heart.
Muscular Dystrophy:
In the early 2000's, Wallace began having difficulty going up stairs and sometimes would just fall out of nowhere while walking. He knew something was wrong. After many tests, the doctors finally realized he had a rare form of muscular dystrophy known as Becker Muscular Dystrophy, a variant of the better known Duchenne Muscular Dystrophy. Becker MD affects voluntary muscles first in the hips, pelvic area, thighs and shoulders, the calves are often enlarged, and the heart is also impaired from the disease. Most people with Becker MD survive well into mid-to late adulthood, however Wallace's cardiac history complicates matters. Becker MD is actually the root of Wallace's heart problems, which answered a lot of unknown questions from the past.
Since diagnosed with Becker MD, Wallace has continued to win little battles. He waited as long as he could before having to resort to using a cane. When the cane became too difficult to maneuver and his falls became more frequent, he finally allowed the use of a wheelchair. Today, Wallace is unable to walk on his own. To leave the house his son and wife have to physically pick him up and put him in a wheelchair. His arms and legs are still strong enough to operate a vehicle, so his last true sense of freedom is driving.
What else?
Since the heart transplant and being diagnosed with Becker Muscular Dystrophy, Wallace underwent a few more medical procedures. Wallace received a triple bypass on his transplanted heart in 2005, a very serious procedure that he barely pulled through, and two years later in 2007, a pacemaker was implemented to regulate an irregular heartbeat.
Our Goal:
The Prough family is reaching out to incredible people like you to help raise $40,000 for Wallace. With the little time Wallace has left in this life, please help us provide him the gift of mobility and freedom! Growing up active and energetic, the worst challenge for Wallace is his inability to walk. All the money will be put towards renovating Wallace's vehicle to be handicapped accessible and to provide him with a motorized wheelchair that will allow him to maneuver in and out of the house.
Help Today:
Think about day to day activities you do on your own....now think of how hard they might be able to complete without the ability to get out of your own house without the help of another. Wallace wants to spend what time he has left out of the house, spending precious time with friends and family. Some of his greatest moments are being out on a golf course with his son, or going out on the town with his wife.
It has been difficult to watch Wallace slowly weaken before our eyes. Anyone that knows Wallace cannot even believe he is dealing with such a horrible disease because of his unbelievable personality and positive spirit. Wallace is a fighter and always puts his friends and family's needs before his own. Help Wallace to enjoy this gift of life we are given - and we are forever grateful for your generosity!
A HUGE thank you from the Prough's:
Wallace, Kathy, Jeff, Ryan and Geena
(Wallace with first son, 1986 - pre medical problems)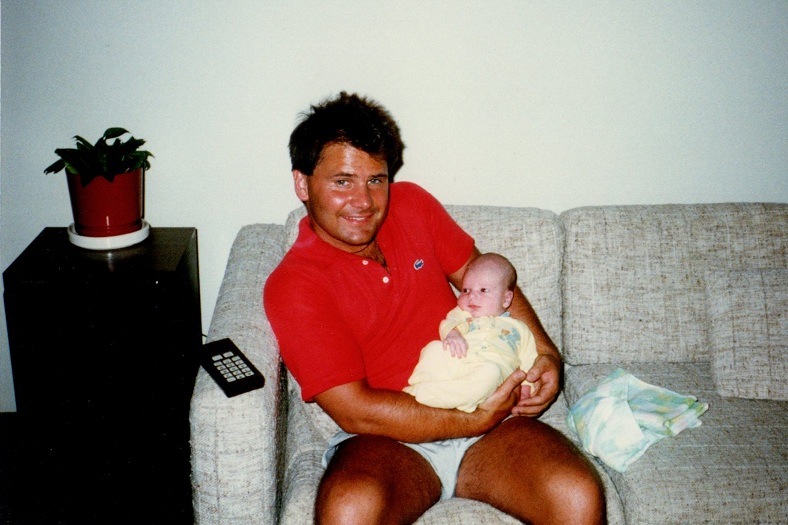 (Wallace and daughter, 1995 - post-heart transplant)
(Wallace and his sons 2005)
(Wallace and his Wife, 2013)
Rov, LeAnn, Allie, Annie & Mandi Granato 
Organizer
Geena Prough 
Organizer
Oceola Township, MI