We went to World's all because of You!
Molokai Gems: A Unique & Incredible Opportunity

Molokai kids are Diamonds in a Rough who shine but rarely get the opportunity or chance to let their light be known to the world due to lack of resources and exposure. These kids need your help to attain their dreams and pursue excellence despite insurmountable odds. The Molokai Middle School Robotics Team recently earned a great opportunity while doing something incredible and unique!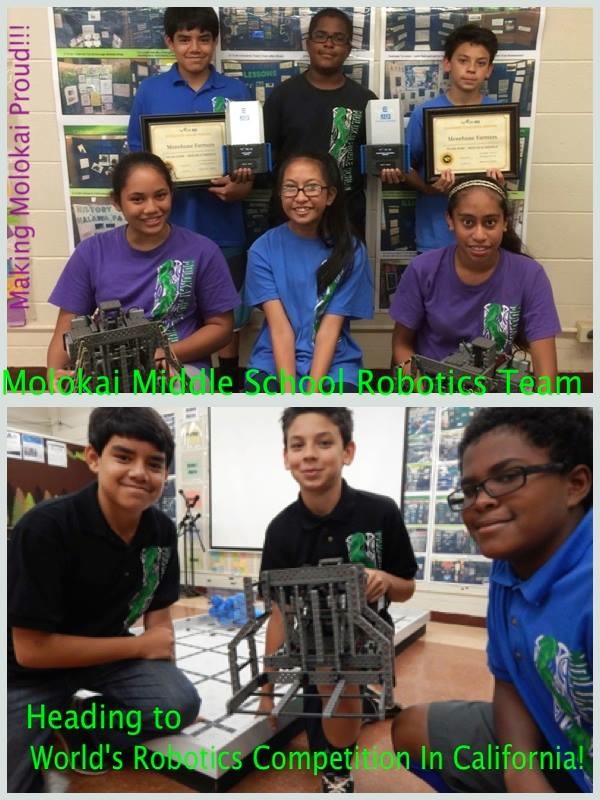 The Incredible & The Opportunity
The kids earned a spot to represent the State of Hawaii at the 2014 VEX World Robotics Competition in California. What an opportunity to be front and center competing against the best of the best on an international stage.
Exceptional and incredible indeed! They competed against big city schools and private institutions where other teams were handpicked and custom built to compete. They represented the only school from Maui County at States and will be representing the only neighbor island school at Worlds. And they did this all in their first year of being a part of Robotics. Placing and winning awards at the highest levels.
They've put in hours and hours of practice during recess and perfected their skills after school to prepare for this opportunity. But they need your help. And this is where you come in as part of their Diamond in the Rough Story.
Any contribution will help them showcase their special robots made in class and to exhibit their skills maneuvering their robots at the next level of Robotic Competition in California. You'll help expose them to a world bigger then their little ole' island of Molokai. You never know. One of them could be the next Bill Gates, Steve Jobs, and one of the great future Engineers & Scientists of the country.
The Unique & Where They Come From

They reside on a rural island where the population is a little over 7,000. A small island community with no traffic lights, no big chain stores and where the emphasis is on subsistence living & simplicity such as agriculture, fishing, hunting and cultural Hawaiian practices.
Many students at Molokai Middle School come from single-family homes and the lowest socio-economic levels in the State. The team members themselves comprise of Native Hawaiian Ancestry (about 80% of the school population is Native Hawaiian).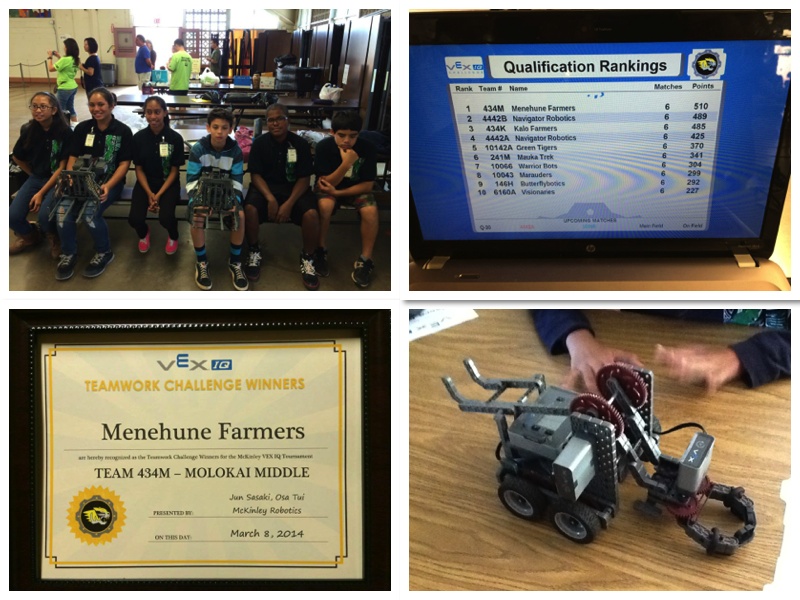 The Challenge for Opportunity

To get to every competition it cost money. Molokai Middle School is the only public school on island with roughly 200 students. Unlike other schools where costs may be only for gas for an automobile, each trip for these students means an airplane ticket or boat ride over miles of open Pacific Ocean waters. Just to get the chance to compete.
Rather than exhaust the small community who continually get tapped into with fundraising efforts, the team is reaching out to the virtual world for your help. Your contribution is really an investment rather than a donation. An investment into the lives of unique and incredible.....Diamond's in the Rough.
Mahalo and thank you for your contribution and support!
*ALL CONTRIBUTIONS ARE SENT DIRECTLY TO MOLOKAI MIDDLE SCHOOL BY GOFUNDME & WEPAY AND DO NOT GO THROUGH ME OR ANY OTHER PERSON INVOLVED IN THIS FUNDRAISING EVENT.
IF YOU WOULD LIKE TO DONATE BUT DO NOT FEEL COMFORTABLE WITH ONLINE TRANSACTIONS YOU CAN MAIL A CHECK TO THE THE FOLLOWING ADDRESS:
MOLOKAI MIDDLE SCHOOL (ATTN: ALICIA)
2175 LIHIPALI AVE.
HOOLEUA, HAWAII 96729
***Please make check out to Molokai Middle School and indicate on your check "Robotics Team Social Media - Gofundme". If you make an offline donation your contribution, name and comments sent by snail mail will be posted to this site unless directed otherwise and anonymity requested.
**Don't know much about VEX Robotics? Take a look at last year's World Robotics Competition Overview
Official World VEX IQ Championship 2013 Overview


For more information go to the following links:
Teaser Trailer Video

http://www.mauinews.com/page/content.detail/id/584293/Molokai-robotics-team-headed-to-world--international-competitions.html

Robotics Team Member Website
Team Facebook Page
Molokai Middle School Facebook Page

Vex Robotics Official Site

http://themolokainews.com/2014/03/20/menehune-farmers-vex-iq-robotics-team-heads-to-world-championships-after-record-setting-state-tournament/
http://themolokaidispatch.com/middle-school-robotics-going-to-world-competition/
Barbar Exton & John Barker 
Organizer