It's all about Addie...
It's all about Addie...or so she thinks...but the truth is Addie is only a part of the puzzle; she's the glue. 
Let's put the puzzle together: Addie is the pack leader, matriarch and soul of an incredible pack of 8 fellow K9 companions. She is now and has always been a fearless leader and an unstoppable force. She commands attention & respect from everyone she meets "" human and animal alike. To tell the true story of Addie's greatness would take years so we'll sum it up by saying her nickname is Miss Universe and she's earned it.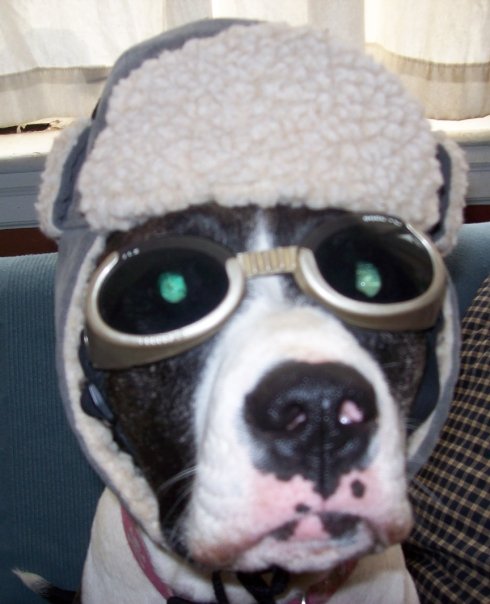 About a year ago, we started to notice some subtle changes in our Addie "" our usual eager, high energy girl was sluggish and lethargic, and had a serious loss in appetite - some days she wouldn't eat at all - even when we cooked her fresh chicken and salmon! We took her in for blood tests and the results came back with highly elevated levels of calcium, but after further testing, no one could find any cancers. And so began our "Mystery Diagnosis". We traveled from hospital to specialist to a number of different doctors to determine the suspicious nature of Addie's symptoms, but after a zillion different tests, several repeated ones, a myriad of hypothesis and thousands of dollars, we always ended up at a one dead end or another. Finally, this past Monday, we met Dr. Buckley and it seemed she had all the answers. She diagnosed Addie with a very rare disease called hyperparathyroidism.
Hyperparathyroidism is a disease that attacks the endocrine system. Essentially, it's an over activity of the parathyroid gland which results in excess production of the parathyroid hormone. PTH regulates & maintains calcium and phosphate levels. Primary hyperparathyroidism is a condition in which a tumor in the parathyroid gland produces excessive levels of parathyroid hormone, leading to hypercalcemia. The only successful treatment is surgery to remove any mass located on the gland or the gland itself.
Our darling Addie, has not one, but two suspicious mass's located on each of her parathyroid glands. She will need to have one whole parathyroid gland removed and the small mass on the other removed. While the surgery is risky, the recovery process is even harder.
Normally, we wouldn't bat an eyelash at maxing out every credit card we have in order to save one of our dogs, but it just so happens, that Addie is the third member of our pack to be diagnosed with a life-threatening illness in the past 9 months. In June, Texas "" aka Biggie Mama, was diagnosed with nasal cancer. We did what we could to save her, but our efforts fell short when she lost her battle in September. In July, Oden, our 4 year old rott x was diagnosed with a rapidly growing fibro-sarcoma in his front left foot "" to save his life we opted to remove his leg. And so Oden underwent a very taxing full frontal leg amputation. This month was his 6 month "Ampuversary". 
The costs for these two illnesses, their discovery and treatments have put us on par with a year or so of Ivy League Education and we've exhausted all our resources.
(This is our original pack of 9, [before illness, death and amputaion ], plus two rescues,  last Christmas)
Through all of our hardships, Addie has been the glue that holds our muddled pack of crazy, high maintenance K9's together. Each and every dog has a bond with Addie. Her strength, calm energy and generally excellent "Chi" guides us all through the changes, it helps us grow, and reminds us to never give up and always smile.
This plea to the generosity of strangers not only comes from us, her owners, but also from each of 7 pack members; especially her twin sister, Cherry Bomb, who simply can't and won't do anything without Addie.
Addie's "colleagues" & friends plea for her too; as our head training dog, it's Addie's job to go on training sessions to help other dogs in need. (Any of you watch Caesar Milan? She's our Daddy). Not only has she helped train and rehabilitate countless lost dog souls she's also in charge of assessing all new applicants to our doggie daycare, where Addie works diligently each day, even if she hasn't eaten a meal in days.
Our mission in life is to save dogs. We are avid animal rights activists and fight daily to help rescue, save, rehabilitate and re-home dogs in need. This past year our rescue, aptly named, Two Girls & 8 Dogs Rescue, gave second chances to 8 dogs. While that may not seem like a lot for most rescues; we're not a large organization "" it's just us and our 8 dogs "" every one of which was, themselves, a rescue. This year we are in the process of applying for our 501 (c)3 status so we can become official and accept donations. Until then and for the many years previous we've been rescuing, each rescue we've done has been funded independently by us. We take needy, mistreated, abused, aggressive, neglected & unwanted dogs into our home, revive, rehabilitate, retrain and find forever homes for each one. Every cost comes out of pocket; all medical expenses, vaccinations, nutrition, therapy, training, and basic needs are physically and financially taken care of, just as we do our own dogs, for as long as the fosters are in our care.
It's hard for us to even consider asking for help but at the suggestion of our friends we're posting this plea for help. We truly do not have the funds to pay for this surgery and giving up on Addie and letting her leave this universe simply because of a lack of money is inconceivable to us. She is our pack leader and the universe, as we know it, would crumble without her. Since it's taken over a year for us to discover this mystery ailment, Addie's case is urgent. She needs to have the surgery within the next few weeks. Please help us, help Addie live for many more years, so she can continue to help, inspire and guide our lost souls. No donation is too small. We thank everyone in advance for taking time to view Addie's story.

Organizer
Gert Schooley 
Organizer
Philadelphia, PA
#1 fundraising platform

More people start fundraisers on GoFundMe than on any other platform. Learn more

GoFundMe Guarantee

In the rare case something isn't right, we will work with you to determine if misuse occurred. Learn more

Expert advice, 24/7

Contact us with your questions and we'll answer, day or night. Learn more