Scott Valley Farm School
$2,010
of $5,300 goal
Raised by
37
people in 1 month
$5,300

Scott Valley Farm School, Innovative Learning Co-op

Funds for Classroom Set-up for upcoming school year (2019-2020): Classroom Furniture, Science & Gardening Tools and Hands-On Educational Materials

Scott Valley Farm School is an innovative learning co-op and we are in the beginning stages of building our dream learning environment. In order to provide our students and teachers with an engaging and functional learning environment, we need your financial help. We are dedicated to creating a beautiful classroom space filled with high-quality furniture and materials because we know that when children feel the love and care that adults put into creating an innovative learning environment, they feel more valued and respected. With your donation, our students and teachers will begin this next school year in a bright, inviting, beautiful classroom. 

At Scott Valley Farm School, we are dedicated to providing an functional and comfortable environment for our students. This means introducing child-sized tables and chairs that could be easily moved around and rugs and mats so that children can comfortable learning on the floor. Keeping our classroom free from clutter will be done by utilizing adequate furniture designed for storage. These storage options will be the right height for students and will create more available wall area for various display options. With your generous financial support we can provide an organized and beautiful, one-of a kind classroom.  

We will also be purchasing science and gardening tools to be used by the children around the farm. In addition, the funds we raise will go to purchasing engaging, relevant, well-designed content instructional materials including various Montessori materials. Montessori materials  are designed to broaden and refine a child's senses. These materials also allow students to solve problems independently, build self-confidence, and develop analytical thinking skills, as well as provide the satisfaction that comes from accomplishment. We believe in using high-quality, standards-aligned instructional materials. 

Parents and the teachers of Scott Valley Farm school are excited to begin building our dream classroom at the "Berry Patch" and we thank you for your support!!  You might not think of classroom design as having that much of an impact on a child's academic achievements or overall happiness in school, but it has been shown to help boost children's learning and concentration levels by as much as 16 percent. Your generous financial support will help our dream come true!
+ Read More
Update 2
8 days ago
Share
YOU GUYS! Thank you so much for your continued support - we are almost to the halfway point! Progress on the classroom continues as we are pushing to have the basic structure and paint buttoned up by the end of July so we can spend August getting the room set up.

Here's a few photos that are inspiring us on our classroom design! (Except of course with our amazing earthen floor...)
+ Read More
Update 1
28 days ago
Share
Wahoo! We are so grateful for everyone's support - THANK YOU!

A couple of weekends ago we began transforming our existing space into our future learning center...starting with an earthen floor mixed from clay based soil, sand, and straw right from the farm! We are lucky to have skilled and dedicated parents to help us lead this effort We can't wait to share more progress with you!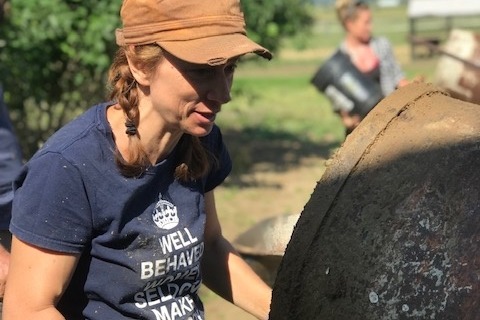 + Read More
Read a Previous Update