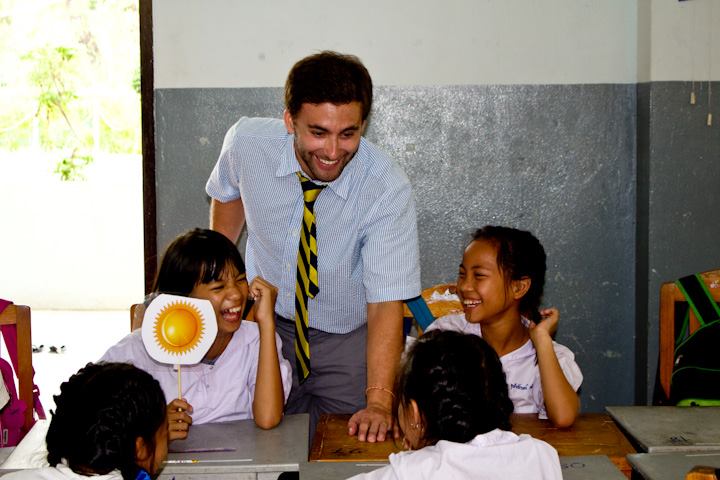 My name is Ben Jerome-Lee.  I have to say I am, in principle, against doing something like this.  I don't know if it's my pride or what, but initially I told myself I wouldn't.  But after all the figures have come in, and it's become clear just how much myself and my family have given, both monetarily and emotionally, that pride or whatever it was has given way.
In October of 2014 I travelled to Thailand to pursue my dream of teaching abroad, and at the same time come to a decision as to whether or not I wanted to make teaching my career.  I enrolled in a TESOL (Teaching English to Speakers of Other Languages) course in Hua Hin, about three hours south of Bangkok, and the first two and a half weeks went spectacularly.  I was making new friends as well as learning methods and strategies I would've never learned in an American classroom. Then on the night of November 14th, I and another member of the program I was in (Jacques) were hit by a speeding pickup truck while walking across the street. Jacques was killed, and I sustained multiple injuries, including several broken ribs, skull fractures, a broken leg, a destroyed knee, and a traumatic brain injury.  I was in a coma for five days, and upon waking up didn't know where I was, what had happened, or who the people who had gathered around my hospital bed were. I was stable enough, aided by the presence of my parents and my dear friend Katie, to return to the U.S. at the beginning of December.  After three weeks in the hospital in Boston, I made it home for Christmas.  Just over a month after my return I went back to Massachusetts General Hospital, and had comprehensive knee ligament work performed to repair my PCL, ACL, and MCL.
At the beginning of March, after several months of both physical and cognitive therapy, I was cleared to return to work on a limited basis.  For the rest of the school year I worked in an elementary school special education department, and then over the summer I worked as a waiter at a local restaurant.   
Halfway through September of 2015 I returned to Thailand, intent on teaching and finishing what I had started 10 months before.  I completed the TESOL course and taught a semester of English and Science to 11-year-old Thai children.  I am currently writing this from Myanmar, where I have taken a position that'll soon have me teaching English to a group of some 150 Ministry of Commerce employees.
Just recently, while I was I was in Myanmar, the court case was settled.  The Thai man who hit us has made it clear that he does not have the means nor the inclination to repay my family and me for everything that we have had to spend throughout this ordeal, and the Thai legal system just isn't capable of obtaining it.
I lost a friend, a year of my life, and my family and I lost over $30,000. That's including my medical expenses, my parents' trip to Thailand and back, lost wages, and my medical flight home.  The amount spent solely due to my medical expenses and road to recovery is $18,920.  So many people have helped me in my journey to both return to health and my return to Thailand, and in so many ways.  One of the ways help was offered was financial, but my family and I wanted to wait until the final court verdict was rendered.  Now that it has been, and the figures finalized, it has become very clear that we do need that sort of help.
Thank you.
Organizer and beneficiary