IF YOU WOULD LIKE A BAG OR T-SHIRT, PLEASE SPECIFY WHICH ONE AND WHAT SIZE IN YOUR ORIGINAL DONATION MESSAGE. THIS WILL SAVE ME LOTS OF EMAILS AND TIME. THANK YOU SO MUCH!
-JEN LABRECHE


Please support Yelena Kolodji and Kavita Noble.
Yelena Kolodji CNM and Kavita Noble CNM --two profoundly skilled and longstanding advocates of home birth-- are accused by the California Board of Registered Nursing (BRN) of practicing in the home setting without a "supervising physician". On February 7- February 14, 2014, they will appear before the BRN in Oakland, CA to defend themselves. Don't let them stand alone! Please help support them by donating to help with their legal fees. Follow them on Facebook as well:
https://www.facebook.com/StandByYourMidwives
Also, you can find all the information about Yelena and Kavita's hearing and how to help here:
http://jonathan-bartlett-lhhi.squarespace.com/
Midwives working out of the hospital find themselves unable to comply with the letter of the law, due to the refusal of malpractice insurance carriers to insure physicians who enter into supervisory relationships with them. Yelena and Kavita are practicing in the same manner as virtually all home birth midwives in California. The current accusations do not allege either substandard care or negligence; rather, the midwives are to be severely disciplined for a regulatory infraction.
This case is not just about two midwives being singled out for providing care without a supervising physician --an impossible requirement. It is an attack upon all midwives in California (Licensed Midwives and Certified Nurse Midwives alike) and upon your legal right to access safe and skilled birth attendants at home.
Please help Yelena and Kavita to prevail as they take an ethical stand on behalf of a woman's right to birth her child at home--and the right to practice the profession for which they are licensed and certified in.
I had my second son Story, at home with my family, along with the love, support, and expertise of Yelena. It changed my life forever and I will always support her in any way that I can. Please join me!
With your donation of $35 or MORE you can choose to get a beautiful T-shirt or bag. PLEASE DONATE $40 if you need the shirt or bag shipped. PLEASE SPECIFY IN YOUR DONATION IF YOU WOULD LIKE A SHIRT. OTHERWISE YOU WILL NOT RECEIVE ONE. IF YOU DO WANT ONE, STATE THE DESIGN AND SIZE IN YOUR DONATION. THIS WILL SAVE ME SO MUCH TIME! THANK YOU! Also, I am a mama with two boys that I homeschool, volunteering my time. When the T-shirts come in, please pick them up at my house in REDWOOD CITY, or find a way for someone to get it for you, if you are local to the Bay Area. Thank you so much!
There are three designs: women's Purple scoop neck with Green print,women's Black V-Neck with Magenta print, and women's Blue V-neck with magenta print. There are also organic cream onesies 3/6mths, 6/12mths, 12/18mths with green print, and toddler sizes (2T, 4T, 6T) of the purple with green print. There are also new blue bags with magenta print! DO NOT FORGET to send a message with your choice of design and size along with your address and phone number in your original donation. Thank you so much for your support!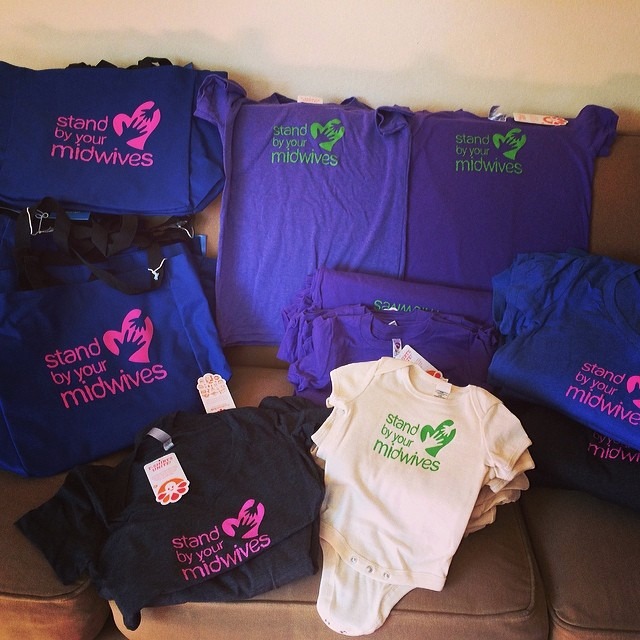 .

Organizer
Jen LaBreche 
Organizer
Redwood City, CA