Harp Presentation in Australia!
This past spring, after finishing up my coursework and successfully passing my exams for my doctorate in music, I submitted my new research findings to the national and international harp conferences. I'm excited to say that one of my proposals was accepted for presentation at the World Harp Congress in July of 2014...in Sydney, Australia! There are several reasons that I believe this trip would be a career-building and life-changing event for me:
1. Conference Experience. I have never been to a national or international harp conference before, largely due to financial constraints. I want to experience what it feels like to be in the presence of the national and international harp community!
2. Education. Along with my first point, I believe there is always so much more to learn about my profession; attending world-class lectures, masterclasses, and recitals will open up whole new worlds of information for me, which I can then pass on to my students and my local harp community.
3. Contribution. Presenting new research, music, and ideas is a huge part of building the harp community, both locally and internationally. In order for our art to continue to grow, we need people with new perspectives to be able to present their ideas at events such as this, and I feel that many harpists would benefit from my research.
4. People! Now that I am so close to being done being an official student and instead being a full-time professional, I want and need to make connections. I thoroughly believe that harpists need to support each other by sharing our strengths and weaknesses and various experiences and also support a friendly international harp community.
5. Resume: as I am now on the hunt for a stable college/university teaching position, this would be a great addition that would stand out on my resume. Presenting at an international conference is something I could claim proudly!
The only hitch in my plan is that it's going to cost over $4,000 for me to get there :( Even though this is figure is based on a very careful, conservative budget (even staying in a cute, affordable bed-and-breakfast instead of the expensive hotel hosting the conference), unfortunately, with both my husband and I still paying tuition and working as hard as we can at various part-time jobs, there is no way I could afford to get there on my own. This is where you come in:..I would be forever grateful if you would consider donating even a small amount to help me fund this trip! As I said, our finances are terribly tight, so I understand any hesitancies you may have, but even $10-20 each adds up:..If everyone I know donated just $20 I would have more than enough to make this life-changing experience happen!
For those of you who are curious about my presentation topic, here is your preview! My presentation is titled: "Which Method Are You?" For any skill that can be taught, teachers have certain beliefs about the content, timing, sequence, approach, and dynamics involved in the instructional experience. Most people in the harp world have heard of the "Salzedo" method and the "French" method of playing the harp, but beyond these 2 most prominent ones, there are actually no fewer than 14 methods for the harp! Through side-by-side comparison of each element of technique, we may discover that our modern technique is actually utilizing ideas from many different specific methods! Understanding why and how different people advocate different techniques is important for the visual aspect of performance, the actual sound that is produced, and to maintain healthy playing habits. This presentation will demonstrate how method books shed light on the history of harp technique, as well as provide valuable exercises, etudes, and references to pieces that correspond to specific techniques. Who knows, we modern harpists may have more in common with Bochsa than we think!
Thank you so much for watching the video and/or reading the description; I am so grateful and appreciative of your time and consideration! Feel free to contact me if you have any questions or comments!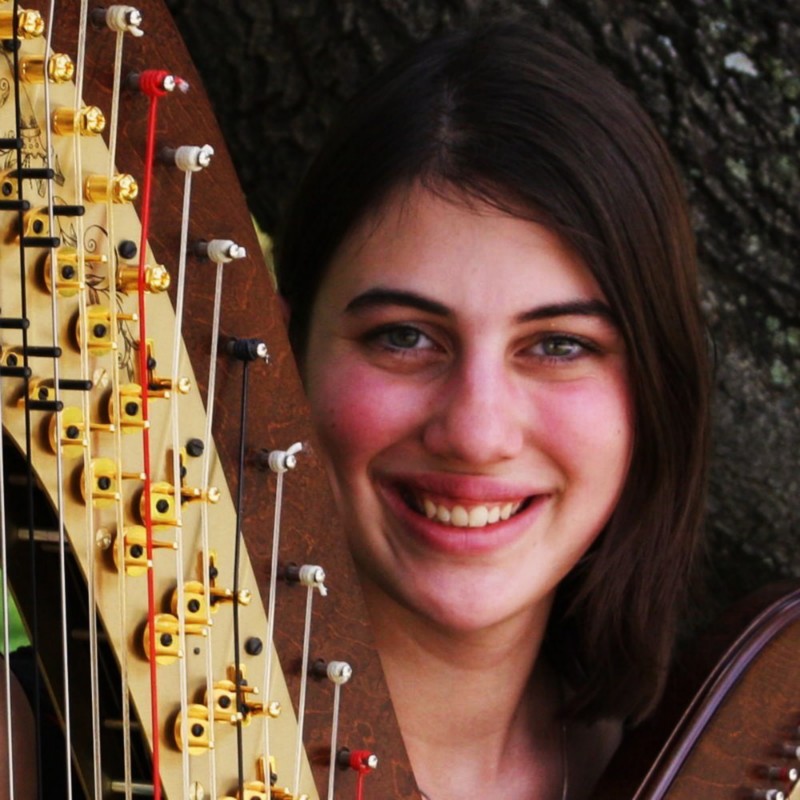 Bio:
Alaina Graiser, originally from Texas, has made it her life's work to promote the harp and classical music in a way that is appealing and accessible for all ages. Independently producing multiple community concerts; developing an original pre-school music class program; creating her own general music curriculum; producing an independent CD; premiering five new works for harp; giving volunteer interactive presentations at schools, assisted-living centers, and churches; teaching dozens of individual students private piano and harp lessons; taking high intensity pedagogy, Suzuki method, and education courses; and completing her Bachelors at the University of Texas at Austin and Masters at University of Toronto (both in harp performance) are some of the steps she has taken toward this goal. Having moved to Cincinnati with her husband, who is also a musician (a percussionist), Mrs. Graiser is completing her Doctorate of Musical Arts degree in harp performance with a cognate in music education at the University of Cincinnati College Conservatory of Music. Her current projects include teaching a thriving harp and piano studio in Cincinnati; performing for various events; teaching general music classes for a non-profit organization; starting various harp programs through local organizations; developing a guide to harp curriculum; managing events and communication for the Cincinnati Chapter of the American Harp Society (as newly elected president of the chapter), and researching and developing her presentation for the 2014 World Harp Congress.
Organizer