Help KICK START an Artist
Hi friends!!
I've never done anything like this in my life, because I lived most of my life taking extreme pride in my independence, helping others, and always picking up the tab. What I've learned is we are meant to live on both sides of a situation eventually, in order to experience what it feels like to be on the other side and it takes vulnerability to do that. Which is what has been in the cards for me the past few years on my quest to find myself! One of my wise sisters, who knows my situation very well, told me I have a lot of friends who believe in me and would be happy to help if I were to just ask! So by way of this GoFundMe page I am asking for your help to make a dream of mine happen. Here's the deal:
While I know being an Artist and sharing my artwork is part of what I'm here to do, the truth is it's been slow going so far. I've barely made enough to survive, let alone have enough to invest in producing my artwork. I no longer qualify for bank loans or government funding as my free spirited lifestyle has had me falling through the cracks of a system I no longer feel a part of anyway.
I have 19 drawings completed so far. You can check them out on my website
www.barbcote.com
if you'd like. Thanks to my past experience of many years in the Government and Corporate world, I've found my way to printing and packaging my drawings! It's taken me awhile, but I'm happy to say I have made awesome progress! The next step is getting it 'out there' in the world ;-)
While I appreciate (more than you know) everyone who has purchased a piece of my art or has helped support me in any way, it hasn't allowed me to invest in what really needs to happen so I can rock this thing!! I've watched these drawings touch people's soul and make a difference in their lives. That's what any type of artist does really, share their soul in order to touch the soul of another. I see it as my work and a responsibility, not a hobby.
My vision is to have my very first ART SHOW!! It will be in my hometown of Norman Wells, NWT and will be held at the Norman Wells Historical Center various dates in July, 2013. My prints are now for sale in their gift shop which caters to locals and tourists. Prints will also be available at the Up North Tours office in Inuvik, NWT this summer.
My minimum goal to raise is $3,333.00 in order to see this vision come to life. This will get me kick started!! The money will go towards:
* Running off prints in bulk for wholesale/retail
* Print stretch canvas' in bulk for wholesale/retail
* Print artist sheets in bulk (accompanies each piece)
* Print art cards in bulk (plus packaging) for wholesale/retail
* Professional brochure printing in bulk
* Framing for originals and 8" x 10" prints
* Shipping costs (supplies and freight)
Once this first goal is met, I plan on completing and publishing my book, creating and producing a 2013 wall calendar, creating and producing an iphone calendar app, creating and producing an oracle card deck featuring my artwork, while I continue to produce and sell artwork of course. I also plan on buying an old beater vehicle to get around to promote it all in NWT, Yukon, Alberta, BC, and beyond! Zoom Zoom Zoom!
However much I am able to raise, rest assured it will be invested in all of the above. Another way you can support, if you'd like is by purchasing an original, or print.
If you can't help or aren't able to, I completely understand. If you believe in me and my vision and want to help, I would be so very grateful and it would be my pleasure to mail or hand deliver one of my prints to you as a THANK YOU!!
If you're not comfortable contributing by way of this site, I am open to receive online bank transfers at [email redacted] or paypal using that same email address!
You can also help by sharing this page with friends to spread the word!!
My humble thanks for your support.
Peace n Love people xoxoxoxo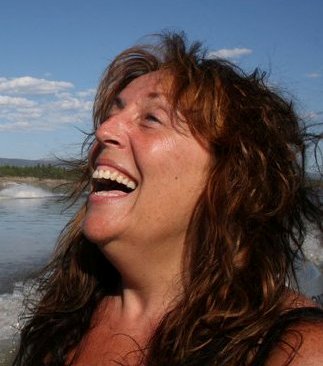 One of my favorite places on this planet....out on the Mackenzie River in the Northwest Territories. Home Sweet Home.
Organizer