Help Humanitarian Attend Harvard
.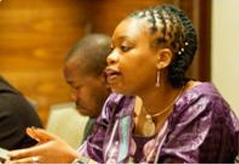 Zimbabwean human rights activist Isabella Matambanadzo has been awarded admission to Harvard's prestigious Kennedy School of Government, and needs urgent help in securing the funds to enroll. Those of you who know Bella, or are familiar with her work, know she has been a tireless crusader for social and economic reform, justice, and particularly the advancement of women's rights in Zimbabwe. We now have the chance to support her, and in return support the hope of a positive transformation in the nation she will continue to impact, by helping her realize this life-changing opportunity.
Isabella has been accepted into the Mason Program at the Kennedy School at Harvard University to begin in July 2013. It's a Mid-Career Master in Public Administration""a rigorous one-year degree program that aims to "address the world's most compelling development challenges." It is a highly exclusive program that only accepts applicants who have made a demonstrated, long-term commitment to affecting social, political, and economic change in their home countries.
The Mason program has graduated only 2000 people since opening its doors over 65 years ago in 1957. Members of this elite group have gone on to be Presidents and Prime Ministers, Members of Parliament, Cabinet Ministers, NGO Directors, and Heads of global organizations. It is a truly a once-in-a-lifetime opportunity for Isabella; one that has the potential to not only change her story, but Zimbabwe's story as well.
In Harvard's own words, "The Kennedy School generally expects students to fund their studies through a combination of personal resources and government, corporate or grant support." The school estimates the minimum budget for the year to be $88,984, broken down into $57, 984 for tuition and fees, and $31,065 for personal living expenses. This amount does not include air travel or a number of other likely expenses that will be incurred over the course of the year.
Bella was given only one month after receiving her acceptance to secure the necessary funding. She continues to do all she can on her end, but the few scholarships the Kennedy School offers have already been awarded, and finding applicable grants and fellowships (and the completing the lengthy application processes attached to these) in the little amount of time Bella has left is proving to be a challenge. Harvard's deadline for financial certification, in which Bella has to prove she has the funds to pay for her tuition and expenses, has already past. She has been given a two-week extension to come up with the funding.
I think many will agree that $88,984 would be difficult even for someone from a developed nation to come up with abruptly. For an individual coming from a nation with the highest-inflation rate ever known, it's a nearly insurmountable task.
I am launching this fundraiser because I don't want Bella or Zimbabwe to lose out on this opportunity. What she will learn and gain at the Kennedy School will change her life, and potentially benefit an entire country, as has happened over and over again with past graduates of this program. Bella has already proven her commitment to reform in Zimbabwe. The Mason Program will equip her to do even more, reach even further, and excel forward to affect public policy and impact the journey of her nation.
How We Can Help
Time is of the essence. On her end, Bella is urgently seeking sponsorship and simultaneously selling every possession she has worked so hard for over the years. She has also applied for loans, preparing to take on a massive amount of debt because she knows this opportunity is a life-changing one and she will do whatever it takes to get to Harvard, but the banks in Zimbabwe will not approve a loan of this amount for educational purposes. If Bella ends up financing herself by liquidating everything she has""by selling her home, her car, her possessions""she will be in trouble in a year after she graduates and has nothing to go back to.
I don't want Bella to return home to Zimbabwe after a year at Harvard straddled in debt, or worse, totally destitute. I want her to be ready to affect change. I want her to be able to put into action all that she learns at the Kennedy School. I want her career choices upon her return to be free of the stress of heavy financial burdens. She may be a crusader, but the reality is that she still needs to pay her bills, to eat, to have shelter. This is where we come in.
Those of you reading this who know Bella probably won't need to read much further. You know her commitment. You know her bravery. You know she is more than deserving of this opportunity. My hope is that the many people Bella has touched over the years through her humanitarian work and her generally fearless and loving way of tackling life will join together to give a little each, in order to give a lot to Bella. If we all just pitch in a little, it will add up. And it will put Bella in the position to arrive at Harvard ready to buckle down and study, without concerns or fears about how she will afford the experience, or what she will do in its aftermath.
More about Bella's Activism
Over the last seventeen years, Isabella Matambanadzo has committed herself wholeheartedly to the causes of human rights and social reform in her home country of Zimbabwe. She has essentially spent her entire adult life dedicated to affecting positive change for the people of Zimbabwe. This commitment has not been without personal cost, but Bella persists nonetheless.
A journalist by trade, Bella has been especially involved in promoting freedom of information, speech, and press in Zimbabwe through her work at Reuters Africa Journal, Radio Voice of the People, Zimbabwe Broadcasting Corporation, and the Soros Foundation Open Society Initiative for Southern Africa. In a country where the media is controlled by the government, this has not been without risk to her own personal safety. She has been arrested, detained, and put on trial in her plight to keep the people of Zimbabwe accurately informed. Demanding honesty and accountability from her government has not kept Bella out of controversy's way.
"We must never be afraid to speak our minds, because expression is a very important indicator of democracy. When we're able to allow people to speak and we tolerate divergent views -- I'm not saying we must agree with them or we must buy into them -- but when we permit a space in a society where people are open and able to express, and we tolerate that expression, then we have a mature democracy."
Bella Matambanadzo

To educate those outside of Zimbabwe about what is happening within, Bella has also traveled extensively throughout Africa and the world as a humanitarian spokesperson, giving talks from Washington DC to Beijing about the true state of affairs in her home country. She has spoken about human rights abuses, social and economic oppression, the climate of political intimidation, the plight of women in Zimbabwe, and many other significant issues affecting the lives of the people of her nation; Bella has been dedicated to relaying to the global public the real story of what is happening in Zimbabwe""the story that the government has continuously tried to quash.
Well-known for these efforts, she has been interviewed by international news agencies such as CNN and BBC, and has become a resource for those in the media seeking the real story of what is happening in Zimbabwe. In the process, she has been awarded accolades for her work, such as the BBC World Service Trust. While Bella's commitment has gained her notoriety with her own government, putting her personal safety at risk, in the global community, her efforts have earned the respect and admiration of her colleagues in international development and the media.
In recent years, Bella has also brought her attention and efforts to the arena of economic reform, as CEO of both Enterprise Zimbabwe and The Zimbabwe Trust, two non-profits funded by Richard Branson's Virgin Unite. In this capacity she's worked to bring investment into Zimbabwe, to create jobs and support entrepreneurial ventures, and to do what she can to help stabilize an economy debilitated by skyrocketing inflation.
In all areas of her work over the years, Bella has particularly focused on championing Zimbabwean women, and feminist issues clearly have a special place in her heart. Long after Bella left her position as Executive Director of the Zimbabwe Women's Resource Network, she has continued to put the plight of the Zimbabwean woman at the forefront of her work in social and economic reform.
Every professional choice Bella has made over the last two decades years has been about changing the lives of Zimbabweans for the better. She believes in her nation, and is determined to see it shine once again. She knows it will take a lot of hard work, and she knows that the more equipped she becomes with knowledge, experience, information, and contacts, the more she will be able to do even greater good.
"There were some things that were very uncomfortable about Zimbabwe as it was and we are looking at rebuilding Zimbabwe as we would like it to be, as it should be: an awesome country that is the hub of the region that really enables citizens to fulfil their full potential, be it in business, in education, or in the creative arts.

We are sitting in the place between hope and concern. We are concerned about whether we will be able to get there: to get to the country that we imagine our country should be. But also hope, because we see that it's just on the horizon and yet we have to work quite hard to get there."
Bella Matambanadzo
What Bella Needs
I am setting the goal for this fundraiser at $97,000 in order to cover the minimum expenses that the Kennedy School lists as well as the gofundme and paypal fees of a combined 8%. The money raised will go firstly to cover Bella's tuition cost and secondly to her living expenses. What we need most immediately is the $57, 984 to pay Harvard for tuition and fees.
Please help us raise what we can for Bella by donating and spreading the word about this extraordinary individual who has this once-in-a-lifetime opportunity, before it slips away. Every bit will count. Every person you tell will matter.
We only have two weeks. Harvard has given Bella an extension on her deadline to show proof that she can afford the program fees and living expenses. Bella is urgently seeking sponsorship opportunities while simultaneously taking steps to sell all of her assets. Instead of having her liquidate everything she owns, let's do something amazing and thank her for all that she has done as an activist and human and get her to the Kennedy School. It will benefit her. It will benefit Zimbabwe. It will benefit the global community.
Who I am and my connection to Bella (Colleen Sheils)
I have been lucky enough to know Bella for the last 18 years. We met in Zimbabwe in 1995. She's been a dear friend and a personal source of inspiration and guidance for me ever since. I know I am not alone. There are hundreds, thousands, out there""people whom Bella has touched with her wise, beautiful, and relentless ways.
Those of you reading this who are blessed enough to know Bella, know how special she is. There is the revolutionary side to her that simply keeps pushing to make change happen, to make things better, to solve problems. All the while she stays true to that charismatic intellect of hers; she can send you into fits of laughter while simultaneously doling out wise words. The latter is the Bella I know""the former is the one the world knows. Over the years I've tried to be there for Bella my friend; now the time has come for me to come through for Bella the leader, Bella the activist, Bella the change-maker.
I've always felt very lucky to have Bella in my life. But really, the world is lucky that she's in it. The people of Zimbabwe have a crusader in her, a person willing to stand up and demand that things be different. She is so very worthy of this opportunity before her""the people she will meet and the coursework she will undergo at the Kennedy School will put her in a position of greater influence in a country where more good people with great influence are desperately needed. This fundraiser is for Bella. It's also for Zimbabwe. Please help in whatever way you can. Thank you.
Donations

Organizer
#1 fundraising platform

More people start fundraisers on GoFundMe than on any other platform. Learn more

GoFundMe Guarantee

In the rare case something isn't right, we will work with you to determine if misuse occurred. Learn more

Expert advice, 24/7

Contact us with your questions and we'll answer, day or night. Learn more