21st Birthday Acid Attack
Any professional enquiries or help purposes contact:
[email redacted]
On her 21st birthday on June 21st 2017, at around 9am. Resham Khan and her cousin Jameel Muhktar were attacked with sulphuric acid as they were in traffic. Being attacked was followed by a car crash on the motorway as the acid burnt through the eyes, clothes, skin and car Resham and Jameel were in. They ran out of the car, stripped off on the motorway, ran around flagging people down pleading for water naked. After 45 minutes on the motorway waiting for emergency services, a passing driver gave them a lift to the local hospital. They ran through the hospital naked screaming.
 With plans to celebrate her birthday with family, and having just got back from an exchange year in Cyprus, Resham is a Business Management student who was due to start her new job working with young people on a social inclusion residential.
Resham planned to go to a spa and restaurant with her mum for her 21st birthday. It was to be the first time they spent quality time together since Resham had studied abroad.  Resham had not seen Jameel in 2 years, and was marking the occasion. 
This attack has caused them both to put their lives on hold. A university student in Manchester, Resham had not been back in the UK for longer than a week before the attack happened. She had spent the last 9 months on an exchange program in Cyprus. Resham was also due to start her new job on July 2nd which she can no longer do.  Also she was called in for a job interview  which she can no longer attend. Their life is currently on hold but we want them to see that this is temporary and things will get back to normal. 
Resham is usually a very confident young woman. She was preparing to open her own business over the summer, and had plans to model for Asian bridal, make up and hair artists. But now she feels as though her identity has been stolen from her, on her 21st birthday. 
I want to raise money for Resham and her family to provide them with additional support. Although she is currently in hospital, once discharged, we understand aftercare for her physically and mentally is crucial. It wasn't right that she or Jameel were attacked in such a vicious way. And although we have faith justice will be served once the criminal is caught, the scars Resham and Jameel will carry will last a life time.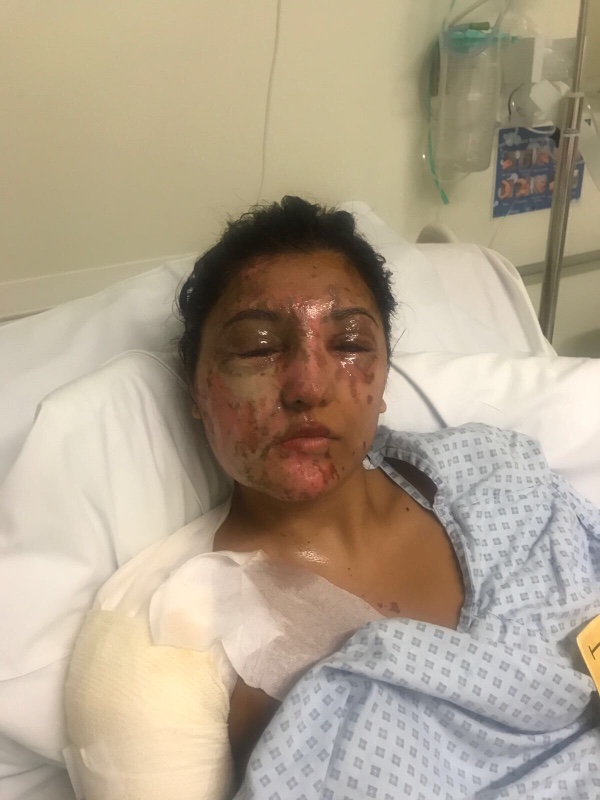 I studied with Resham. Myself and a few other of Resham's friends wanted to raise money to support her with therapy sessions to rebuild her confidence, laser eye treatment and accommodation in an area she feels safe in. Resham and Jameel feel as though she won't be accepted in 'the world we live in', and that all their future plans and goals are now unachievable. We are also aware she has lost out on time at work, and due to this may struggle financially.
Her injuries:
Left eye damage
Burns across body - arms, legs, face, shoulder
Skin graph
His injuries:
Induced coma
1st degree burns across body - arms, legs, back, whole neck. Check, Right ear, whole head, side of face
Right eye damage
Skin graph
Metro
http://metro.co.uk/2017/06/24/woman-and-her-cousin-badly-hurt-after-random-acid-attack-on-her-21st-birthday-6732400/
Telegraph
http://www.telegraph.co.uk/news/2017/06/25/student-suffers-life-changing-burns-acid-attack-21st-birthday/
ITV News
http://www.itv.com/news/london/2017-06-25/21-year-old-attacked-with-acid-on-birthday/
BBC News
http://www.bbc.co.uk/news/uk-england-london-40398089
The Sun
https://www.thesun.co.uk/news/3879406/acid-attack-birthday-21-woman-hurt-cousin-coma-resham-khan/
Daily Mail
http://www.dailymail.co.uk/news/article-4637724/East-London-thug-hurls-acid-student-21st-birthday.html
Fakt24
http://www.fakt.pl/wydarzenia/swiat/londyn-przerazajacy-atak-ktos-oblal-resham-khan-kwasem/vlxh51q
Evening Standard
http://www.standard.co.uk/news/crime/aspiring-model-left-covered-in-burns-after-being-attacked-with-acid-whilst-celebrating-her-21st-a3572766.html
Please share this post!
Organizer and beneficiary