Ethiopia Prevails (a film)
$2,872
of $50,000 goal
Raised by
45
people in 14 months
Help us tell the amazing story of Ethiopia's resistance against Fascist Italy's invasion. It's an epic tale of courage, betrayal, faith, love and a proud nation that refused to back down.
It's the war in Africa that changed the world. 



WHAT WE NEED TO DO
Your generous donations will help pay for interviewing witnesses and experts.
We want to tell you about Patriot heroes like 
Jagama Kello
, 
Lekelash Bayan
 and 
Lorenzo Taezaz
.
We want to share with you the inspiring adventure of
John Robinson
, the African-American pilot who ran Ethiopia's tiny air force. 
And we want the world to finally learn the truth about
Emperor Haile Selassie
, and his heroic efforts to save his own people. 
We need to buy archival footage of the battles, the protests and other major events. We need to go to London, Washington, Addis Ababa and other locations to talk to experts and shoot footage of where things happened. There's a lot to do, from tracking down survivors to editing film to many other tasks!
But when we're done, we'll have a film that will move you to tears and make you stand up from your seat. It's the story you've never heard before, the story where Africans WIN. 

A FEW ASTONISHING FACTS ABOUT THE WAR
1. From Gandhi to Trotsky, from Josephine Baker and Langston Hughes to Bertrand Russell and George Bernard Shaw, everyone had an opinion about the war between Italy and Ethiopia. 
2. A Broadway play was shut down over it. There were spies slinking around in the shadows over it. Marconi, a Fascist, was trying to build a microwave weapon to fight the British because of Ethiopia.   
3. About 20,000 black Americans marched on one day alone over it on August 3, 1935, and there were other massive protests in America and around the world. It inspired a 17-year-old Nelson Mandela. It brought together the future leaders of post-war Africa, including Jomo Kenyatta, who would one day lead Kenya, and the first president of Ghana, Kwame Nkrumah. 
4. It had war crimes and atrocities and appalling tragedy. Tens of thousands of Ethiopians were massacred over a three-day period, and thousands more were taken to concentration camps, where about half of them died.  
5. This war helps explain why the Middle East is the way it is today, and it was the birthplace of modern propaganda methods used in Iraq and Afghanistan.  
6. It ended with an astonishing rescue against overwhelming odds. A true tale of underdog victory.  
7. And most importantly, while this happened way back in 1935-1941, there are still survivors willing to talk to us. 

PREVAIL IN THE MEDIA:
Tadias
Ethiopia Observer


The Herald
Medium (book review)
Tadias (Gen. Jagamo Kello)
Haile Selassie's eldest son, Crown Prince Asfaw Wossen, having target practice near Dessie, a strategic town north of Addis Ababa, in 1935
Patriots escort Emperor Haile Selassie as Debra Markos is retaken in 1941
Ethiopian troops rallying to defend the country, October 30, 1935. Courtesy Martin Plaut
Jagama Kello (center), the "boy general" of Patriot forces in 1941
Ethiopian troops march out to Harar, November 12, 1935. Courtesy Martin Plaut
A protest in London in 1935 against Fascist Italy's aggression
Read the book that tells this fascinating story: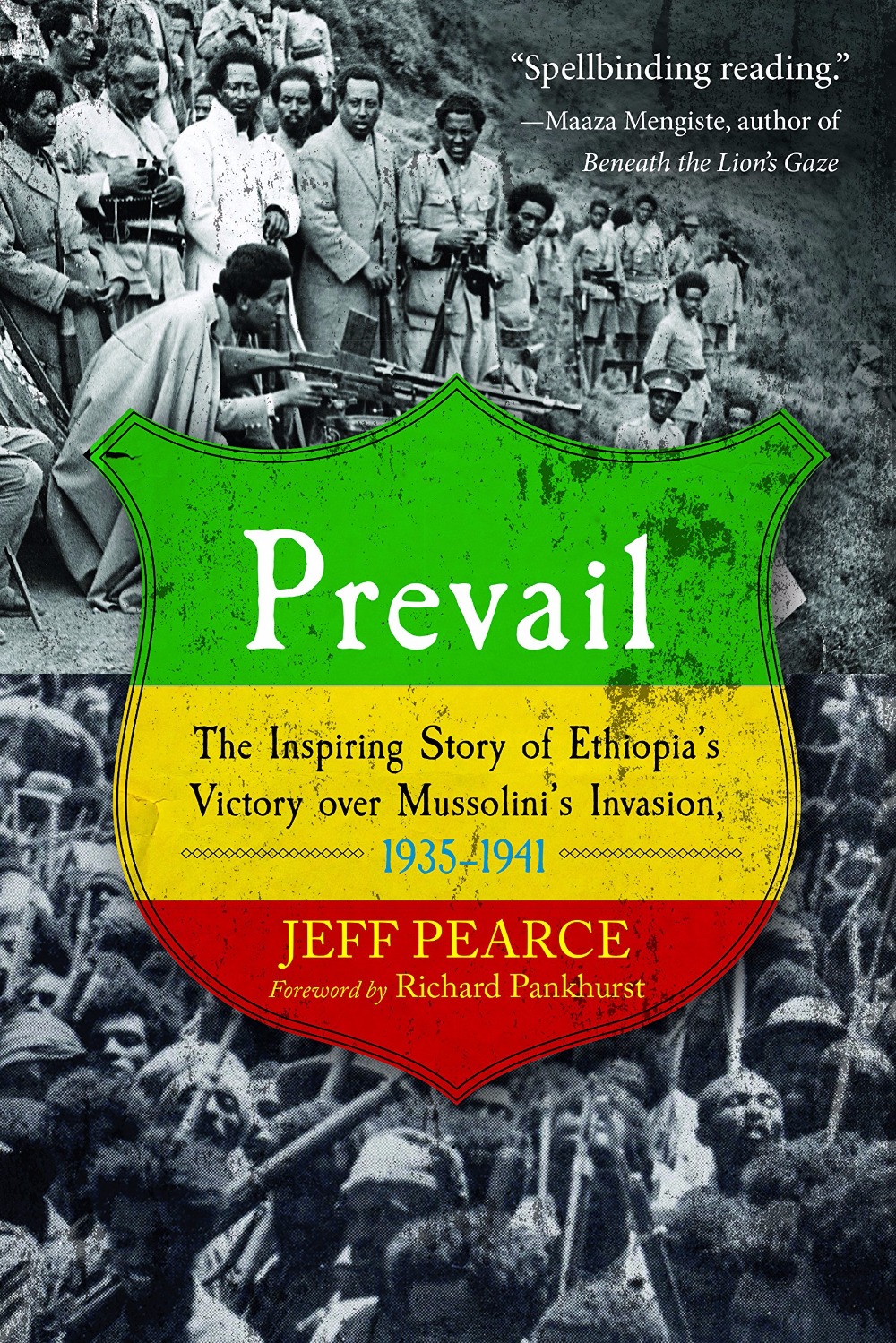 ABOUT THE FILMMAKERS
Jeff Pearce spent about ten years, off and on, researching the story of Prevail. He dug through Foreign Office files in the British Archives, hunted down survivors of the conflict and visited historical sites in Ethiopia. Historian Richard Pankhurst wrote the foreword for the book, and novelist Maaza Mengiste has called it, "spellbinding reading."
Jeff has worked as a writer and editor in television and magazines, and his insatiable curiosity has led him to teach journalism in Myanmar and visit the Kurdish Front during the war in Iraq. He has published several other books of history and current affairs, as well as several novels.
Bereket Kelile is currently a Research Associate at SmithJohnson Research in Sacramento, specializing in research for strategic political and branding initiatives. He's also pursuing his Master's degree in Economics at California State University, Sacramento. He served proudly for four years as an Avionics Technician with the U.S. Air Force and holds a Private Pilot Certificate for single-engine land aircraft.
With a basic understanding of the Amharic language, Bereket is keenly interested in his ancestral culture, and was naturally drawn to the story behind Prevail. He is taking point on fundraising and marketing initiatives for the production.
+ Read More