How Service Dog Fundraising Can Unlock Your Independence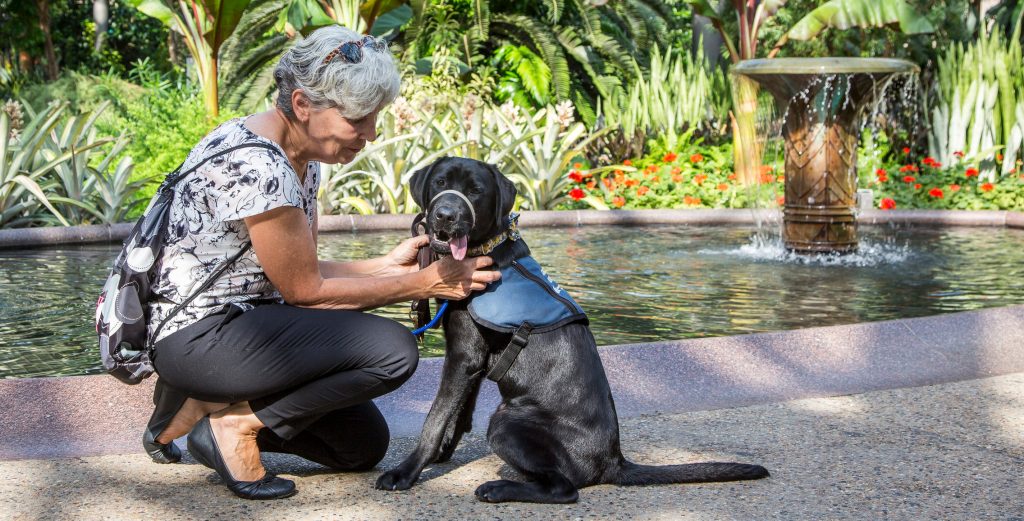 Canines have long held the title as man's best friend. They're lovable and loyal and they can provide the gift of independence.
The right pooches can perform a variety of tasks for those with physical or mental disabilities. They can function as the eyes of their owner, guiding them on their daily commute, and they can even remind their owner to take crucial medication at a specific time, among many other tasks.
With this guide, you'll be able to navigate the process of service dog fundraising and better understand the costs associated with training or adopting your own service dog.
What are the benefits of service dogs?
Companionship, love and independence are all benefits of service dogs. Bringing one of these intelligent pups into your world can be life-changing.
A service dog can help make previously challenging tasks like going grocery shopping easier and less stressful. These trained canine companions also help boost self-esteem and keep people socially active.
How to get a service dog
There are dozens of variables to consider with service animals and knowing how to get a service dog can be confusing. Fortunately, we've broken down the two main ways to get a service dog for you below.
Train a service dog yourself
You can work with a professional to train your pup to industry standards. Training a service dog can take anywhere from six months to two years, and typically requires professional help.
Adopt an already trained service dog
You can adopt an already trained service dog through a service dog organisation. To avoid any problems, it's important to make sure the organisation is accredited. Assistance Dogs International (ADI) lists thousands of accredited organisations on their site.
The different types of service dogs
Not all service dogs are trained to perform the same tasks. This list might help you decide which type of service dog would be best for your needs.
What is a guide dog?
Guide dogs help the visually impaired safely navigate the world.
What is a hearing alert dog?
If you're hearing impaired, these dogs are specifically trained to identify various sounds and then alert you as needed.
What is a medical assistance dog?
If you have trouble performing certain tasks, like opening doors or carrying items, a medical assistance dog can help make life easier.
What is a mobility dog?
Mobility dogs focus on helping people with physical disabilities, especially those who have walking or balance problems.
What is a seizure alert dog?
Seizure alert dogs are specifically trained to know the signs of seizures and warn other people if you experience a seizure.
What is a psychiatric service animal (PSA)?
Psychiatric service dogs have been trained to sense impending anxiety attacks, among other conditions, and take action.
What is an emotional support animal (ESA)?
Emotional support dogs provide comfort to people.
What is the cost of a service dog?
It's often tough to pin down the exact price of a service dog and that's because there can be dozens of variables. Will you buy a dog and then train it yourself? Will you train your existing dog? Will you use an organisation to adopt a trained dog? Keeping these factors in mind, here are the general costs.
How much does it cost to get a service dog?
An already trained service dog from a reputable organisation typically costs anywhere from £20,000 to £40,000. There are many not-for-profits that offer discounts or service dogs at no charge to those in need, but these organisations usually have a long waiting list of up to a few years.
How much does it cost to train a service dog?
The cost of training a service dog depends on the needs and disabilities of the individual it serves. Service dog training costs can range from a few thousand dollars to over £20,000, according to At Your Service Dog Training.
How can you find service dog financial assistance?
The high costs of service dogs can be discouraging. Fortunately, there are still ways to get service dog financial assistance.
Crowdfunding for a service dog 
The question of how to raise money for a service dog is easily answered through crowdfunding. For many, crowdfunding can be a lifeline when the high cost or long waiting time of getting and training a service dog stands in the way of receiving essential help. Thousands of people have turned to GoFundMe to overcome these barriers.
GoFundMe makes it easy for friends and family to show their support so you can get welcome a canine companion into your home. You can set up a fundraiser within minutes.
If you're still uncertain about how to create a compelling fundraiser, our blog has plenty of pet fundraising tips to get you started. Start by reading the blog post Pet Fundraising Guide: Tips for Success.
People who used crowdfunding to buy a service dog
These are just a few people who launched fundraisers through GoFundMe to bring service dogs into their lives.
Help Gabby Train Her Service Dog!
When Gabby was just 11 years old, she lost 95% of her vision. She was diagnosed with a rare genetic eye disease that would turn her world upside down and force her to relearn basic tasks. Her parents realised she needed extra help, so they started a GoFundMe to train Hannah, Gabby's St. Bernard, to become a service dog. Friends and family donated over £11,700 to help Hannah become a service dog for Gabby.
4 Paws 4 Finn!
Finn, who is autistic, sometimes wanders away without telling anyone. When he was five years old, he wandered out of the house and almost drowned. That incident caused his parents to realise that Finn needed extra help to keep him safe, so they started a GoFundMe to get Finn a specially trained autism service dog. Their fundraiser was a success, bringing in nearly £14,000.
Service dog fundraising for independence
Service dogs can change your life and expand your world, offering independence, security and love. If you need financial help bringing your canine companion home, we'd love to lend a hand. Sign up to create your fundraiser and start animal fundraising today.