74
3
Electrifying Justin
€6,854
of €6,000 goal
Raised by
78
people in 2 months
Help get Justin out riding again, lets buy him an electric bike! (Version francais en bas!)
Justin loves riding his bike, he particularly likes riding with his mates. He will admit that it keeps him going whilst dealing with the symptoms of Multiple Sclerosis which  was first diagnosed in 2013. Unfortunately, as the illness has progressed, he is finding it harder to ride like he used to or as much.
We now feel that it is time to ask his friends and followers to see if we can all get together to buy Justin an electric bike. Times are very hard financially with Rhian, his wife providing for the family,  Sioned and Tesni at university and a partially done up house which needs adapting as his illness progresses.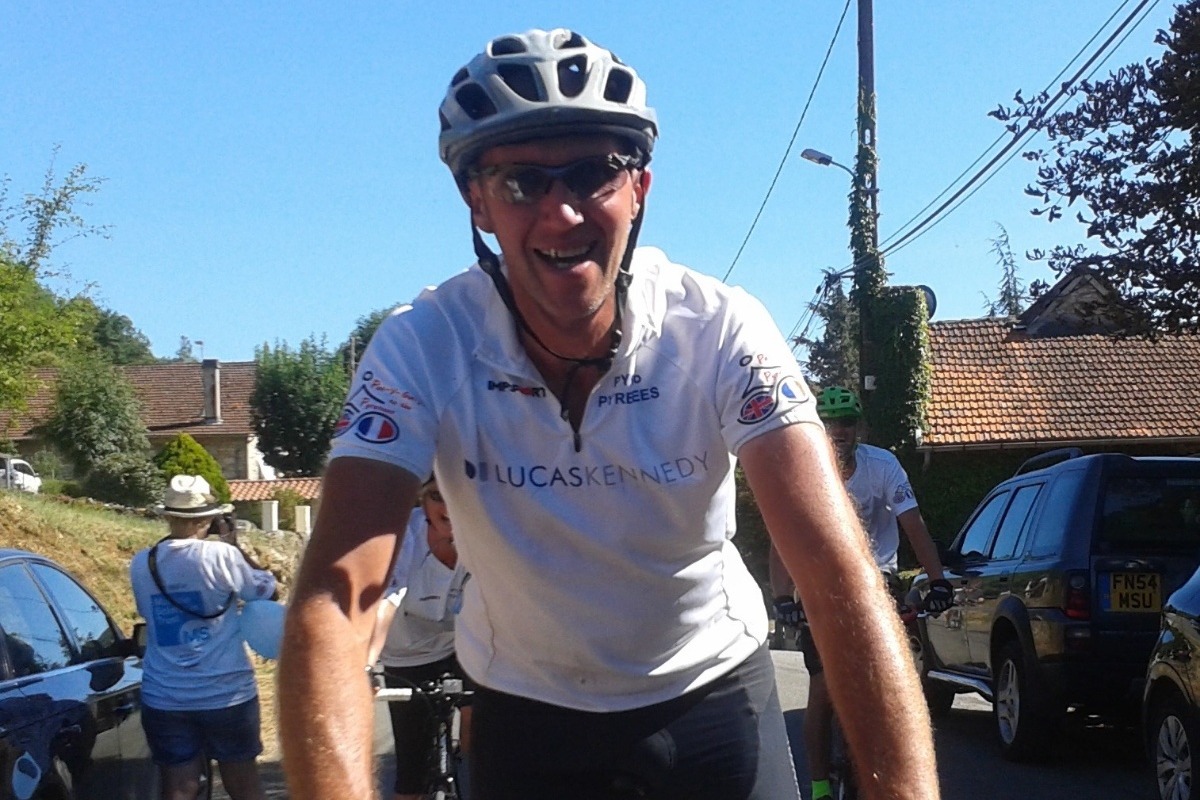 An electric bike would be amazing because he would love to have the capacity to ride with his friends more. It would give him back his joy for riding and would help him to keep cycling on a daily basis which his doctors feel goes a long way towards keeping his disease at bay both mentally and physically.
Many thanks for taking the time to read this and for any support you may give........ We will be organising some events and cycle rides to help fund raise and will post updates on this page- if you can get involved too that would be fantastic!!
Friends of Justin.
Living with MS
His MS is secondary progressive, which means the symptoms are becoming more pronounced. He has become more unstable on his feet and tires faster. This year he made the big step to getting a wheelchair enabling him to get around quicker and easier so as to save energy for working on the house and to get out riding.
Cycling has become much, much harder. He struggles to ride with the power and stamina he used to, and has to have many breaks. This year he rode part of the Figure of Hate Sportive again, now an annual family pilgrimage. He rode some portions of the first loop which was a massive achievement however to put that into perspective, last year he rode the whole of the 100km first loop and part of the second! That can give people a direct idea of how things are progressing.
Two years ago, not long after his initial diagnosis, Justin rode - with his daughter Sioned and friend Martin Hill - on a epic 2,200km bike ride from Pen y Gwryd at the foot of Snowdon in Wales to the Porte de Pailheres in the Pyrenees in Aid of the MS Trust. It was an incredible journey that took immense courage and determination.
Could Justin still do it ? In his mind he would surely say "yes" but the reality is that he is finding riding much harder. He has good days and bad days like us all, yet regrettably on the bad days cycling is now almost impossible.
We have all seen that his ability to ride a bike regularly and keep a good level of fitness has been a massive help in managing the impact of his symptoms and provides a great form of independent mobility. 
Life before MS
To say that Justin's life has revolved around bikes would be an understatement. Justin and his family now live in France but are originally from Betws y Coed in North Wales. Justin was always the super psyched, adventurous one, wildly enthusiastic and keen to go out riding all the time. In those days, the late 80's early 90's it all centred around our local bike shop 'Beics Betws'. Justin would drag anyone out biking, whether they had been off-road or not, and is probably partially responsible for the growth of the area as a mountain biking centre, as well as for lots of broken bones and great stories!
In 2002 he spent almost a year building the Marin Mountain Bike Trail in the Gwydyr Forest with a bunch of friends.   After this, horizons broadened, travelling all over the UK and when he and his family moved to France he would do extensive road trips riding mainly downhill in the Alps and Pyrenees with his friends. These were amazing times where his riding went to another level upping the ante every year.  Unfortunately whilst riding a downhill trail at a small resort in the Alps Justin broke the head off his tibia after crashing on a jump. It seemed to take him a very long time to recover, so much so that the doctors realised something else was complicating his recovery, it turned out to be Multiple Sclerosis.
Update :Oh- just a note to say donations can be in pounds or euros!!!! Thanks, Mike
Participez à l'achat d'un vélo électrique pour Justin, qu'il puisse continuer à faire du vélo ! 
Pour Justin le cyclisme a toujours été une passion qu'il aime surtout partager avec ses amis. C'est le vélo qui lui donne la force de faire face aux nombreux symptômes de la sclérose en plaque, diagnostiquée en 2013. Malheureusement, faire du vélo devient de plus en plus difficile pour Justin, et le moment est venu ou ses amis se sont réunis pour lever des fonds afin de lui permettre l'achet d'un vélo électrique. La famille n'a pas les moyens – seule sa femme Rhian peut travailler, leurs deux filles font des études et ont besoin de soutien financier, et la maison doit être adapté à ses besoins selon l'évolution de la maladie. 
L'achat d'un vélo électrique permettrait à Justin de retrouver sa joie de sortir et profiter de la région avec ses amis. Son neurologue est d'accord - faire du vélo est un moyen efficace de lutter contre les symptômes et de garder le moral. 
Un grand merci pour votre intérêt et votre soutien. Nous organisons des sorties en vélo et d'autres événements pour lever des fonds – toutes les infos apparaitront sur cette page - et votre participation est bienvenue ! 
Les amis de Justin
+ Read More
Update 2
2 months ago
Share
Update 1
2 months ago
Share
The first fundraising event of our campaign: a concert on Saturday 19th January, 8.30pm in the church at Ambeyrac. A fun and varied programme featuring flutes, a cello, a piano and a singer!
+ Read More
Read a Previous Update