Helping the helpess pooch, Rusty!
$1,036
of $2,000 goal
Raised by
32
people in 36 months
Hey everyone, as most of you know my partner Crys and I have taken in various animal rescues over the years and fostered and found them homes. Some of them have even nestled too far into our hearts that we couldn't say goodbye! 

This time we need a bit of help. Our friend Amy found a dog running around in the road on the North Side. As kind as she is she took him in but wasn't able to keep him over night. After she reached out to me, Crys and I decided we can help.  

We are calling him Rusty for now. 

Turns out Rusty is covered in tumors, extremely malnourished and especially dehydrated. We are going to have to get at least one of the tumors removed because of the location and size. Hopefully its not cancer. For now, he is warm, had a nice warm bath, hes getting fed slowly in small amounts and he was already given fluids at the VMC.

We are extending a kind, warm, open hand for ANY help. We are up to our ears in vet bills and every little bit counts. 

Please help us help Rusty! He's such a trooper and a true love dove! 

With deep heartfelt gratitude for your anticipated contribution, we love you all very much!
+ Read More
Just another update for y'all following the progress of Rusty. He's doing okay, we got hime a bone the other night and he spent about an hour wandering around the house trying to find a place to hide it. We think he is still in survival mode, since he's so underweight, so he's anxious hungry to eat everything and anything. We keep reminding ourselves and him, that at least he is warm and feels some sort of love. We're approaching a mark where we are going to dive into veterinary care with out without full funds - the excess will be covered by Cry's care credit which is difficult in case we have an emergency with one of our own loved fur babies.

So PLEASE, help us share this for the next few days. PLEASE, spread the story of this pooch and what we're trying to accomplish. It makes a world of a difference and every little bit helps.

Rusty, Crys, and I are overflowing with gratitude for everyone that has contributed and been so generous. (Captain is jealous theres another pooch around, hehe) As I always say, everything moves in a circle and I promise your kindness and generosity will flow back to you full circle! Love you all very much, even if we don't know each other personally. THANK YOU, THANK YOU, THANK YOU.

ps. the last photo is of him trying to eat a bit of peanut butter. he must of smacked his lips for a good five minutes.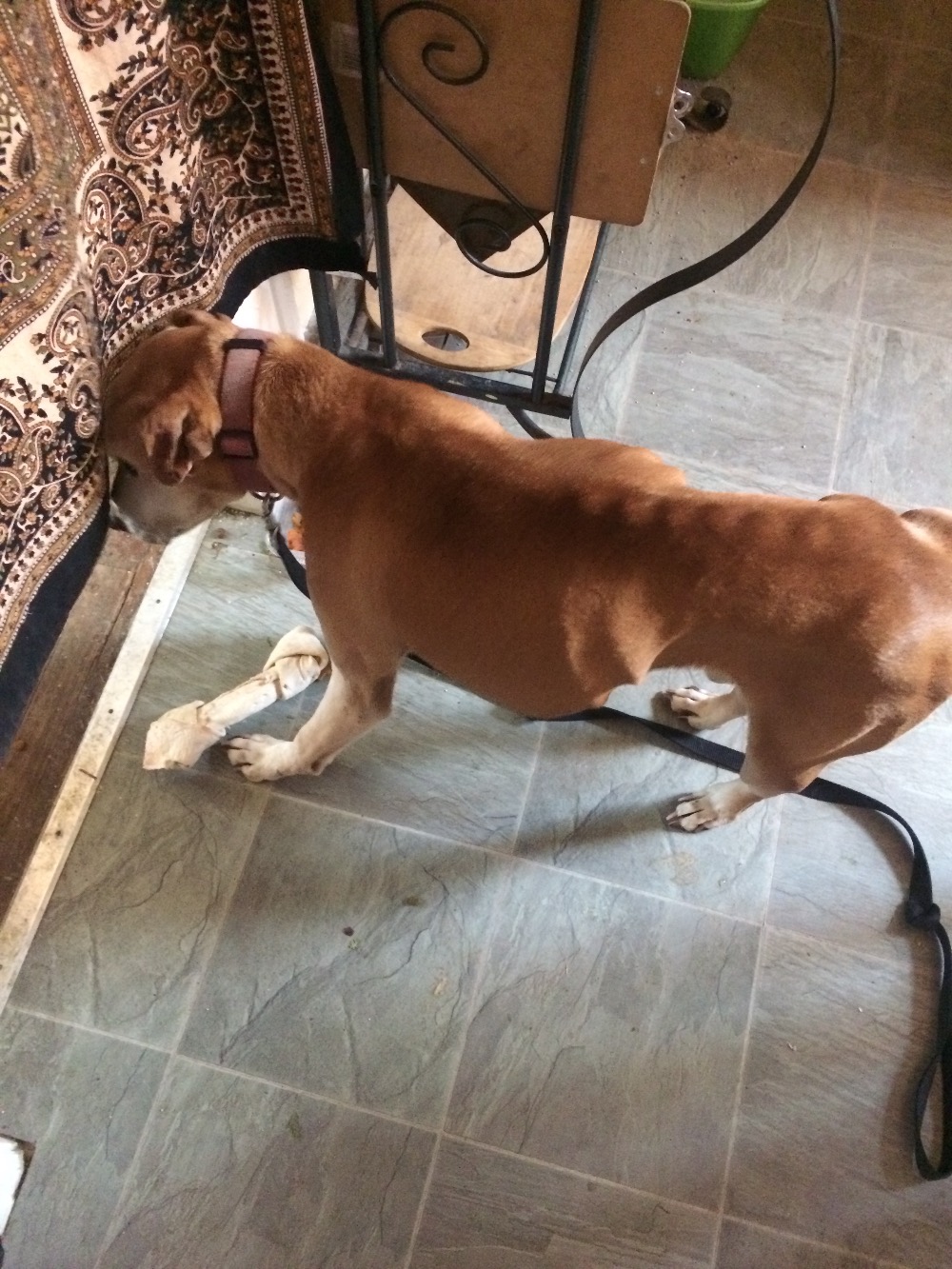 + Read More
Oh my Goddess! Friends, to see all of the contributions to Rusty's medical care has been overwhelming! Thank you so much for all of those that have been so generous. Rusty is still doing okay, he's eating small portions and sleeping A LOT. It's hard to watch him eat because his ribs and spine are so visible. But he seems very grateful and I'll continue to keep everyone in the loop as things progress. THANK YOU SO SO SO SO SO MUCH!
+ Read More
Read a Previous Update