Diabetic Alert Dog for Katarina
$13,011
of $13,000 goal
Raised by
89
people in 32 months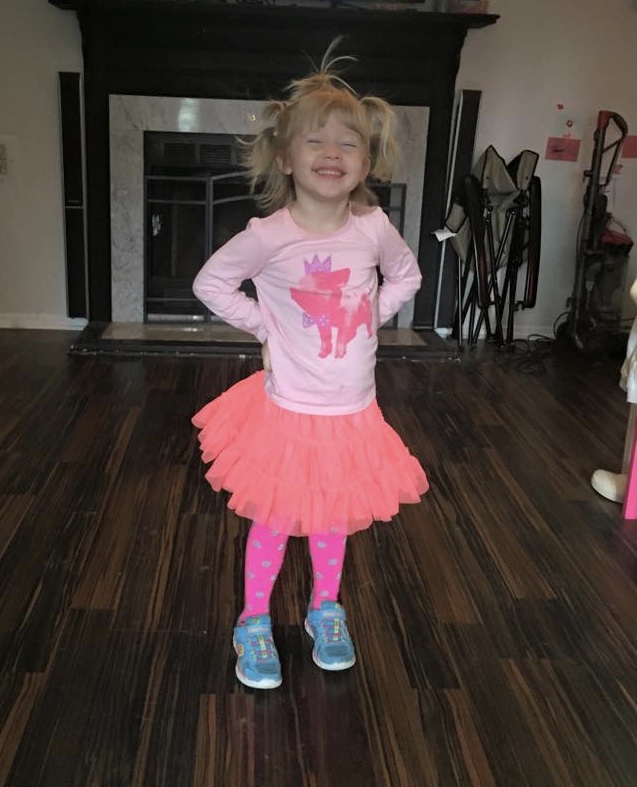 On Tuesday November 26, 2013, a day my life would change forever, I was diagnosed with Type 1 Diabetes (T1D). With only 2 years of life under my belt, the world I would know from now on would be dramatically different from my peers.
    How did all this happen to me? Where do I begin?  Looking back, it happened so fast yet at the time it felt like an eternity.  I had been feeling under the weather for about a week.  I started drinking lots and lots of liquids but nothing was able to quench my thirst.  Then I got a terrible diaper rash.  My Doctor gave me special cream for it, but the cream wasn't helping.  Each day I would get more tired than the day before.  My Mom and Dad were very worried about me and kept calling my doctor with updates.  When Dr. Mah heard about how much I was drinking and how tired I was, he asked me to come see him right away.  As soon as I got to Dr. Mah's office he told my Dad they wanted to check my blood sugar.  My blood sugar was so high Dr. Mah told my Dad to take me to the hospital immediately. When we arrived at Jeff Gordon's Children's Hospital I was admitted into pediatric intensive care.
     The nice people at the hospital taught my Mom and Dad how to check my blood sugar every day and give me insulin shots.  At frist, I was very scared being in the hospital and getting so many shots. I missed my sister and just wanted to go home and sleep in my own bed. My fingers were starting to hurt from all the blood sugar checks, so the nurses started using my toes as well. My new doctor, an endocrinologist, gave me a "Lenny the Lion" doll and a great Mickey Mouse book about Diabetes to help me understand what being a diabetic meant.  Lenny would get insulin shots whenever I did and they would test his paws when my sugar was being tested.  Lenny really helped me to accept my diagnosis and cope with my new life.  I thought it was hilarious to give Lenny his shots in his butt; yet, when it was my turn I liked my Mom to give me my insulin in my belly!
     Over the next few weeks I adjusted to my blood check/insulin schedule with ease.  Now I even like to help my Mom and Dad get my glucose meter ready for my checks - we like to call them pokes!  I get at least 4 pokes a day, and 5 insulin shots a day.  When it's cold outside my sugar dips very low, so my Mom and Dad bought me a really warm coat and check my blood sugar more often.  When it gets too low, I just have some orange juice or some princess gummies to help bring it back up.  Having T1D has taught me that eating good food will keep me healthy.  Now I eat more vegetables and meats, and drink a lot more water than before.  I even discovered that I love vanilla yogurt.  It's my favorite snack!  I eat some with almost every meal.  Having diabetes doesn't mean that I can never enjoy sweet food again. I just need to be more conscience of my choices.  After searching every aisle of the supermarket for food that was "safe" for me to eat I discovered there are limited choices for diabetics. But if you read all the labels you can occasionally find a gem worth trying.  Like one of my favorites, Breyer's sugar free vanilla ice cream, that I have as dessert sometimes. Mmm!  
    Sometimes my blood glucose drops very low.  I don't usually know it's happening.  Most of the time my mom and dad have to wait until I start showing physical signs of low sugar.  When my sugar is low, I start to stumble and fall down a lot.  One night this past summer, my sugar dropped into the 30's and I had a partial seizure.  I don't really remember too  much, but my mom and dad took me to see the doctor immediately.  I was really scared, but the doctors and nurses at the emergency room  were really nice.  
    After that I decided I would like to try an insulin pump and Continuous Glucose Monitor.  The insulin pump took a little time to get use to, but now I love my pump.  Unfortunately,  the Continuous Glucose Monitor did not work out as well.  My mom and dad had really hoped the CGM would work out, and we could better maintain my target sugar levels.  They say kids can use a CGM even though Medtronic says they are for adults.  Well, as I learned, there is a reason they say only for adults.  The CGM must be inserted on your tummy for it to give you the right reading, and the needle for the CGM is bigger than my pump needle.  When my mom and dad would put the CGM on my tummy it was very painful.  Even after it was in, it would hurt if anything touched my CGM or if I laid on stomach.  When we decided to try a different area, my CGM readings were 40 points off.  That was the difference between my sugar being exactly where my doctor says it should be and being so low my pump would automatically shut off.  Between the wrong numbers and all the pain, we decided it would be better to stop using the CGM.  While my pump has improved my A1C, I still struggle with high and low sugar levels.
Diabetic Alert Dogs have helped countless diabetics catch high and low sugar levels.  Studies have found that a Diabetic Alert Dog can smell high or low sugar 30 minutes before a CGM can pick it up.  When you're a diabetic whose sugar is dropping, 30 minutes could mean the difference between drinking some juice at home and having to go to the emergency room.  
    Next year I will start kindergarten and will be away from mom and dad for most of the day. I am also getting involved in sports; soccer, ballet, swimming, martial arts. It's super imprtant that I exercise every day. But exercise when your sugar is too low or too high is also dangerous. A D.A.D. would help me to maintain my sugar levels while exercising. The dog goes through 750 hours of special training to learn to detect any changes in my sugar. When the dog smells a change in my sugar he will gently paw at me. Once the dog alerts me to the change I will check my sugar with my meter to see what my sugar number is.
    Carbohydrate counting, blood sugar testing, insulin shots, low blood sugar, strict schedules- these are things that my family and I are learning to cope with living with T1D. When you have T1D, a person's pancreas stops producing insulin, which is essential to the body's ability to get energy from food. It strikes both children and adults suddenly and is unrelated to diet or lifestyle. Managing T1D requires constant carbohydrate counting, blood-glucose testing, and lifelong dependence on insulin. With T1D there are no days off, and there is no cure.
+ Read More
Sonia Campoli Hoy
32 months ago
We hope you reach your goal, angel! Love you bunches & bunches! Uncle Darrin, Aunt Sonia & Michael xoxoxo
+ Read More
Thank God that you have Pineapple now.....She is such a brave little girl. God watches over his children.
+ Read More