Kidney Donor, Student, Athlete #GFM
$1,010
of $1,000 goal
Raised by
58
people in 25 months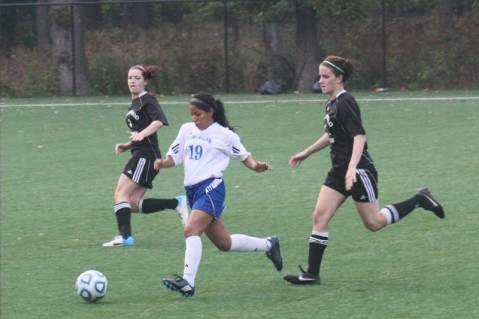 Who is Daisy?
My name is Daisy Salgado and I am a Junior at Dominican University from Chicago, Illinois. I don't normally enter contests but, this is an opportunity I did not want to pass up in hopes that maybe sharing my small story can motivate others. Regardless of obstacles you face against you- you can keep going.   I have attended Dominican University full time for three years while also playing for their Women's Varsity soccer team where I was given the opportunity to travel and play collegiate soccer. While at Dominican I have been able to participate in different boards and groups to stay involved and give back to the groups I am a part of.
What's her story?
During my time in school my mom's kidneys failed unexpectedly during my second year attending Dominican where she had to have an emergency catheter placed on the side of her neck. I watched my mom go through dialysis a little over a year and watching someone you care about go through such an emotional and physically draining process was not easy. My mom attended dialysis three times a week at 5am for three hours and sometimes the pressure was too much for her body to handle. My mom, just like me, is very small (5ft) and sometimes the procedure would then result in a hospital visit until her blood pressure was under control. Fortunately, during this time, I found out I was a match for a kidney donation to her and it was one of the best days of my life knowing I had the opportunity to give a second chance to the biggest supporter and most important person in my life.
Although I am the youngest of my three siblings, and "her baby"- I told my mom I wanted nothing more than to protect her and do everything and anything I can to help her get better. My surgery was expected to have 2 weeks of recovery time, but turned out to be 2 months in and out of the hospital as my pain post-surgery increased and as doctors tried to figure out what was wrong with me. I was the first complication for a kidney donation at the hospital I was in which came with a lot of pain and fear from my family because they did not know what was wrong or what the future held for me. One night, I was in the hospital hallway alone around 1am on a rolling bed waiting for the third cat scan where I reflected upon myself, my life, and what I wanted for myself if I made it out alright and even got the chance of not feeling pain anymore– which was to finish school and not hold back in anything in my life anymore regardless of how small. After many tests and doctor recommendations, it was required to have a second emergency surgery which led me to carry a drain connected to my stomach for 2 months. I was on a very strict diet that caused me to lose a lot of weight and it was very emotionally draining but although I missed too much time to return to some classes I was determined and able to pass 3 out of my 5 courses that semester. Although I did not return to play the next semester I have continued my studies, but have been working full-time due to high tuition expenses as well as medical bills. 
Why GoFund Daisy?
Regardless of my circumstances- I have always been a fighter on the field and in my studies. I have remained determined and plan on finishing my studies to provide a better life for my family and I, but as we all know attending college comes with a price. Although not easy to balance, I have worked full time all through college and have not quit towards finishing my degree. This scholarship will go 100% towards tuition for my last year of school and provide greater inspiration towards completing my MBA. Although I've had circumstances that have made it harder for me, overcoming these obstacles have made me even more determined to share my story. 
You can always get back up and keep going no matter what life throws at you and no matter what fears you have about yourself and your future.
How you can help!
Go fund me has recently started an opportunity to receive a school scholarship that can make a difference for any college student. I am creating this page in order to help me qualify for the GoFundMe scholarship, which is $10,000 given to 10 different students. Although circumstances have made it harder for me to finish school I am determined to keep going and The
#GFMScholarship
will help me register and finish my last year of undergrad this Spring. The scholarship requires that only 10 people donate to my campaign before September 28th in order for me to be eligible! Any donations 5$ or even 1$ dollar is enough to help me qualify. I'd appreciate any donations to help me be one of the students considered, please donate and share my story. Regardless of the circumstances life brings upon you, you can keep going - you are your only limit.
#GFMScholarship#GFM
+ Read More
Update 1
25 months ago
Share
I made my campaign barely yesterday and have already received more then half of my goal! I could not be more thankful to all of my friends and family and even strangers that took the time to donate and share my story. I am extremely thankful for everyone's generosity and support, please keep sharing and spreading the word! The GoFundMe Committee will start reviewing campaigns later today and will announce 10 students they have chosen for the scholarship in October. Regardless of what the results are I can not thank everyone enough for the overwhelming support thank you everyone!!
+ Read More
Be the first to leave a comment on this campaign.