Creative Disaster Ministry Handbook
$350
of $16,950 goal
Raised by
3
people in 9 days
HELP US MEET OUR GOAL BY THE DECEMBER 2, 2018 11:59PM (EST) DEADLINE!  21 DAYS LEFT.

See the CONTRIBUTION BONUSES below!Vision
Violence, terrorism, natural disasters, public crises are all too common in today's world.  
How can the local church respond with compassion and hope, especially when we are far away from the scene of these events?
I'm
Scott McElroy
 , author of
Creative Church Handbook
and director of the non-profit
New Renaissance Arts Movement .
I believe that the arts and creativity can be unique and powerful vehicles to help local churches respond and convey God's heart to our congregations and to victims of tragedy and crisis.  I'm asking for your funding help to complete an important new resource, the
CreativeChurch Disaster and Crisis Ministry Handbook,
that will detail this powerful form of ministry. 
There are 4 phases to disaster management:
mitigation, preparation, response and recovery/rebuilding
. The arts and creativity provide unique and effective means of ministry in the
response and recovery phases.
Both inside the church and in outreach.
Project scope


This handbook will  focus on arts ministry in and through the local church in the
Response
  and
Recovery/Rebuilding Phases
of disaster management.
For instance, in our local congregations far away from the scene of events, its difficult to know how to engage in the
Response phase
. Jesus told us to not be anxious, but to have compassion on those who are hurting.  We can't remain disengaged from the suffering that is going on in the world. Is there a way to mourn with those who mourn, to empathize with the suffering, to intercede right where we are?  
Indeed, artists are specially positioned to assist in that. The arts can help us process emotions, facilitate healing, help us pray or intercede, unite us, or lead us into worship. Musicians, dancers, painters, craftsman, poets in our congregations can be empowered to respond to current events with their art form and help the congregation express God's heart for people and situations in turmoil.
The new Creative Church Disaster and Crisis Ministry Handbook will offer guidelines, and case studies for how this works right in our local congregations.
During the
recovery and rebuilding phase
, local churches can offer creative outreach ministry remotely or on the ground that brings beauty in devastation, hope in tragedy, caring in in times of despair. The arts and creativity are proven to be unique vehicles for healing of trauma, and the sharing of God's love, peace, and grace in ways that can be felt and experienced, slipping past the intellect and penetrating the heart.
This new book will provide practical frameworks, ideas, and case studies for the uses of the arts in church outreach ministry in the recovery and rebuilding phase after a tragedy.
The majority of disaster relief in most crises comes from faith-based organizations, and yes, the local church should step in with supplies, manpower, materials, and finances when we can in disaster and crisis situations, to minister the dire and immediate physical needs.
But God's plan is even bigger than that meeting immediate physical needs. He is the God who IS creativity, beauty, healing, and restoration; the God who brings beauty from ashes.
He designed the arts and creativity to convey these aspects of his character; bringing hope and healing, beauty and compassion to spirits, souls, and emotions in times of crisis. The CreativeChurch Disaster and Crisis Ministry Handbook will help
churches everywhere respond and minister more effectively through the use of the creativity and the arts when disaster and crisis hits.
Would you help us make this important resource available to local churches all over the world by contributing now to our go fund me launch campaign?  

Tax DeductibleYour contributions will be sent through the New Renaissance Art Movement  non-profit, (a department of ACT Intl .) making them tax deductible.
Use
Your contributions will go to help support the many months of extensive research, interviews, case study gathering, editing, and writing required to complete this project.  Without this support I can not allot the time required to complete the book.
Submit Case Studies

If you know of instances where ministry with the arts and creativity brought expression, hope, or healing in the Response or Recovery/Rebuilding phase of a disaster or crisis situation, please connect with me! Scott (at) TheNewR.org

BONUSES:  Here are some bonuses to stay thank you for your contributions! The new book should be completed sometime in 2019, so it won't ship to you until completion,  but the other bonuses will ship when you contribute. (Note: The title of the CreativeChurch Disaster & Crisis Ministry Handbook and cover may be adjusted. )

Yes, this chart is quite busy! If you have any questions, please email me: Scott (at) TheNewR.org .   Blessings, and thanks for your support!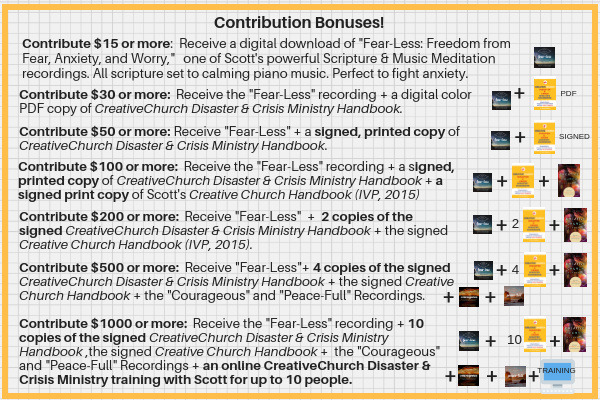 Here is the original 3 minute version of the explanation video:



+ Read More
Update 1
12 hours ago
Share
Mindy from Indianapolis donated $50 cash, so I've adjusted the goal down! Thanks so much for helping make this new ministry resource a reality!
+ Read More