Food & Medicine For Yemeni Families
$42,134
of $50,000 goal
Raised by
444
people in 31 months
The death toll and suffering of the Yemeni people is the world's greatest man-made humanitarian catastrophe in history. As an individual, we may not be able to stop the injustice and violence inflicted on innocent civilians, but we can try to prevent their starvation, and provide medicine and life-saving care packages.  Thank you to all of our donors who have helped Mona volunteers deliver aid since March of 2015.
We recently provided GoFundMe with the banking paper trail showing that all of your donations are reaching Mona Relief in Yemen. 
Remember, no amount is too great, or too small to help save a life.
YOUR DONATIONS IN 2018 - MONA VOLUNTEERS DELIVERING FOOD & SUPPLIES. 
Please take a moment to learn about the devistating cholera out break in Yemen
, due to contaminated water, and the lethal rate this preventable disease is spreading. 
-> Click here to read the article by Fatik al-Rodaini. <-The ONLY way to reach these children quickly is by donating to a charity located inside Yemen.
 The caring people at
Mona Relief Yemen
  are defending children against the suffering inflicted on them. Their volunteers are delivering lifesaving packages to the hardest hit areas, and bringing smiles to little ones' faces.
 You are invited to follow Mona Relief volunteers' good works on social media: Twitter: @monarelief Facebook: Mona Relief Yemen  Website: MonaReliefye.org Contact founder of Mona Relief, Fatik Al-Rodaini on Twitter: @fatikr  or Email: fatik.r@gmail.com.
The benefit of donating though GoFundMe to a Yemeni charity is that nearly 100% of your money
(minus small gofundme fee) is used to purchase life-saving food and supplies, that will be hand-delivered to the families in communities where children are suffering terribly from lack of food, warm clothing and medicine.  
This campaign receives donations in Canadian currency. Yemen uses Euro dollar.
The currency exchange rate is an element we have no control over. Please keep in mind that the Canadian Dollar equates to approx.
70 cents on the Euro Dollar
.  
But please,
do not let this discourage your donating funds equivalent to the Canadian dollar.

"The children of Yemen need urgent help and they need it now," UNICEF Representative Julien Harneis stressed, calling for unhindered access to areas where civilians are dying without functioning hospitals, where medicines are in short supply and children are at risk of dying from preventable diseases.

"Continuous bombardment and street fighting are exposing children and their families to a deadly combination of violence, disease and deprivation,"
Mr. Harneis said, sounding the alarm on behalf of the conflict's most vulnerable.
Founder of Mona Relief Fatik Al-Rodaini (left) delivering wheelchairs to disabled kids in Sana'a.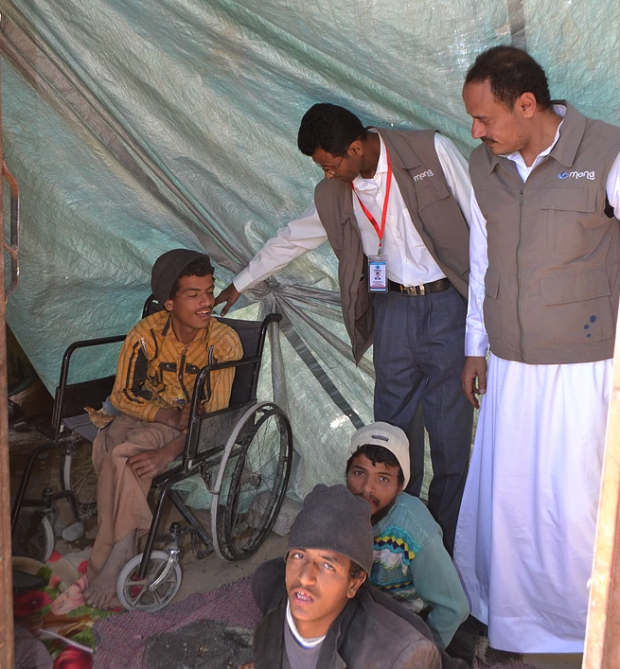 This boy is all smiles after receiving a new wheelchair.

For some children, the trauma is deep, and they have lost their homes and smiles.
Abdul Qader, a father of eight children told Fatik, founder of Mona about his daily sufferings in the cave, that he along with his family chose to move to for safety.
"Ten months ago, I came to this place leaving behind my own house after it was hit by a mortar shell and half of my house was destroyed" he said.
He added, "Thank God, I am still alive and none of my family members were injured.'' Go here to read this article by Fatik Al-Rodaini.

Children should not be forced to live in a cave, yet they do.
Mona's compassionate and brave volunteers are bringing warm jackets, bedding and smiles to these little ones.
Here you see Fatik, founder of Mona surrounded by children who will now sleep under a warm blanket at night.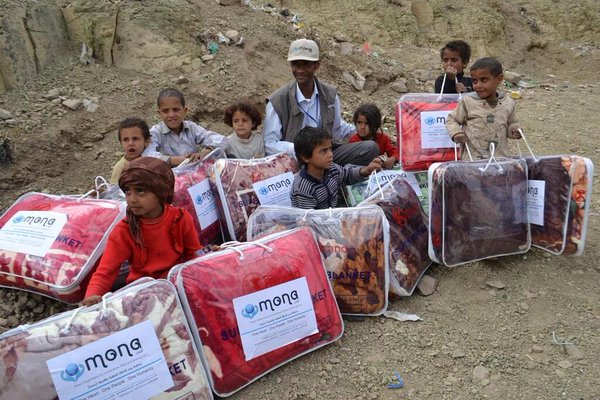 The small Republic of Yemen is overwhelmed by the critical humanitarian crisis of its people, and Yemen is desperately in need of public attention.
As a Canadian, raised in a humane society
- I cannot in good conscience turn a blind eye to the trauma and agony these little ones have forced upon them - children are just children - no matter where they live. 
The humanitarian group that will benefit from 100 percent of your donation is the Mona Organization for Human Relief and Development,
 Mona Relief then uses 100% of funds received to purchase essential supplies from inside Yemen.  Mona Relief is a Yemeni-based charity, in operation since March 2015. Registration Number: 177/2015. A tax-exempt receipt will be provided upon request: Email Leah Ferguson directly at:
Alistair.Reign@gmail.com
.
On behalf of the Yemeni families who benefit from your empathy and generosity, I thank you.
Leah V. Ferguson,  Chair and Fundraising. Co-founder of Mona Relief in Yemen and Canada.About Me Profile: Alistair Reign Mona Relief Videos: YouTube Channel 
Owner, Publisher:
Alistair Reign News Blog
+ Read More