The Boy, The 18-Wheeler, and The Miracle
$1,050
of $7,000 goal
Raised by
22
people in 54 months
The Boy, The 18-Wheeler, and The Miracle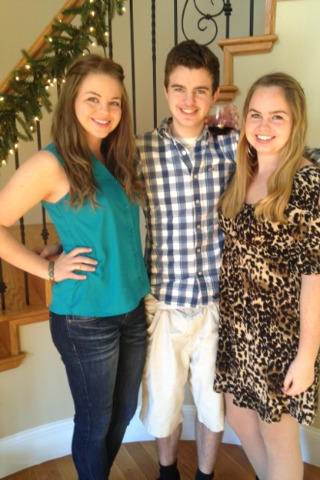 Christopher Hein is like most 17 year old boys, going to high school, playing video games, attending church and spending
time with his family and friends. Recently he was talking with his two sisters about the Mother's Day gift he just bought and was planning on giving it to her after school on that ill-fated day. This morning was like most mornings for Christopher driving to school, books, homework and friends all waiting for him when he arrives. On this day, he was navigating a four-way intersection when fate brought an 18-wheeler cargo truck into path of the Honda Civic he was driving. Suddenly, the two vehicles appeared as one sliding down the road out of control with no regard for life or limb. When the vehicle mass stopped, the cargo trailer was on its side, and more seriously, the truck's cab was leaning over
on Christopher's crushed car, just inches from his head.
Within moments the radio call went out to all that tragedy just struck. Law Enforcement, Fire Department, EMS, a couple of towing wreckers, one crane, and a cast of others came to the scene with one goal; to save lives. As the first responders arrived to assess the situation, the unspoken thought was evident on their faces, "No one survived in the Honda." One first responder dared to transverse the carnage, carefully watching the truck hanging precariously over the twisted metal of what was a car, the only person daring to verify the final outcome. A moment passed as the army of responders waited for theverification:then suddenly a shout came, "We've Got a Pulse!!!" Surprise and hope shown on everyone's face. In an instant like a well-oiled machine the first responders engineered a plan to stop the cargo truck's cab from totally collapsing and to pull Christopher to safety. Through the dangerous and unsafe conditions, rescuers worked for over an hour to treat life-threatening injuries by going through the back window of the car and at the same time trying to stop the truck's cab from totally collapsing on him. He was successfully extricated by an orchestra of passionate and skilled personnel and then stabilized for emergency flight. A life-flight medical helicopter took off from the crash scene flying him to Atlanta Medical Center's Level-1 Trauma Center where a trauma team whisked him away to emergency treatment. A day of treatment went by working against the odds that when an 18-wheeler truck meets a Honda Civic that a boy can and does miraculously survive.
After the emergency treatment he moved to the neurological (neuro) ICU for treatment of his most severely injured part; his brain . The hours and days after emergency treatment are unpredictable ones, waiting to see if positive life signs appear or will fate take its final toll. Six long nights and days passed when he was finally cleared stable enough to undergo major surgery. Repairing his damaged leg, defying which some thought no recovery was at all possible. His lower right leg will have a lot of metal in it for life. To complicate things more, his body was struck so hard he received a bruised heart, which was one of the factors contributing to the delay of leg surgery. Constant observation while in the neuro ICU and medication his heart will heal on its own in a few weeks. There are additional fractures he suffered on his left arm, right clavicle, pelvis, and left knee that weren't as severe as his right leg, and those will heal with his right leg in time with immobility and plenty of rehabilitation.
The long hours of neurological healing are the hardest to experience, his constant fight of the conscious and the unconscious states of mind trying to make sense of what is real or surreal and what is not real. The mind is the most fragile part of us when injured and the most unpredictable one during recovery.
Christopher is surrounded by family and friends, and supported by his community and countless kind-hearted strangers all bound together by the Grace of God.
Your support is needed in making his rehabilitation and his quality of life possible! All contributions will go to the incalculable costs for hospital treatment, after care rehabilitation, and quality of life costs that the family of this boy will face in the hard times ahead. No donation is too small. Even if you cannot donate with money, please donate your time by sharing this page with family and friends. We also ask that you "Like" the prayer page set up for Christopher listed below!
The Family and Friends of, Christopher Hein The Miracle Boy of Athens, Georgia
"Prayers for Christopher Hein" on Facebook:
https://www.facebook.com/pages/Prayers-For-Christopher-Hein/226523990886677?ref=stream
Online article about the crash:
http://onlineathens.com/local-news/2014-03-14/oconee-teen-airlifted-atlanta-hospital-following-friday-wreck
+ Read More
Be the first to leave a comment on this campaign.