Chicago Dragons Fundraiser
$6,200
of $20,000 goal
Raised by
37
people in 24 days
Founded in 1972 by Gene Lee and friends from Chicago's Chinatown, the
Chicago Dragons Athletic Association
  (the Dragons) began as one adult team and grew into an community asset that offered local Chinese youth organized, athletic competition. In addition to leadership skill development and athletic programs in Chinatown, the Dragons evolved to provide Chinese cultural activity opportunities that attracted young people throughout Chicago and suburbs.
For Direct contribution to the Dragons, please send check to:
Chicago Dragons
PO BOX 166500
Chicago, IL, 60616
1979 Dragons Team
Since its founding, thousands of Chinese players ranging in ages from 12 to 70 have participated in Dragon's programs, which build strong cultural values, teach leadership skills, provide healthy athletic competition, and promote good citizenship. The Dragons are a significant contributor to the Chinatown community and the city of Chicago. The Dragons participate in many cultural and community activities including dragons and Lion dances, the Annual Lunar New Year Parade, Summer Fair "Taste of Chinatown," Dragon Boat races, and the Gateway Cheer Station for the Chicago Marathon in Chinatown.
Throughout the years, the Dragons have participated in the
 NISEI Athletic Association
, and hosted many local basketball tournaments including the annual Midwest Asian Basketball Tournaments. From 1975 to 1979, the Dragons participated in the east coast Wing Wor On-Leong Tournament. In order to bring more teams together across the United States, in 1981, the Dragons established the First North American Chinese Basketball Tournament for Chinese teams in North America. As its founder, the Dragons hosted the national tournament for its first three years from '81 through '83 then in '87, '94, '05, and will once again in 2019.
                                                                                            Dragons Under 13 Team
From May 25-27, 2019, the Dragons will host the 39th North American Chinese American Invitational Tournament (NACBAIT) in Chicago. Many current and alumni of the Dragons will be playing in the tournament with hundreds of community volunteers engaged. The tournament hotel will be the HYATT McCormick Place where we expect thousands of players and family members from the over seventy teams representing cities and states from North America teams who will play in the tournament and visit our beautiful Chinatown.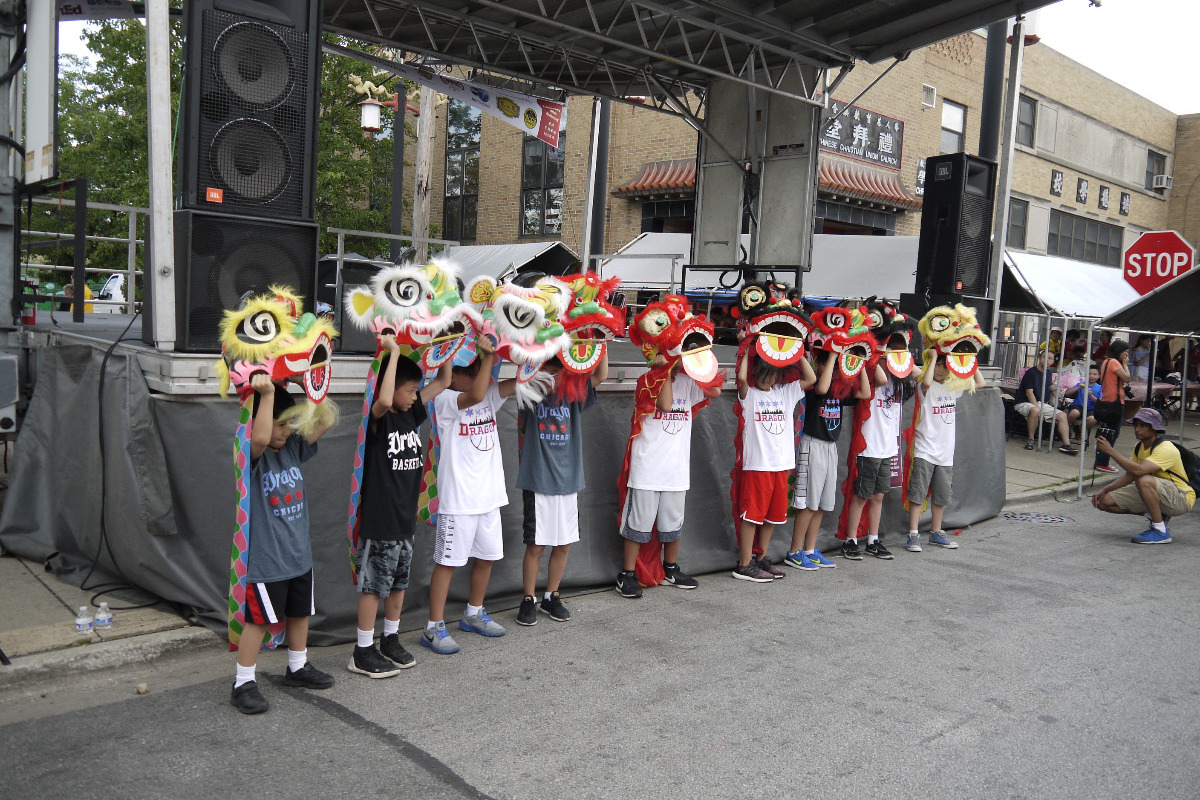 Lion Dance at the Annual Chinatown Summer Fair
In order to host the tournament successfully, we ask for your support in raising funds for the tournament and kids. Contributions will be used to pay for the Dragons youth teams participation and preparation, gym facilities, banquet, referees, other tournament related expenses, and support our mission of supporting our young people through our weekly youth basketball program, which promotes athletic competition and Chinese cultural awareness. Chicago Dragons is a 501(c)(3) not-for-profit organization. No kids have ever been turned away due to lack of money. The Dragons need your help.
Dragons Team Photo with Volunteer Coaches
+ Read More