Kickin' It on the Road w/Chef Barret
$825
of $125,000 goal
Raised by
36
people in 45 months
Celebrity Chef Barret of Hells Kitchen Season 11 and the Food Network is Heating Things Up in the Fight to Knockout Bullying by Taking His Passion for Food on the Road to Help Send a Palatable and Powerful Message: "No Matter What Negative Words or Actions Others Say or Do To You...Follow Your Dreams Whatever They May Be, the Only Person to Keep You from Succeeding and Achieving Your Dreams Is You!" ~Chef Barret
Chef Barrets Life Journey has had many highs and lows, just like every single one of us experience! But Chef Barret has taken the responsibility of his choices and has not only risen to success and celebrity status, he is determined to set a positive example and help enrich lives of our youth. He is not only showing our youth that by believing in themselves they can aspire to many things, he is also showing adults that their actions can help make a positive impact!
Chef Barret is simply taking his talent and passion in the kitchen on the road, while supporting and giving back to our youth through BULLYING...We're Kickin' It, a 501(c)(3) nonprofit organization where Chef Barret is a Spokesperson.
Chef Barret has taken part in fund-raising events for Kickin' It and shares the charities message of unity, respect, humility and kindness for oneself and others; during interviews and through his social media outlets. He still felt he wanted/needed to do more to support KIs efforts but needed to make a living while spending quality time being a role model and father figure to his daughter.
Chef Barret considered many avenues with one dream remaining a constant, having a food truck to bring his palate pleasing creations to people, rather then him working in one limited location. So by kicking around ideas with the Directors of Kickin' It, he shared his desire to do more while achieving his own dreams and together collaborating went along with Kickin' Its philosophies. This endeavor will help send a powerful message of support, determination, strength and working together where everyone benefits!
Chef Barret is staying true to his roots, continuing to enhance his craft in the field he excels in and sharing his creative mouth watering dishes that pleases any palate; by taking the kitchen on the road and hopes to have your support in bringing this endeavor to fruition.
While delivering the delectable creations, he will be helping to spread KI's message through the highly visible food truck while helping to support KI programs by donating the proceeds of what is generated. 
The first food truck will be concentrating in the New York and New Jersey area serving Lunch, Dinner and After Hour items. The truck will also be used for Catering, Special Events, KI Fundraisers and Student Culinary Programs. 
By supporting Chef Barrets goal will send a positive message that dreams are possible, support is there and the kindness of others outweighs the negative!   
100% of the funds generated through this fundraiser, will secure and support the endeavors of the food truck and the culinary arts programs at the Kickin' It Kids Center.
Any level of support is appreciated and can be used as a tax deduction through Kickin' Its 501c3 status. All Supporter Tiers Can Be Re-designed to Suit Your Level of Support, Reward Preference and Budget. Please Contact:  admin @ werekickinit . org 
If You Prefer to Mail Your Support, Make Contribution Payable to Kickin' It and Please Mail to:
PO Box 85 Adelphia NJ 07710  c/o Kickin' It w/Chef Barret
For more information about:
Chef Barret go to:
www.chefbarretbeyer.com
BULLYING...We're Kickin' It go to:
www.werekickinit.org
*Thank you for your consideration. At the very least Chef Barret hopes that his drive and out of the box approach, will inspire others to stay on their path, work hard and think of ways to give back to the charities they support!
Check Out Chef Barret's 2nd Annual Event on Aug 2nd ***EVERY DONATION of $10+ RECEIVES 2 Tickets to the 8/2 Chili Cookoff to Meet Chef Barret & ALL of THE AMAZING CHEFS Who Support Kickin' It **
http://www.eventbrite.com/e/chef-barrets-kickin-it-charity-chili-challenge-tickets-11723935607
fbk:
https://www.facebook.com/events/454080444735882/466981040112489/?ref=notif&notif_t=like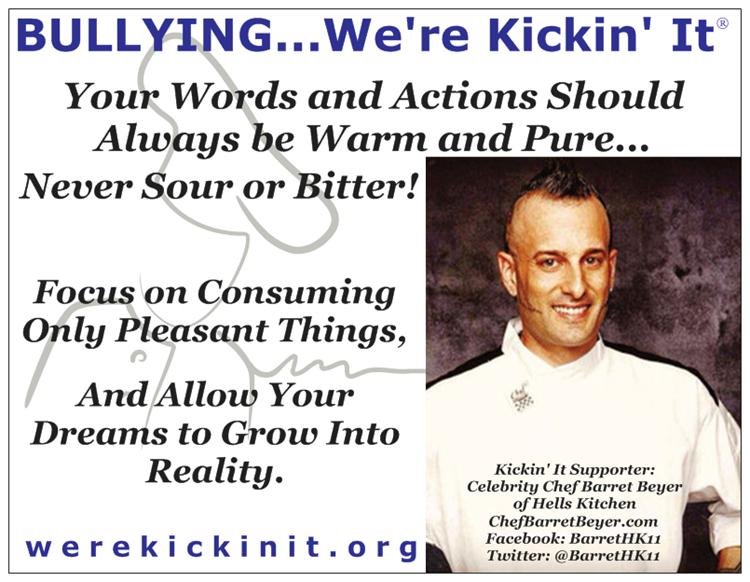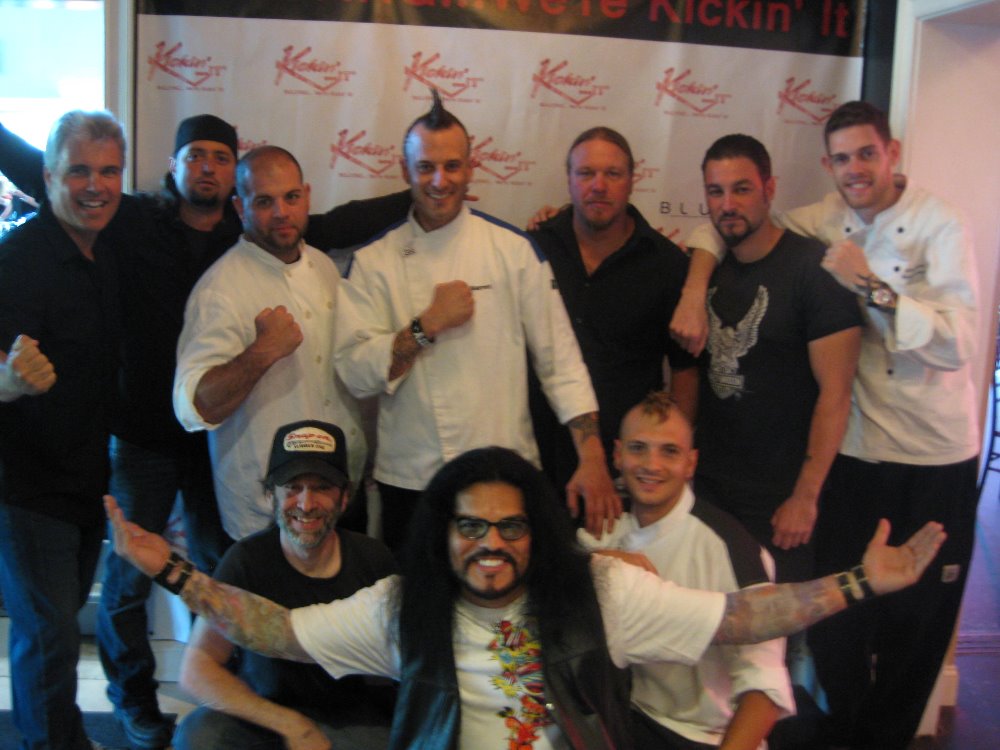 + Read More
Be the first to leave a comment on this campaign.