Help Make My Music Dreams Come True!!
$3,090
of $5,500 goal
Raised by
15
people in 33 months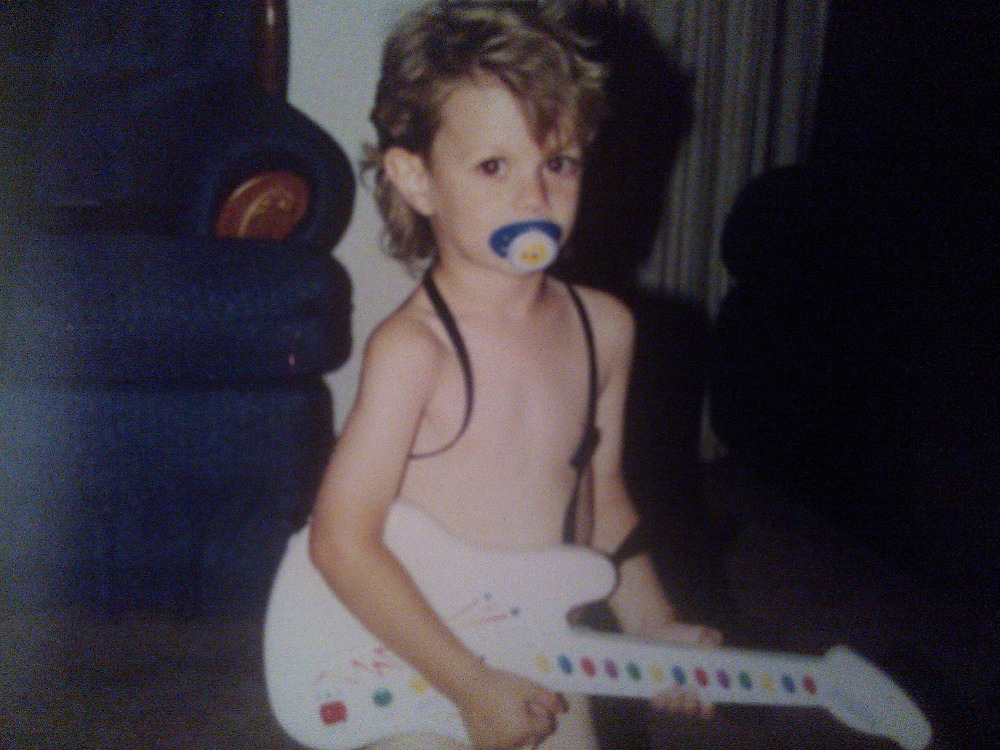 Hello all, my name is
Austin Morgan
, from a very young age I knew that I was born to play the guitar. Now that my parents look back they can see, that I have always had a guitar in my hand even as young as age 3 (pictured above). Over the years with my families help I have developed a deep love for learning the electric guitar and playing Blues music. I received my first guitar at the age of 12 from my brother Blake (who was 16 yrs old at the time).  My parents could not afford the guitar I wanted  so my brother sold his quad (off road motor bike) and took all of his money and bought me my guitar that I had been admiring at Guitar Center, as a Christmas gift. My brother's sacrifice changed my life and I only hope that someday thru my success and music, I can pay him back by buying him an even better quad to replace the one that he sold in order to support me. Since receiving my guitar I have spent thousands of hours learning to play music by watching videos on YouTube of my idols such as Stevie Ray Vaughan, Buddy Guy, Jimi Hendrix and Freddy King.
I recently auditioned for an international kids blues camp in London, England and to my excitement I was one of a handful of kids from the US that was selected to attend. The camp is a free camp put on my a gentleman from Chicago, IL named Fernando Jones (please feel free to look him up online (
www.Blueskids.com
). The camp's focus is on keeping the Blues alive in America by teaching the younger generation about it and also how to play it.  We will be in "blues music class" 3-4 hours each day, being instructed by Blues professionals and at the end of the week the students will be putting on a Blues performance at the Premises Cafe in London that is sure to be amazing.  I am soo excited!!!
Even though the camp itself is free, I need help funding my flight over to London. I have looked up several sites and the cheapest airfare to London is $3200 round trip. It is quit costly because I have to take a parent with me being that I am a minor and England has very strict laws protecting kids in their country.
My camp is August 17-22 so I would need to leave the states on August 15 and return on August 24th
.  I am posting a picture of myself and my letter of acceptance from The Premises Studios in London. I hope you enjoy and have a wonderful day.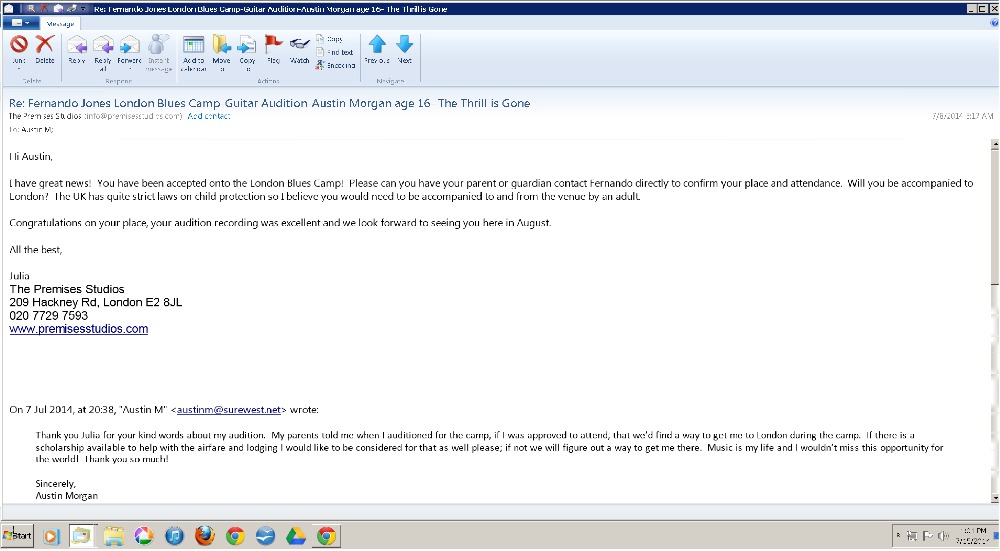 No Donation is too Big or too Small, so if you feel led to support me, I would grately appreciate it.P.S.  if you have 2 extra frequent flyer round trip tickets lying around that would work too. :)Thank you
for your consideration.
Sincerely,
Austin MorganP.S
Please feel free to check me out on Reverbnation. I am currently ranked #1 for the Local Blues Charts as well as the Sacramento Blues Charts on Reverb. Here is a link to my personal reverbnation page:
http://www.reverbnation.com/austinmorgan7
+ Read More
Be the first to leave a comment on this campaign.