Dominick's Dream Walk
$5,370
of $30k goal
Raised by
38
people in 32 months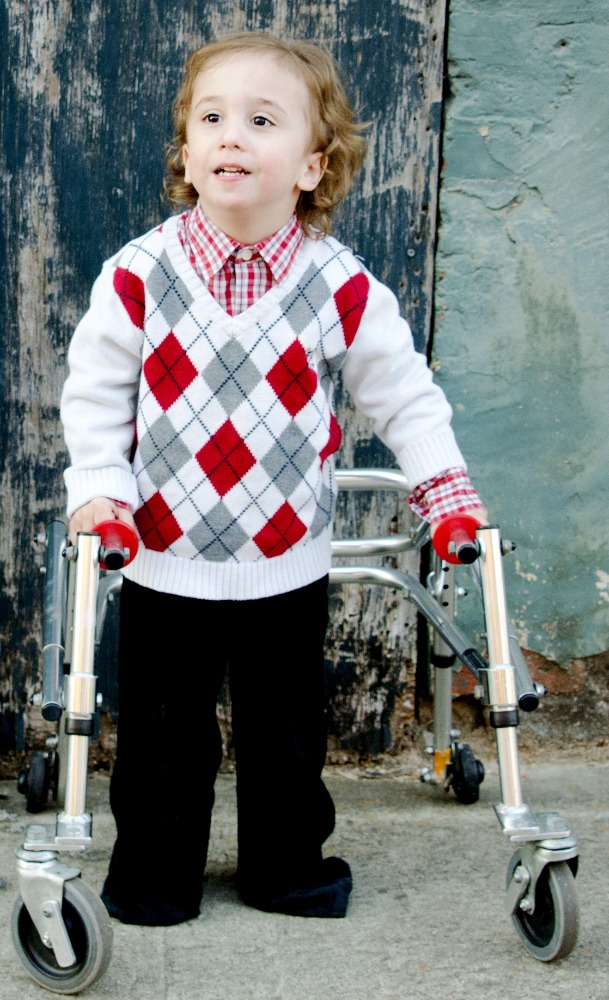 Dominick will be 4 on September 23, 2014. He has hydrocephalus, spastic diplegic cerebral palsy and dystonia. He is the strongest person I have ever known and it makes me proud everyday to see what a fighter he is.
Dominick had brain surgery at 16 month old to help lesson the pressure of the cerbreal spinel fluid that was pressing on his brain. After that surgery, Dominick worked with therapists and a large team of doctors in order to learn how to do what would seem to most to be simple movements. Movements such as opening his hands, being able to touch his face without putting his head down and being able to move his legs apart just so he could have his diaper changed. Although it has been a huge struggle for him, he has made amazing progress. Through constant therapy, botox injections, serial castings on his legs and countless MRI's and additional medical procedures Dominick is now able to use a walker to get around and can even walk on his tip toes without any assistance for certain distances. 

His neurologist believes that a surgery called Selective Dorsal Rhizotomy could change Dominick's life as it will allow him to stnad with both feet flat on the floor and learn to balance. Unfortunately, in order for Dominick to receive this surgery we must travel from our home in Atlanta, GA to St. Louis, MO to the St. Louis Childrens Hospital where we will need to spend 8 days. The total cost of the hospital fees, doctors fees and the intensive therapy he will receive while there costs $33,500 and our health insurance company will not covery the procedure for him.

Dominick is such an amazing boy and his smile and laughter can light up a room and melt the toughest heart. I want nothing more than for Dominick to be able to walk and run with his brother and sisters. Although he can walk on his tip toes right now, his does not have good balance and he is unable to walk for too long without falling. Once Dominick falls he is unable to get back up unless he crawls over to a wall or some other object he can use to lift himself up. Although at almost 4, this is no big deal to Dominick, but as he grows and his muscles tighten it will only make it more difficult for him and I would never want him walking down the halls of high school and have to crawl around if he looses his balance and stumbles.

I can't wait for the day when Dominick can stand beside me, tall and proud, both feet flat on the floor.
+ Read More
Update 2
Posted by Lindsey Slocum Penirelli
31 months ago
Share
Dominick now has his surgery date, we have our reservations for where we will be staying while in St. Louis, his intensive therapy before and after the surgery has been scheduled and over the next two and a half weeks we have two 5k walks and little man's fourth birthday! Thank you all who have donated or simply visited this page. We move closer to his surgery on November 4th and would never be able to do it without all of you!!! THANK YOU
+ Read More
Update 1
Posted by Lindsey Slocum Penirelli
32 months ago
Share
I wanted to thank everyone who has donated, viewed this page or simply spent a few moments of their time thinking about my son!

We are on our way to getting Dominick the life changing surgery he needs and deserves! Again thank you!
+ Read More
Read a Previous Update
https://www.facebook.com/events/757369087639638/
+ Read More
Good start! Remember, every little bit helps!
+ Read More