Centre culturel / Centro Cultural Gatos Negros
€795
of €8,000 goal
Raised by
8
people in 4 months
Projet :CENTRE CULTUREL  GATOS NEGROS
Proyecto: CENTRO CULTURAL GATOS NEGROS


Nous avons besoin de votre aide pour finaliser la construction du Centre Culturel Gatos Negros  dans le quartier populaire San Luis a Bogota, en Colombie.
Necesitamos su apoyo para finalizar la construccion del Centro Cultural Gatos Negros en el barrio San Luis en Bogota, Colombia.


Qui sommes nous /
Quienes somos:  GATOS NEGROS PROD
Juanita la Gaitana et Macky Ruff sont deux artistes qui tirent leurs inspirations des cultures françaises et colombiennes. En 2000, à Bogota, Ils furent parmi les pionniers des mouvements hip hop et électro. Leur double culture franco-colombienne leur permet de parler de la réalité des deux pays au travers d'une production musicale où se mélange le rap, l'électro, le reggae et le folklore traditionnel colombien. Leur démarche artistique est étroitement liée à leur investissement dans des projets à caractère social et d'éducation populaire.
Juanita La Gaitana y Macky Ruff son dos artistas que sacan su inspiración de las culturas francesa y colombiana. Fueron en 2000 de los pioneros en Bogotá de los movimientos hip-hop y electro. Su doble cultura franco-colombiana les permite hablar de la realidad de los dos países por medio de una producción musical donde se mezclan rap, electro, reggae y folclore tradicional colombiano. Su itinerario artístico es estrechamente ligado a su inversión en proyectos a carácter social y de educación popular.
En 2005, ils créent Gatos Negros Prod en France dans l'objectif de produire spectacles, disques et autres créations artistiques en toute indépendance. A travers l'association, ils vont développer des actions, en France comme en Colombie, qui allient éducation artistique et action sociale dans le but participer au renforcement de la cohésion sociale au sein de la société et de ses différentes classes. Leur volonté de tisser des liens entre la France et la Colombie est également très présente.
En 2005 crean Gatos Negros Prod, en Francia, con el objetivo de producir discos, espectáculos y otras creaciones en toda independencia. A través de la asociación, van a desarrollar acciones, en Francia como en Colombia, que reúnen educación artística y acción social en el seno de la sociedad y de sus diferentes clases. Su voluntad de tejer lazos entre Francia y Colombia es también muy presente.

« Notre engagement social et politique transparaît d'abord dans nos créations et le souci de participer activement au changement de la société dans sa globalité nous a amené à travailler avec les jeunes des deux pays. Avant de travailler avec des jeunes de quartier défavorisés, nous travaillions avec des jeunes de différentes classes sociales, sans distinction, dans le cadre d'ateliers de formation artistique car la transformation de la société, la promotion de la tolérance et de la paix doit venir de tous les jeunes et la société se construit avec tous les jeunes d'où qu'ils viennent et quelque soit leur appartenance sociale. Casser les murs des classes est une arme pour construire une société plus juste où l'inclusion vient de tous les côtés, il faut aider les jeunes de quartier populaire à croire en eux et à se donner et trouver les moyens d'améliorer leur condition et celle de leur entourage et il faut apprendre aux jeunes favorisés que les jeunes de quartier sont leur égal et ont ou devraient avoir les même droits qu'eux. »
"Nuestro compromiso social y político aparece primero en nuestras creaciones, y nuestra preocupación de participar activamente al cambio de la sociedad en su globalidad nos llevó a trabajar con los jóvenes de ambos países. Antes de estar con jóvenes de barrios desfavorecidos, trabajábamos con jóvenes de diferentes clases sociales sin distinción, en el marco de talleres de formación artística, ya que la transformación de la sociedad, la promoción de la tolerancia y de la paz debe venir de todos los jóvenes, y que la sociedad se construye con todos ellos, cualquiera que sea su pertenencia social. Romper las paredes de clase es un arma para construir una sociedad más justa donde la inclusión viene de todas partes, hay que ayudar a los jóvenes de barrios populares a creer en ellos mismos, a darse y encontrar los medios de mejorar su condición y la de sus familiares, y hay que enseñar a los jóvenes favorecidos que los jóvenes de los barrios son sus iguales y tienen o deben tener los mismos derechos que ellos."

Indéniablement, les actions mises en place par l'équipe ont trouvé une résonance plus forte en Colombie. Dès 2010, lorsqu'ils animaient des ateliers auprès des jeunes dans le quartier San Luis du Nord-ouest de Bogota, Juanita et Macky ont senti que leur action était vraiment plus utile. Ils décident alors de renforcer leur collaboration avec les structures déjà installées dans le quartier et viennent s'y installer définitivement à partir de 2013. Ils créent le Hangar, espace culturel au sein du quartier San Luis.
Por cierto,  las acciones iniciadas por el equipo encontraron más eco en Colombia. Desde 2010, cuando animaban talleres con los jóvenes en el barrio San Luis, del noroccidente de Bogotá, Juanita y Macky se dieron cuenta que su acción era realmente más útil. Deciden entonces reforzar su colaboración con las estructuras ya existentes en el barrio, y, a partir del 2013, vienen a instalarse definitivamente en el barrio. Crean el Hangar, espacio cultural del barrio San Luis. 


Quartier San Luis /
Barrio San Luis


Travaux au Centre culturel "el Hangar" /
Obras en el Centro cultural "El Hangar"
  (11-2012)
"El Hangar" 2013-10
Jusqu'en 2014, le Hangar a fonctionné grâce à l'abnégation de ses bénévoles et sans subvention. Ce fut un centre de formation, un lieu de diffusion où seront accueillis plus de 50 groupes locaux et divers spectacles vivants (locaux, nationaux et internationaux), un lieu de résidence artistique et également un lieu où les jeunes pouvaient simplement venir présenter leurs projets et les expérimenter.
Hasta 2014, El Hangar funcionó gracias a la abnegación de sus benévolos y sin subvención. Fue un centro de formación, un lugar de difusión donde serán acogidos más de 50 grupos locales y varios espectáculos de arte vivo (locales, nacionales e internacionales), un lugar de residencia artística e igualmente un lugar donde los jóvenes podían sencillamente venir expresar sus proyectos y presentarlos.


Presentation du projet "El Hangar" /
Presentacion del proyecto "El Hangar"
(2013-05)
https://www.youtube.com/watch?v=8iGdHAXtSbQ&t=269s
https://www.facebook.com/photo.php?fbid=506902265994906&set=a.506901672661632&type=3&theater
Aujourd'hui, Juanita la Gaitana et Macky Ruff ont fait l'acquisition d'une maison avec un grand terrain et ont commencé à y bâtir les fondations d'un nouveau centre culturel,  sur les bases du "Hangar" et inspiré du concept des MJC françaises.  
Hoy en día, Juanita la Gaitana y Macky Ruff adquirieron una casa con un gran terreno y empezaron a construir las fundaciones de un nuevo centro cultural sobre las bases del "Hangar" e inspirado de las casas de la juventud y de la cultura (MJC) francesas.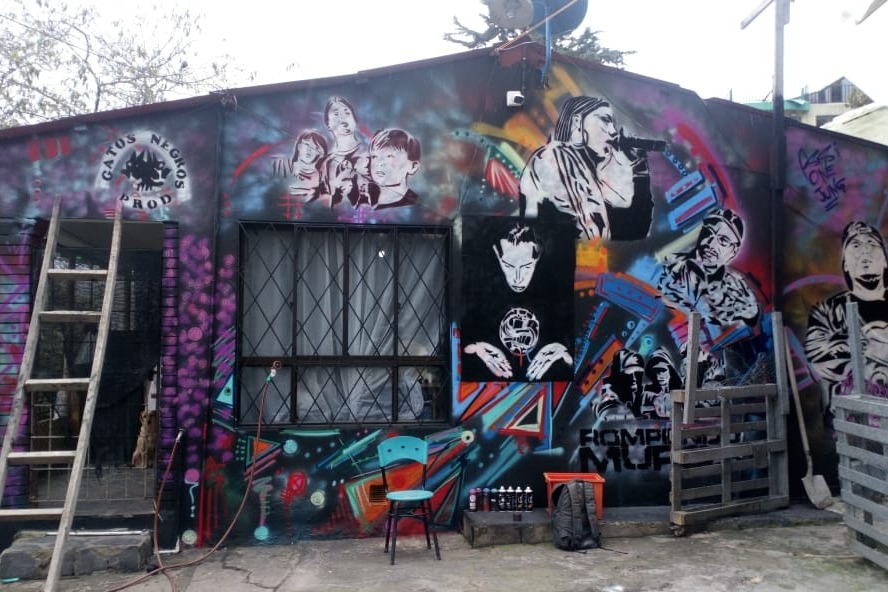 Les débuts du nouveau Centre culturel Gatos Negros /
Los inicios del nuevo Centro cultural Gatos Negros
Nous avons déjà fait beaucoup des travaux, organisé des événement et des ateliers dans les locaux du futur centre culturel mais les conditions climatiques (intempéries) de la zones et le cote provisoire des installations ne nous permettent pas de continuer avant d avoir réaliser de nouveaux travaux (toiture et isolation essentiellement). 
Nous avons besoin de votre soutient pour achever les travaux d aménagement et être enfin prêt à ouvrir nos portes aux jeunes et au public de la zone de San Luis et  et de Bogotá.
Hemos realizado muchas obras , organizado eventos y talleres en en el local del futuro centro cultural pero la condiciones climáticas (intemperies) de la zona y el lado provisional de les instalaciones no nos permiten de seguir sin realizar unas nuevas obras (aislamiento, techo sobre todo).Necesitamos su apoyo para acabar las obras y poder estar listos para abrir nuestras puertas a los jóvenes y al publico del barrio San Luis y de Bogota.
Gatos Negros Prod développe des créations artistiques en Colombie et s'inscrit dans une recherche de process économique stable et autonome. Le projet  réunit tous les éléments fondateurs de Gatos Negros Prod :
• un espace de rencontres et d'échanges
• des moyens techniques mis à disposition de la création
artistique locale avec une fenêtre ouverte sur la France
• une économie solidaire
• le partage des cultures et des connaissances
• la valorisation et l'épanouissement des jeunes
Gatos Negros Prod desarrolla creaciones artísticas en Colombia y está igualmente en la búsqueda de un proceso económico estable y autónomo.El proyecto del Hangar reúne todos los elementos fundadores de Gatos Negros Prod:•  un espacio de encuentros y de intercambios•  medios técnicos puestos a la disposición de la creación artística local con una ventana abierta sobre Francia•  una economía solidaria• el intercambio de culturas y conocimientos• la valorización y el desarrollo de las y los jóvenes
LE PROJET DU CENTRE CULTUREL GATOS NEGROS REGROUPE:
1) Un centre culturel
2) Une salle de spectacle
- concerts, prestations, cabaret, cirque…
3) Un studio d'enregistrement et de répétition
4) Un studio de production audiovisuelle
5) Une web radio/ web TV
6) Une médiathèque
- spécialisée sur les cultures urbaines
- spécialisée sur les arts de rue
- département spécial français
7) Un espace de formation
Des workshops artistiques dirigés par des professionnels,
ouverts aux français et aux colombiens
- musique
- cirque : acrobatie, trapèze, tissu, corde...
- photographie
-arts plastiques
- théâtre, danse...
8) Un espace locatif dédié aux Arts
- plastiques, visuels, musicaux...
expositions, performances...
- du cirque: aériens, jonglerie...
- aux événements privés: soirées, mariages...
9) Une boutique
- sélection de vinyles et de CD
- sélection de vêtements et d'accessoires de créateurs
locaux
10) Une brasserie
-pizzas, petite restauration, boissons, produits français...
11)  des résidences d'artistes financées par des partenaires
publiques ou privés pour encourager et valoriser les
créations françaises et colombiennes
- …
Evento Hip Hop Fever (2019-03-16)
EL PROYECTO DE CENTRO CULTURAL GATOS NEGROS REUNE...1) Un centro cultural2) Una sala de espectáculos - conciertos, prestaciones, cabaret, circo...

3) Un estudio  de grabacion y de ensallo4) Un estudio de produccion audiovisual5) Una Web radio / Web TV6) Una mediateca - especializada sobre las culturas urbanas - especializada sobre los artes de la calle - con un departamento especial francés7) Un espacio de formación Workshops artísticos dirigidos por profesionales abiertosa los franceses y los colombianos - música - Circo: acrobacia, trapecio, tela, cuerda... - fotografía - teatro, danza...8) Un espacio locativo dedicado a las artes: - plásticas, visuales, musicales... Exposiciones, performances... - de circo: aéreo, malabares... - a los eventos privados: fiestas, matrimonios..9) Una tienda - selección de discos CD y vinilos - selección de ropa y accesorios de creadores locales - selección de productos importados de Francia10) Una "brasserie" - pequeño restaurante , bebidas, productos franceses11) Residencias de artistas financiadas por instituciones públicas o privados para apoyar y valorizar las creaciones artísticas francesas y colombianas


Evento Hip Hop Fever (2019-03-16)
https://www.facebook.com/pg/GatosNegrosLabel/photos/?tab=album&album_id=2056131091088873 

Metis Sound Festival - Centro Cultural Gatos Negros (2018-06)


BUDGET /
PRESUPUESTO
- la maçonnerie /
Fundaciones
(2000 €)
- la toiture /
Techo
(3000 €)
- l'électricité /
Electrcidad
(2000 €)
- la plomberie /
la plomeria
(1000 €)
ANNEXE 1 /
ANEXO 1
: 
Quelques amenagement realises depuis notre arrivee /
Algunos areglos hechos desde nuestra llegada
(Centro Cultural Gatos Negros)



ANNEXE 2 / ANEXO 2:
Evenements realises dans lel Centre Culturel Gatos Negros /
Eventos realizados en el Centro Cultural Gatos Negros
(2018)
ANNEXE 3 / ANEXO 3:
Photo du Centre culturel " El Hangar",
Fotos del Centro cultural "El Hangar" (2013, 2014)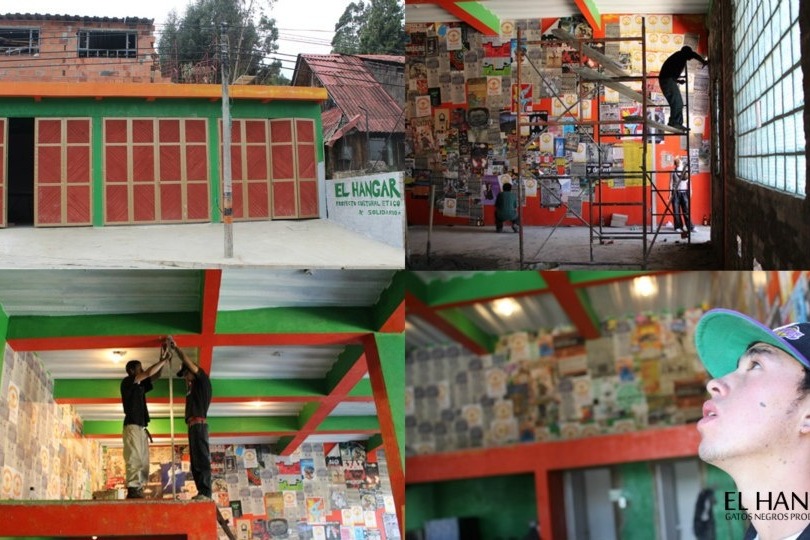 CONTACT:
Gatos Negros Prod
Cra 11 este # 100B-20
Bogota, Colombia
(57) 3192990542
(57) 1 6320377
contact@gatosnegrosprod.com
http://gatosnegrosprod.com/
English Version:
We need your help to finalize the construction of the Gatos Negros Cultural Center in San Luis, Bogota, Colombia.
Who are we
In 2005, they created Gatos Negros Prod in France with the aim of producing shows, records and other artistic creations in complete independence. Through the association, they will develop actions, in France as in Colombia, which combine artistic education and social action in order to participate in strengthening social cohesion within society and its different classes. Their desire to forge links between France and Colombia is also very present.
"Our social and political commitment is reflected first in our creations and the desire to participate actively in the change of the society as a whole has led us to work with young people in both countries. Before working with disadvantaged inner-city youth, we worked with young people of different social classes, without distinction, as part of arts training workshops as the transformation of society, the promotion of tolerance and peace must come of all young people and society is built with all young people from wherever they come and whatever their social background. Breaking the class walls is a weapon to build a more just society where inclusion comes from all sides, we need to help the young people of the neighborhood to believe in them and give themselves and find ways to improve their condition and that of their entourage and it must be taught to young people favored that neighborhood youth are their equal and have or should have the same rights as them. "
Until 2014, the Hangar operated thanks to the selflessness of its volunteers and without subsidies. It was a training center, a place where more than 50 local groups and various live shows (local, national and international) will be hosted, a place of artistic residence and a place where young people could simply come to present their projects and to experiment them.
Today, Juanita la Gaitana and Macky Ruff acquired a house with a large piece of land and began to build the foundations of a new cultural center, based on the "Hangar" and inspired by the concept of French MJC
We have already done a lot of work, organized events and workshops in the premises of the future cultural center but the weather conditions (bad weather) of the area and the temporary rating of the facilities do not allow us to continue until we have done new work. (roofing and insulation essentially).
We need your support to complete the development work and finally be ready to open our doors to the young people and the public of the area of ​​San Luis and Bogotá.
Gatos Negros Prod develops artistic creations in Colombia and is part of a search for a stable and autonomous economic process. The project brings together all the founding elements of Gatos Negros Prod:
• a space for meetings and exchanges
• technical resources made available to the creation
local art with a window open to France
• a solidarity economy
• sharing of cultures and knowledge
• the enhancement and development of young people
THE PROJECT OF THE CULTURAL CENTER GATOS NEGROS REGROUPS:
1) A cultural center
2) A theater
- concerts, services, cabaret, circus ...
3) A recording and rehearsal studio
4) An audiovisual production studio
5) A web radio / web TV
6) A media library
- specialized on urban cultures
- specialized in street arts
- French special department
7) A training area
Artistic workshops led by professionals,
+ Read More