Support for "Super Ray" McPadden!
$32,988
of $50k goal
Raised by
399
people in 32 months
As most of you may already know, Marybeth Gauthier McPadden's son Ray (aka Super Ray & Ray-Ray) was diagnosed with cancer several months ago and went through chemo. He went in for his PET scan, and unfortunately it wasn't good news. Ray had new tumors. In Marybeth's words "The fact that they appeared and grew while he was undergoing chemo means that they are resistant to the type of chemo the doctors were using. That type of chemotherapy has a 92% to 95% cure rate, but, unfortunately, Ray fell outside of those percentages. He is being admitted to the hospital on Monday for a bone marrow biopsy and spinal tap, followed by a week of intensive inpatient chemotherapy and two more spinal taps. From there, he will return to the hospital every two to three weeks for another week of inpatient chemo. This will continue for the next five to six months. The chemo he will be getting now is much stronger than what he already received and it will be much harder on his body. It is going to be a very long and difficult road for him, but we all know that he is tough enough to beat this monster...And he WILL beat it!"

This means that Marybeth won't be able to work all that much, if at all, during the coming months. As you all know, Marybeth's husband passed away in February 2013, so this will be a financially difficult time for her.

This family has been dealing with a lot more than any one family should. They've been amazingly strong. In addition to prayers, love and support, they could use some extra help over the coming months.

Marybeth's FB page is filled with words of encouragement and offers to help. One friend said it perfectly, "Ray Ray is going to not only beat this, but he will come out stronger and better. His guardian angel will be sure of that."

Please share this page with anyone and everyone. Let's show Super Ray we're all here to support him and his family!
+ Read More
Update 2
Posted by Mary-Kate Perry
21 months ago
Share
Dear friends,

Mary-Kate has turned control of this page over to me so I can share the good news about Ray with all of you. Ray soared through his stem cell transplant in December and had clean PET scans in March and June. He went back to school in March, finished the year, and will be moving on to sixth grade next year. He is feeling fantastic, and is living the life of a normal, healthy 11 year old boy. I even registered him for football tonight. Life is good. :-)

In light of this very happy ending, and my return to work, we are shutting down this page to further donations. But before we do, I want to personally thank each and every one of you for your donations and your words of love and support. Your messages were inspiring and helped us to keep going through the very difficult times during Ray's treatment. I am humbled by the generosity and selflessness you all have shown to us and cannot adequately express how much it has meant to us. You are all angels, and we will always be grateful for what you have done for us during this incredibly difficult time in our lives. Love and thanks to you all.

With love and gratitude,

Marybeth, Raymond and Christina McPadden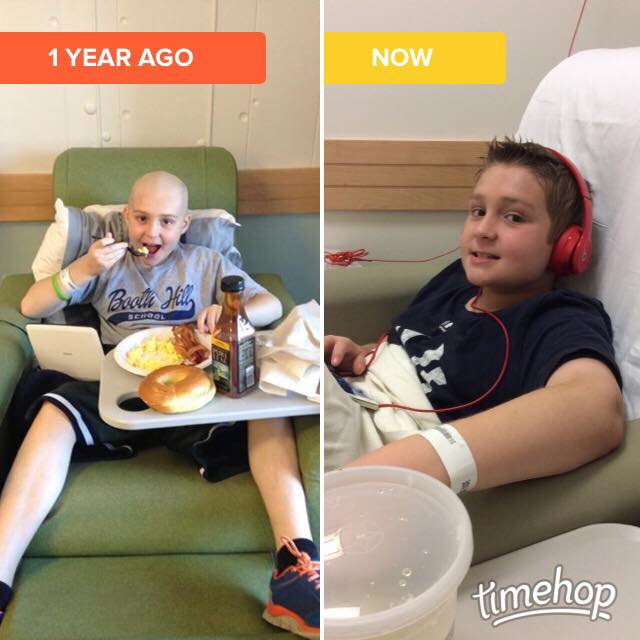 + Read More
Update 1
Posted by Mary-Kate Perry
32 months ago
Share
1.3k shares and over 15k raised in less than 1 week! Let's keep the caring and sharing going. Pass this link along so we can raise enough money to give Marybeth and Ray peace of mind to focus ONLY on getting Ray healthy.
+ Read More
Read a Previous Update