Bring Lincoln Home
$103,153
of $100,000 goal
Raised by
658
people in 47 months
Day 11

Day 10

Day 9



Lincoln's 12 Days of Christmas - Day 8
Lincoln's 12 Days of Christmas - Day 7


Lincoln's 12 Days of Christmas - Day 6
Lincoln's 12 Days of Christmas - Day 5
Lincolns 12 Days of Christmas - Day 4
Lincolns 12 Days of Christmas - Day 3
Lincoln's 12 Days of Christmas - 2nd Day
Lincoln's 12 Days of Christmas - 1st Day


First photo of Lincoln Grayson after his accident
A short video clip of Lincoln thanking for your support
Please consider donating to help 13 year old Lincoln Grayson come home! Only a few days after moving from Lethbridge to Beaumont, Alberta, Lincoln suffered a severe and life altering spinal cord injury on July 4, 2014 while riding his pedal bike with his brother, and has been in the Stollery Childrens Hospital in Edmonton ever since. While he is making tremendous improvements, he remains at this point paralyzed from the upper chest down, except for some limited movement in his right arm, and requiring the assistance of a ventilator to breath.  Please help us raise over $100,000 to help Lincolns family of 9 make his greatest wish come true - to come home!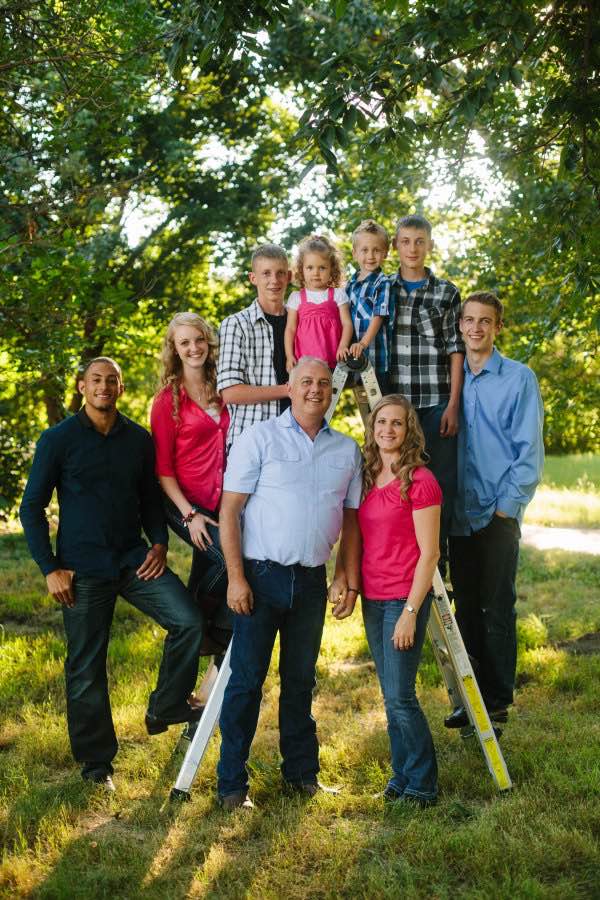 The Grayson Family (Lincoln top right)
I was fortunate to meet Lincoln Grayson for the first time July 3, 2014, when he and his older brother McKay, along with some other youth from our church, came over to my house for an outdoor activity.  Their family having moved from Lethbridge to Beaumont just a couple weeks earlier, the boys were able to enjoy themselves with other boys their age playing tetherball and working on and then riding our quad.  Lincoln told me this is his last memory from before the accident. While they seemed to enjoy themselves, it would be normal to expect some growing pains getting used to a new city and making new friends in their new home.  Never did I imagine to what level those trials would begin the very following day.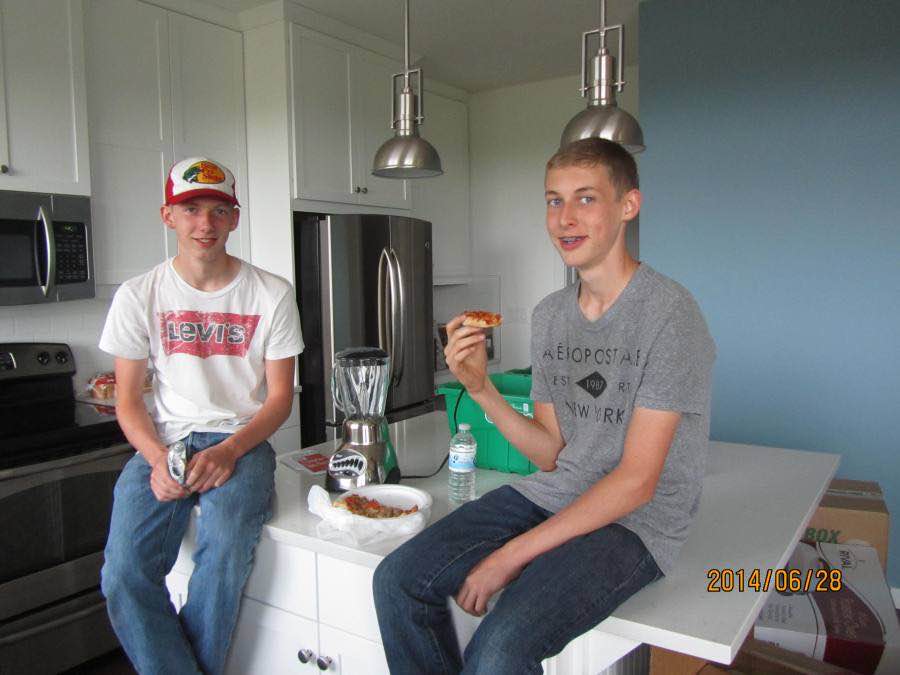 McKay(left) and Lincoln(right) a week before the accident
Ironically, on a day when our friends to the south celebrate their Independence, Lincoln lost his. Like most teenage boys, Lincoln and his brother McKay love to have fun and be adventurous, especially together.  Lincoln took an awkward fall over the handlebars of his pedal bike, and suffered a severe spinal cord and facial injury.  After several minutes, his heart stopped beating and he stopped breathing. He was very blessed that some angels including a retired firefighter were there almost immediately to help with CPR and calling 911.  
He was taken by ambulance to the Stollery Childrens Hospital in Edmonton, where they determined he had suffered a facial fracture as well as a C3 spinal fracture with significant spinal damage. He was placed on a ventilator and put into an induced coma to allow rest and healing.  His father Rich and his mothers cousin Mike were also able to give him a priesthood blessing together.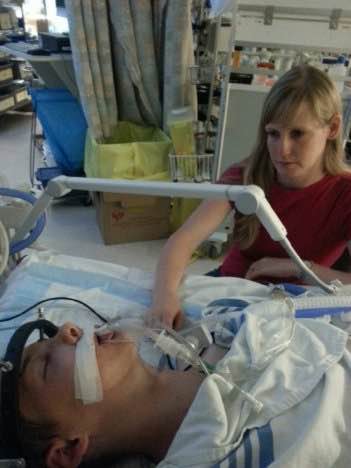 Lincoln with his mother Carmen shortly after the accident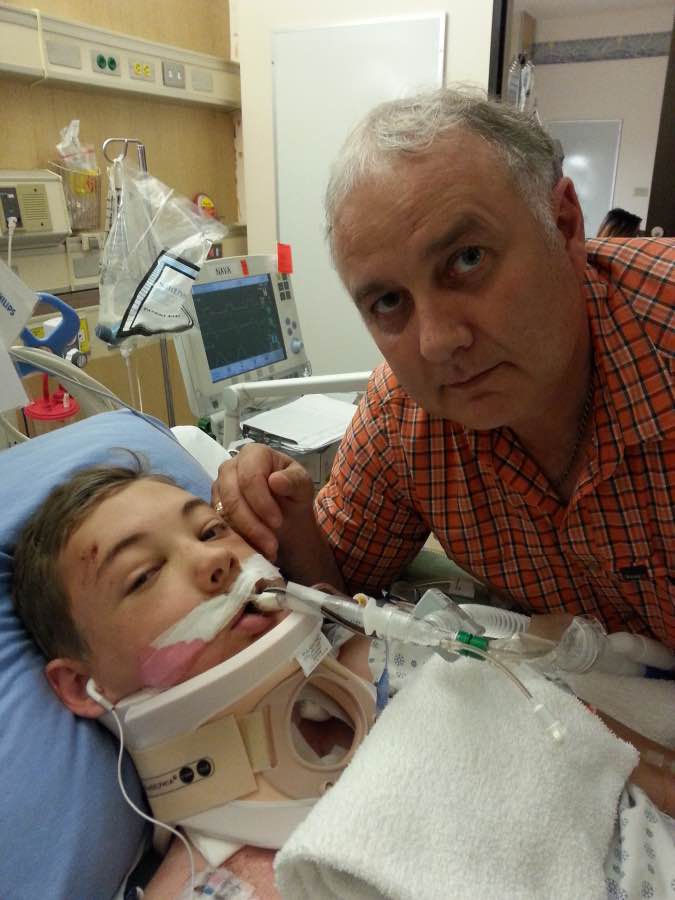 Lincoln with his father Rich, shortly after spinal stabilization surgery
Lincoln remained in the ICU for 50 days, and has now been in the Stollery Hospital for over 5 months.  He has undergone multiple surgeries including stabilization of his spine with a rod and pins, surgery to repair and stabilize his facial fracture, a drain placed into his spinal cord to allow for excess fluid to be removed and a feeding tube inserted into his stomach. 
It is a miracle he is still with us today.  Some of the other smaller miracles he has experienced in his healing include the ability to eat, speak, and smile, which they werent sure he would be able to ever do again. He especially enjoys eating anything not made at the hospital if you ever get the chance to visit him with some home cooking! He also is completing ever increasing trials of breathing on his own without the assistance of a ventilator. He has slowly gained some movement in his right shoulder and elbow and some feeling in his arm up to the wrist, and was even able to get his finger into his mouth - what a small but simple miracle for someone they gave a 0.2% chance of having any improvements!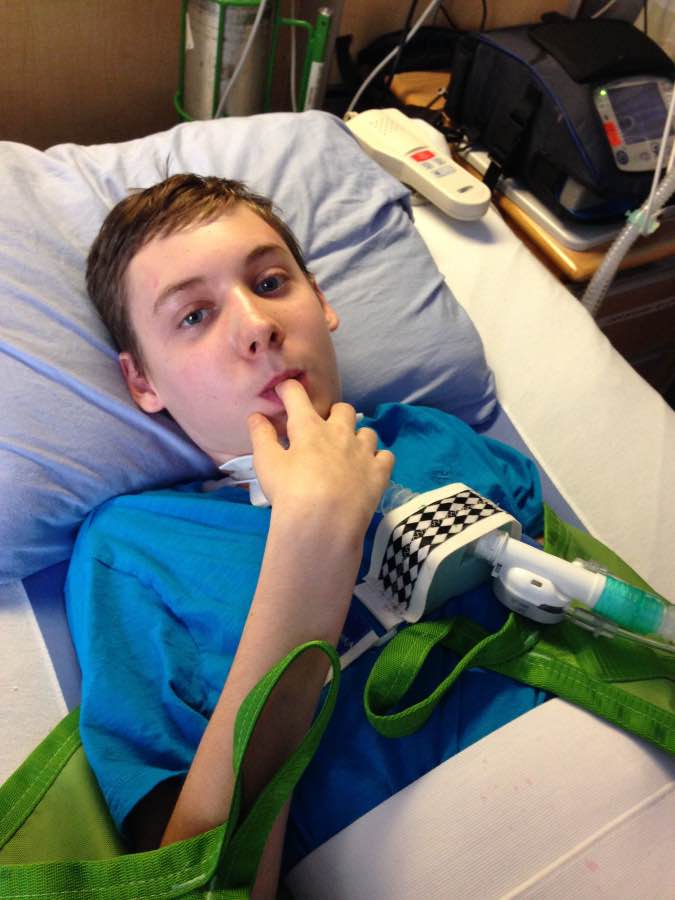 Lincoln with his finger to his mouth!
Two beautiful pictures which sum up his need for help show him feeding a popsicle to his younger brother Brock, and then Brock now returning the favor now that Lincoln was the one in need.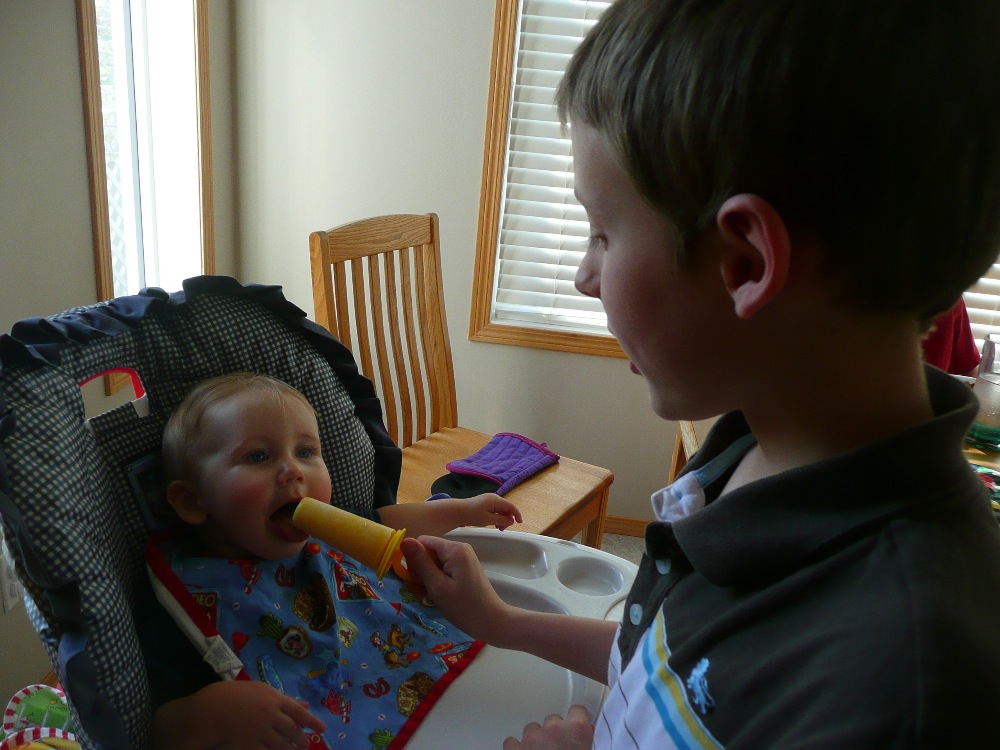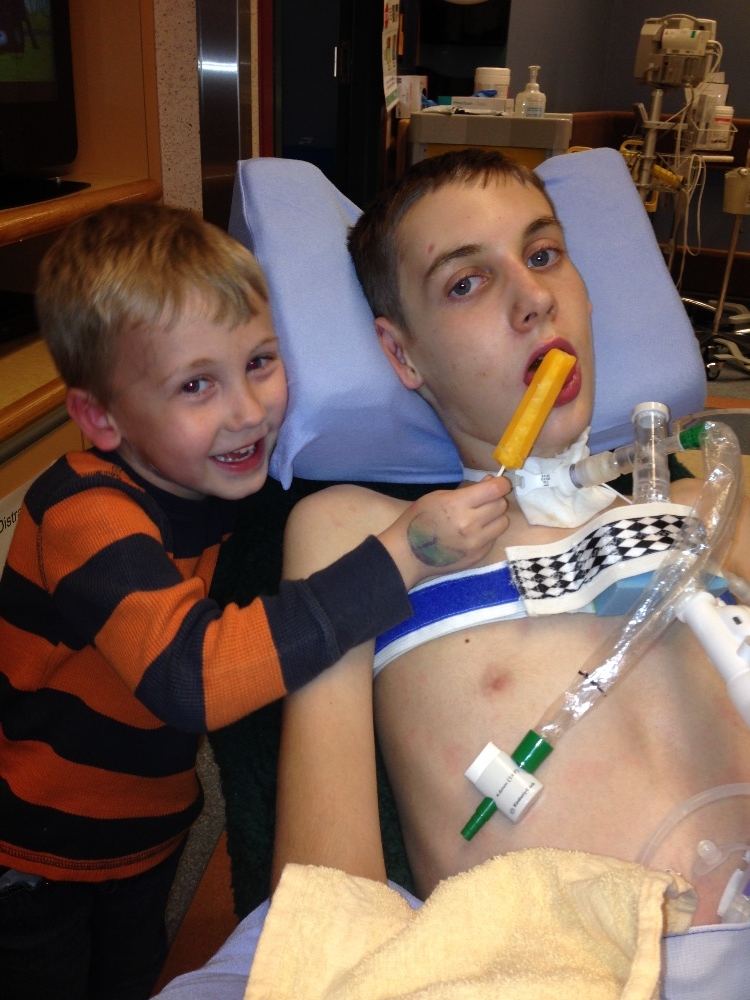 The next miracle that Lincoln needs in his recovery is to go home!  His family faces significant costs to allow him to leave the hospital and continue his recovery in the comfort of his home.  They face thousands of dollars of renovations to convert their garage into a suite for Lincoln and his care, medical expenses including a home hospital bed and wheelchair costs, significant costs for an accessible mode of transportation as well as costs for ongoing medical supplies.
If they had a penny for every thought, prayer and kind act towards Lincolns in the last several months, no fundraising would be required. But now instead of praying for and thinking of him, we all need to be the answers to those prayers ourselves. Please consider donating today and sharing Lincoln's cause with those you know. Let's bring Lincoln home!
+ Read More