Knock-Out Breast Cancer
$6,316
of $1,500 goal
Raised by
86
people in 49 months
Hello and thank you very much for taking the time to read my page. My name is Brian Lane; I am 25 years old and from Cincinnati, Ohio. Two years ago a friend, and roommate at the time, talked me into purchasing a Groupon to The Punch House. The Punch House was a local boxing gym that was not located far from our  apartment.  At first I was hesitant, but in the back of my mind I knew I needed to get back into shape. What better sport is there for an  athletically aggressive, yet teddy bear-like,  ex-football player other than boxing, right?
Right. Little did I know everything about that gym was going to change my life in more ways than just getting back in shape. It took just one day there for me to fall in love with it and begin going religiously. Soon thereafter, and through the constant encounters with other Punch House "devotees", what I received was much more than the rock hard abs I had originally signed up for. Amazing friendships were built; friendships in which I will be forever grateful. As time passed my love and dedication to boxing as a whole grew stronger, as did my friendships and aspirations to continually push myself to exceed my expectations.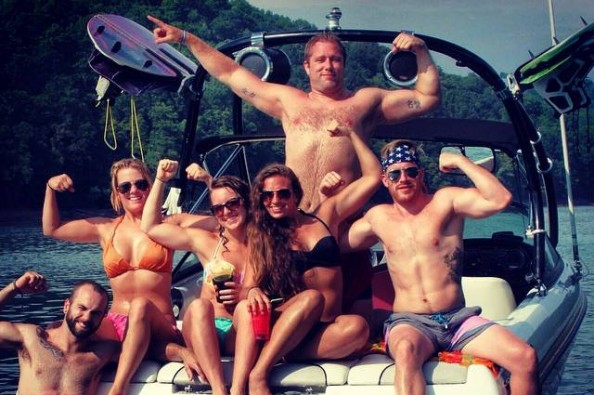 Spring of 2014 came around and my world was turned upside down. I was six hours away in Illinois making calls for work when my dad called and said it's time to cut the trip short and come  home. Right away I knew something was wrong, Mike Lane does not cut a work week short unless there is something seriously wrong. The six hour drive  felt like 18 hours because I had so many things were racing through my head. Was I being fired? Did my apartment burn down? Is the dog sick? When I walked into my parents  house I see both of my amazing sisters sitting at the counter, somber as can be. My mom was sitting there looking perfect while looking at me with a half-smile. Then there was the leader, the boss, the big man of the family standing in front of everyone. He wasted no time filling me in on what the rest of the family already knew. When those dreaded words, "Brian, your mom has Breast Cancer" came firing out of my dad's mouth I felt like I was hit with the hardest punch I could ever be hit with. I did not know my breath could just up and leave my body so quickly. I remember hitting the floor in tears searching for my breath. All I could hear were my sisters crying and my dad saying, "I am sorry theres no easy way to deliver that message." Finally I feel someones hands pick my 270 lb body up, and go figure, the only person strong enough to do that was my mom, Holly Lane.
 So many people from the gym reached out. They would let me come in and lend a ear, lend a shoulder or just leave me be so I could swing at the bag out of anger like a mad man. Every single one of my day one friends whom I have known my entire life stood by my side in full support through the entire process. People I had not heard from in years called me, texted me, and emailed me in support. Friends who have regrettably been through the same dreadful experience sent me uplifting and encouraging words of support. My boys, my
"semi-circle"
never let me feel alone from the get-go, and they have no clue how much that meant to me.
(So for all of you reading this now, Thank You, I love you all and you have no clue how much it meant to me.)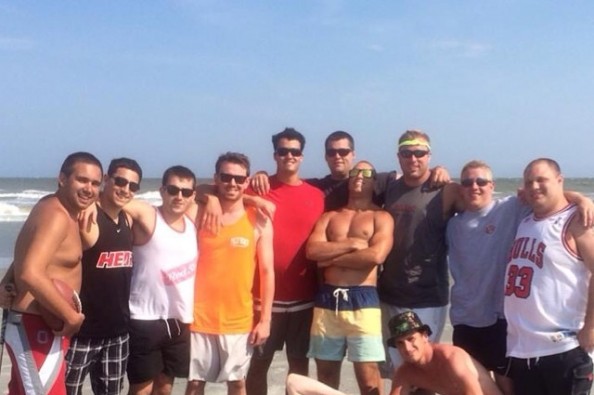 The love I felt from new friends and childhood friends was unbelievable and the support my family received was uplifting. My mom never once complained, she rolled up her sleeves like she always does, and she kicked the shit out of breast cancer. Two surgeries and 19 radiation treatments later we can luckily and thankfully say she is
cancer free. 
So this brings me to the present time and day. I sit here with a new outlook and appreciation for life, along with a new goal. This goal is to raise awareness and funds for Breast Cancer at every opportunity I get.
A few weeks ago some of the trainers at the gym approached me inquiring if I wanted to fight in their amateur fight night coming up November 14th. At first, I was terrified-I love boxing, I love the workout and release it gives me but I am no fighter. Then one night after I swore I would never fight, I thought, "Brian, your mom fought and she didn't have a choice. It's time to put your mind to something and dedicate yourself to something bigger than you and give it your all, win or lose." So I have decided to take part in my first, and hopefully only boxing match on November 14th. Now instead of just proving to myself I could face my fears by getting in the ring, I wanted to also bring some good from it all (aside from entertaining all my friends as they laugh at me while I get punched in the face). If I am going to get punched, I am going to do it while helping the ultimate fight that I have come to be so connected to. The fight against Breast Cancer.
Everyone knows someone who has been affected by Cancer in one way or another. I wish I could raise money for the fight against all types of Cancer. Because of the deep connection I have with Breast Cancer I have decided to raise and donate all funds to the
Susan G. Komen Greater Cincinnati Chapter
. On November 14th the Punch House is teaming up with me, the fighters participating and anyone else who comes out that night to help Knock-Out Breast Cancer. 
With this, I would personally like to ask you to please consider donating to my fight – my fight in the boxing ring, my Fight For a Cure. I am a lucky one: I still have my mother and she is Cancer free, but there are far more people out there who could use a hand in this fight. Every last dollar helps us reach the ultimate goal – no donation is too small. For those of you that do choose to donate and/or support me in this event in any way, I can promise you one thing: I will never stop fighting for a cure, long after I bring my passion for boxing to a bittersweet end.
Thank you for taking the time to read and consider my story. I appreciate you.
One Love,
Brian Lane
Knowledge is power-so please read and share this with loved ones and gain a better grasp on this awful disease and learn how you can better prevent it by early detetcion. 
+ Read More
Be the first to leave a comment on this campaign.