9
15
Children's Home in Uganda
$865
of $15,000 goal
Raised by
9
people in 10 months
This is Willy Kawooya, the director of Blessed Ministries Uganda, Africa. Blessed Ministries operates an orphanage that provides for 67 children in the Gomba area. It also provides monthly assistance to 17 elderly in the village.Willy is a very hard working, humble servant of the Lord and these children. His zeal and love are so evident in everything he does. 
This is a picture of his family:  his lovely wife Sharon, his three children and the dog.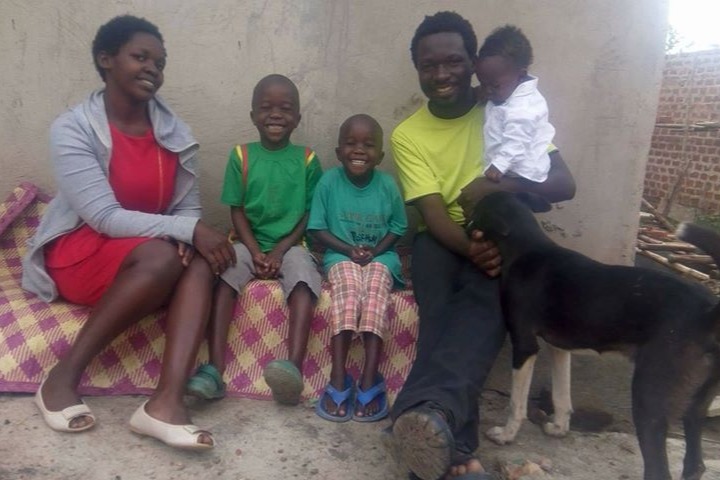 Last year Blessed Ministries Uganda raised enough money to buy some land on which to locate a new children's home. 
This year they are seeking funds for the actual home.
They are ready to build
now
so they can provide a better facility for the children and avoid the monthly rent payments they are making now.
Check out this new video of Willy describing the project. 
This is an engineer's drawing of Phase 1 of the construction project. It will cost only $15,000 to build. (US  funds) Construction costs are very low in this area of Uganda.
Preparation of the site of the new home has begun. 
And the first two truckloads of dirt. 
The children are so excited to see the project begin.
This is not a big ministry with a lot of resources. The people who support the ministry are very faithful but
more supporters are needed.
Would you consider making a donation to this worthy project and bless these precious children?
Please note that contributions to a Ugandan ministry may not be tax deductible in your situation. You should check with your financial advisor about that. However, a tax benefit is so insignificant compared to the awesome blessing you'll receive for investing in the welfare of the kids!
This is a copy of the official registration certificate for the ministry.
The children are excited about the new project. Will you stand with them?
You should also know that only 21 of the 67 children have actual sponsors for their education and monthly food. School is not free in Uganda. It costs $40 per term (3 months) for each child to attend. An additional $30 per month provides for food and essentials. Maybe you would consider becoming a sponsor of a child and make a difference in their quality of life.  You can do that through their website at: 
http://blessedministries.org/
I have been supporting Daniel for food and school for almost 2 years. He has very high marks on his report card and is a very good student. I have also contributed to other needs of the ministry. My involvement has created a special place in my heart for all of them and it has brought so much joy to my life. You could tap into that experience, too!
Because the ministry is in Uganda, it cannot operate its own page on GoFundMe. So I am doing this for them. All funds for the home will be transferred to them immediately so they can continue the project.
My name is Randy Hartwig. I am a retired pastor living in South Dakota. I love being a part of Blessed Ministries Uganda. I think you will, too! This is a photo of me and my wife, Laurel. 
Please visit and LIKE the ministry Facebook page at:
https://www.facebook.com/BlessedMinistriesUganda/
Thank you for considering a gift for these beautiful children.
+ Read More
Update 1
8 months ago
Share
We raised $865 through this campaign. We are so grateful for the support. The children are also very excited about this project. We are going to do the remainder of our fundraising through our own website and Facebook page. The website has been updated. Be sure to check it out.
http://blessedministries.org
+ Read More