World Premiere of Blood of Our Soil
$4,850
of $5,000 goal
Raised by
46
people in 19 months
*D
onations of $50 or more are eligible for a tax receipt. Please leave your name and email (you are able to make your comments private), and we will contact you directly. 

Thank you for your support!


WHO WE ARE
Hello! My name is Lianna Makuch and I am a theatre actor, playwright, and producer. I am a graduate of the University of Alberta, BFA Acting program and an Artistic Associate with Edmonton's Pyretic Productions. In March 2018, Pyretic Productions and St. John's Institute will present the world premiere of a new Ukrainian Canadian production, called 
Blood of Our Soil.
I am a second-generation Ukrainian Canadian—all four of my grand parents emigrated to Canada after the Second World War. I am very proud of my heritage and have spent the the last two years developling my new play Blood of Our Soil in order to create a living testament to that heritage.
Please read on to learn more about how to support this exciting new project which honours our historic homeland and our people of Ukraine.
Following the workshop performance of Blood of Our Soil in March of 2017, I was compelled to travel to Ukraine to further develop the script. Along with Pyretic Production company members, director Patrick Lundeen and dramaturge Matthew MacKenzie, I travelled to key destinations all over the country on a self funded, three week research trip. Throughout our journey we immersed ouselves in authentic experiences.
However, our main goal was to better understand the current conflict and its affect on the people of Ukraine. 
We gained a visceral understanding of how the conflict has affected the everyday lives of individual Ukrainians nationwide. The people we met and the interviews we recorded have inspired new content and characters for the production. Throughout our travels we met veterans, Internally Displaced People, volunteer groups focused on defensive war efforts, the head doctor of an infant and young child Orphanage, the Governor of the Donbass Region's official public relations representative, a political science professor at the University of Chernivtsi, and renowned political commentator and author, Paul Niland.
We met with long-lost members of my family, deepening my understanding of my personal heritage and illuminating differences and similarities between life in Canada and life in Ukraine. This comparison is a driving force of the play. We collected source material: recorded interviews, footage and photos of landscapes, my grandparents' ancestral villages, and sites of recent destruction. We visited cities that have been touched by recent war, including Avdiivka, which is considered the Ukrainian "front line." This research is to be incorporated into the world premiere of the production in March 2018.
This play is inspired by the lives of my two grandmothers (Babas), Anna Maryn and Kateryna Makuch. Baba Kateryna's detailed journal was particularly poignant. It recounts her family's tumultuous struggle to escape the torments of Hitler and the Bolsheviks in the 1940s. I was astonished how her political observations, written more than 70 years ago, are unnervingly relevant to Ukraine's current political climate.  
How can our land not but be fertile, when so much blood, both Ukrainian and foreign, has continually seeped into it? ... Will we live to see that moment when our people join "the circle of free nations?"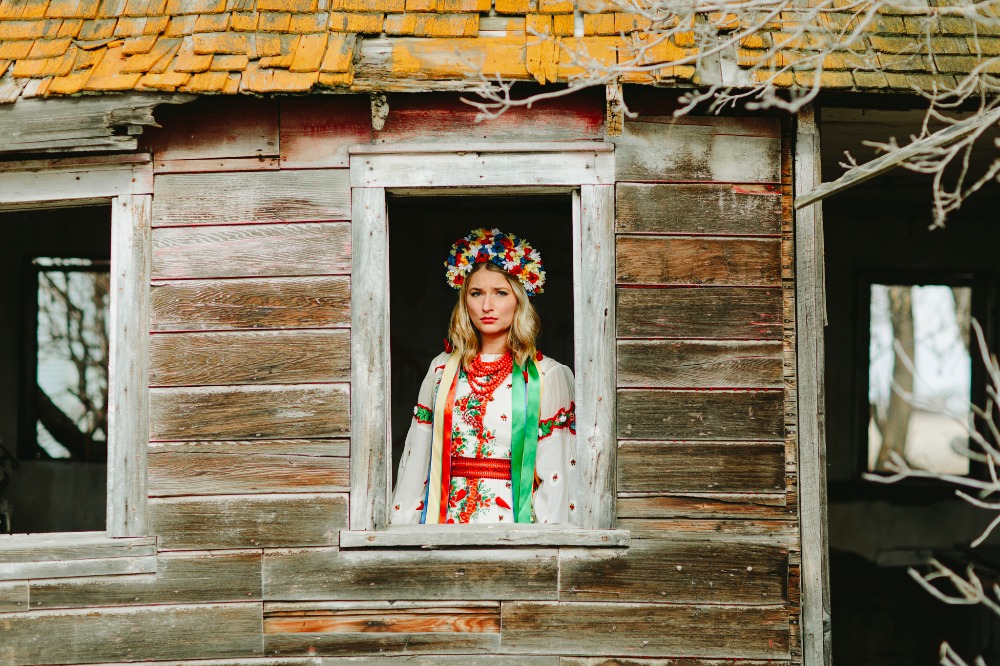 Lianna Makuch, performer and playwright, Blood of Our Soil. Photo by Mat Simpson.
Baba Hania's account of the Holodomor in central Ukraine during the 1930s were harrowing. Her family lived in the regions most ravaged by Stalin's man-made famine which was intended to starve the Ukrainian people into submission. The Holodymor devastated Ukraine and killed between 7 and 10 million people. Baba has never totaly recovered from this travesty.
Unfortunately, oppression has continued in Ukraine. During the Revolution of Dignity on Maidan Nezalezhnosti in 2013, hundreds of thousands Ukrainians demonstrated against government corruption and Russian interference with a sovereign Ukraine. Russian-backed militia ensured that the peaceful protests deteriorated to violence. Many innocents were killed, and many more injured.
Since then, Russian President Vladimir Putin has annexed Crimea, an action considered illegal by NATO and most Western Nations. Even more apalling is the Russia-backed war in the Donbas region in Eastern Ukraine. Despite protests by democratic nations around the world who condemn the incursions into soverign Ukraine, the Russians do not relent. Well over 10,000 people, soldiers and civilians alike, have been killed in the escalating conflict, and over 1.7 million people displaced.
THE PROJECT
Blood of Our Soil
tells the story of Hania, a second generation Ukrainian Canadian. As she reflects on fond memories of summers spent with her beloved Baba, a chance discovery allows her to gain new insights about her grandmother's struggles during WWII. Hania is compelled to gain a deeper understanding of both her personal and cultural history. She travels to her ancestral Ukrainian homeland, exploring both its beauty and its traumas. However, Hania is not prepared for what she discovers as she learns of the devastating impact the current conflict has had in Eastern Ukraine.
In March 2017, with the generous support of the Alberta Foundation for the Arts, Pyretic Productions,in association with Edmonton's St. John's Institute, presented a workshop production of my play-in-progress Blood of Our Soil. We staged three sold out performances.
Lianna Makuch, performer and playwright, Blood of Our Soil. Photo by Mat Simpson.Blood of Our Soil
is a personal and provocative, multi-disciplinary performance, integrating dramatic storytelling, live Ukrainian folk music, a fusion of Ukrainian and contemporary dance, and an innovative projection design painting a landscape of beauty and terror.
The performance received high acclaim from both the artistic and Ukrainian community, as well as the media. Their encouragement has inspired me to develop the workshop into a full-length play. We will be mounting the premiere of Blood of Our Soil in March 2018, in Edmonton. Following the premiere we hope to take this play to other Ukrainian centres in Canada, including Toronto, Saskatoon, Winnipeg, Vancouver, and Montreal. 
Member of Parliament Linda Duncan spoke in favour of 
Blood of Our Soil
during House of Commons proceedings in March, which were subsequently published in Hansard. Her remarks were made in support of Minister of Foreign Affairs Chrystia Freeland's powerful entreaty for extension of the federal government's "Operation Unifier." Unifier is Canada's assistance program supporting Ukrainian armed forces in the struggle against Russian aggression. MP Duncan described our production as "
the most powerful presentation [she has] seen of the long history of travesties that the people of Ukraine have suffered from the time of Stalin through Hitler, and now under Putin. "
MP Duncan issued a personal appeal to bring Blood of Our Soil to Ottawa, for the benefit of federal politicians and policy makers.
WHAT WE ARE LOOKING FOR
We are reaching out to the community to help raise funds for this project. All contributions will directly support our team of 15 highly talented and specialized artists: as well as crew members; workshop and rehearsal space; theatre and equipment rental; costume creation; and set materials. The anticipated total cost of the project is nearing $80,000.00. 
In addition to seeking community support, we are honoroed to have already received support from the
Ukrainian Canadian Foundation of Taras Shevchenko
and the
Edmonton Community Foundation
. 
(left to right) Zane Zimmerman, Lianna Makuch, Trevor Boyde. Workshop Performance Blood of Our Soil. Photo by Marc J. Chalifoux. 
(left to right) Zane Zimmerman, Ashlyn Grummett, Lianna Makuch, Trevor Boyde. Workshop Performance of Blood of Our Soil. Photo by Marc J. Chalifoux. 


THANK YOU


Blood of Our Soil
is a culmination of my love and respect for my grandparents, my art, and Ukraine—its past, present, and especially its future.
It is a privilege and an honour for me to share this story.
Thank you for your support! 
Слава Україні!
Photo by Mat Simpson.

www.pyreticproductions.ca
www.stjohnsinstitute.com
+ Read More
Update 1
10 months ago
Share
Wow! We are over half way toward our crowd-funding goal for the World Premiere of Blood of Our Soil! Thank you once again for your contribution toward this important project.
If possible, please help spread the word about our fundraiser with your contacts over social media, email, carrier pigeon... however you communicate with your friends and colleagues.
And of course, mark your calendars for the presentation of this new Ukrainian Canadian play -- March 1 - 9, 2018 at Edmonton's Westbury Theatre (10330 - 84 Ave). Tickets will be available soon. More information is currently available at
www.pyreticproductions.ca.
Слава Україні!
Slava Ukraini!
+ Read More
Be the first to leave a comment on this campaign.