Bern the Trump Card
$1,615
of $9,999 goal
Raised by
43
people in 27 months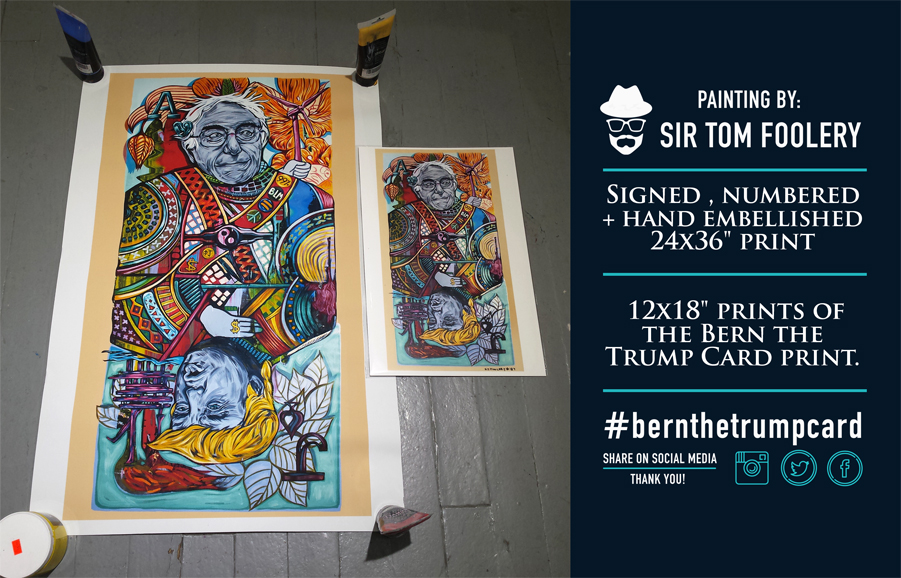 WHO AM I? WHAT IS THIS PROJECT ABOUT?
My name is Tommy Lee aka SirTom Foolery. I'm a Painter, Designer, and Creative Director. I have spent the past three months in the studio almost every day painting this tribute to Bernie Sanders because of his fearless work towards shifting the consciousness of our country. My desire is to use my talents to contribute to this revolution. To date, I am most proud of this painting. I call it, "Bern the Trump Card!" The two people in this piece, Bernie Sanders and Donald Trump, represent two very different directions for OUR country. One is the mindlessly continued status quo while the other represents an all inclusive and energized call to action to create systems that work for the many, and not just for the few people on top.
WHERE DO THE FUNDS GO?
I will take $1 from each print sold to go directly towards the Bernie Sander's campaign. In addition to raising funds and encouraging voter turnout, my ultimate goal is to get the original painting to Sanders as a gift for everything he has done in his career to speak up for the voiceless. I have already sent the first $99 check, and I can't wait to send more! The rest of the money raised through the prints will cover the cost of the prints, shipping material, painting material, paying my video Director, and renting a large van to transport the painting to Bernie. People are excited, and they are calling for change. I would love for you to join us and be an active voice in this revolution. We would be forever grateful for your contribution in helping us achieve these goals.
THANK YOU FOR YOUR CONTRIBUTION!
Remember share and tag
#bernthetrumpcard
on social media. OVER 210,000 shares on social media so far.
HOW TO GET IT TO BERNIE
!
IMPORTANT! Please send ( #bernthetrumpcard ) to Luis Calderin's FB wall at
https://www.facebook.com/luis.calderin?fref=ts
. He does the great work as Director of Arts & Culture at Bernie Sanders for President. He is the man who can get this in Bernie's hands.
+ Read More
Be the first to leave a comment on this campaign.