194
2
Bean Hollow Rebuild 2.0
$13,959
of $30,000 goal
Raised by
192
people in 7 months
Hi again.... that's right.  Here we are again.  Believe it or not the designated 1,000 year flood has happened 998 years early, and Ellicott City has endured yet another a devastating flash flood destroying all that was in its path.  The Bean Hollow,  having just opened again in April of 2017, after almost a year of rebuilding, was destroyed alongside other businesses and resident properties in the historic district. My sister Gretchen is a strong and positive gal who doesn't let a little life-crushing flood stop her. They plan to reopen in a new, safe, and dry location, but they need your help! Their livelihood and income has been taken away for the second time in two years.  Unfortunately, insurance does not cover all of the expenses associated with this type of tragedy. They are gracious and thankful for the outpouring of support. 

So, I'm trying to raise money for my sister, Gretchen, who is the owner of the Bean Hollow and has been for well over a decade. She's a long-time Catonsville resident and active member of the community. She is devastated to be ripped from the Ellicott City community, and plans to use the funds to help hold onto her home for her two children, and to rebuild Bean Hollow somewhere outside of the flood zone. 

Appreciate you all very much.
+ Read More
Update 2
Posted by Gretchen Shuey
5 months ago
Share
Hello to all my guardian angels. Everyday I think about posting an update, and I never find the words to write. Today, as we face yet another potential flood, seemed like a good time to find the words. I wish I had enough words, or the right words to express the gratitude in my heart for all of your kindness, love, and generosity as my family and I struggle to make sense of what has happened to us and our community. We have officially cleared everything that could be salvaged from our old location on 8059 Main Street. Each day is still spent cleaning those memories and storing them for later use in a new location, God willing and if my strength can carry me. As I clean each item, I remember where I got it, where it resided in my shop, what my shop meant to me and so many others, and I contemplate the future with much anxiety, but also hope. I have met with several potential new landlords, and we have some exciting possibilities before us. Several landlords and several businesses have reached out, and I have not contacted most of them yet. Every good option takes time and money, and I want to make it right for me, for my family, and for all of you who have supported us over the years and through each of these disasters. I still can't breath just yet, but all the love sent through GoFundMe, FB, messages, texts, letters, and phone calls give me strength and fill my heart with the joy of this life I have been blessed to live. Every moment given in the way of a kind word, a prayer, a helping hand, and support, matters more than can be expressed in words. I can only promise to always endeavor to start each day with giving in my heart, and to pay forward the kindness you have shown me. I will update with our future plans as soon as I know what they are:) Thank you all with much love and gratitude. I really couldn't do this without you.
+ Read More
Update 1
Posted by Gretchen Shuey
7 months ago
Share
Ahh. What is on my mind?:) I have so many people to thank for this week that I don't even know where to start. This has been a long and exhausting week that seems to have no end, but has also been filled with so many blessings that if I do finally sit and cry, it will be from gratitude. We've had long days between bagging coffee to donate at 6:00am before the kids get up, to contacting county for access, responding to as many messages, emails, and texts as I can, going to St. Peter's for donations, organizing volunteers, dealing with every insurance, payroll, vendors who are owed money, looking to future plans and opportunities, while also keeping our children "normal". The kids are struggling and we all need this school year to end. I have no words to describe what it means to us to have so many people come to our rescue, and how grateful we have been to have people manage themselves and others in the chaos. It's hard for us, every time we enter our space, to know where to begin as we simultaneously absorb the loss and try to assess possible salvage. Roger Michel, Charles Kyler, thank you for leading the way when I could not and also for being (I think) two of our very long standing customers, this becoming family. John Fisher, thank you and your beautiful children for coming to help and being willing to recover our famous bench yet again, and our enamel table. Steve Miller who may only be known as the best "okayish" bartender in E.C. and awesome realtor, but is also the best kind of people we are blessed to know, Richard J Wehner, a long longtime customer, MRTT(Mom's Run This Town) Katie Fox Knight who was with me during the darkest day of the first flood and with me again for the first days of the second flood, and will live in infamy in my house with our photos from both floods, Jill Pieri, and Beth Wise, Anna Sohn Schoenbaum, PTJ's (Patapsco Trail Junkies), Michael Strzelecki, Graham Strzelecki, Geoffrey S. Baker and Ann Baker, Katie Burke, Guy Towler, Aaron Ellison, Amy Zale, Addie Welch. The PTJ's are still here even though I haven't run more than a 5k since the last flood. I love you. Maryann Belles Kolarek and her husband,Lisa Mammana and Jacqueline, whom I have never met before, (the first two I have had the pleasure of meeting but sadly do not know well, and the second two I have never met before but know that they all have huge beautiful hearts. Joe McRedmond from Rooster and Hen, (Go there!!!) who found time between his own business and his own kids. Nancy Barr Schoenfeld whom I've known since high school and haven't seen except in passing for almost 30yrs, Deanne Marie Lenehan who is happily (for me)- a new neighbor, and amazing artist, Jim O'Connor, whose amazing photography has graced our walls at BH and whose wife Kat O'Connor and daughter Ciara were also with us after the first flood and helping us again, Jason Mah who was there during the last remodel and was here for the salvage and had a great mechanical geek mind that I love:) , Lisa Galbiati Boone and Ken Boone, who are the loveliest people you could be blessed to know, Chrissy Thompson Heiland's daughter Sarah who came and conquered even though she didn't know anybody there and was easily 25ys younger than the rest of us:), Derek Leister who volunteered while Kristen M. Leister watched over my son and gave him a safe and happy place to be, and of course, my Guardian Angel on Earth, Rebecca Moy Behre who is Greenbridge Pottery, our secret ingredient to success at BH, and my friend. I have so many other people to thank including Narcissus Hair Salon on Bloomsbury who is raffling to raise money for us. Kathy has given me my favorite hair cut twice -I've only ever been twice) And I have been blessed to have her and Kristen added to my circle of amazing people I have been gifted to know-also, their kids are my kid's favorite people. I can't list all the people that have extended a hand to keep my from falling, in this post. I have plenty more to say-as always:) and will do so when I can breath. Tracy Rudiger Horch-as always I have to stop bf I actually go through the whole list of people keeping us fed and helping us on the street, etc. Dave Myers who has shown up several times and is navigating so much to help ease the red tape. I have so many people and so much to be grateful for. I really have been struggling to find the words to describe, in any way, what we feel that would come anywhere close to allowing others to comprehend the depth of our gratitude, and the feeling of being enveloped by so much love. I know I am missing somebody who was down and dirty in E.C. Please tell me. I'm not on all four wheels right now-Jim will tell you that's my normal state of being, but every blessed person down there was a gift and very much needed. To everyone bringing meals. OMG- thank you. We are so tired at the end of the day. My family thanks you and I am forever at your service. OMG! Courtney Tierno Spencer and Jacque Felici!! Bless you. I'm so sorry. Thank you from the depths of my being. I seem to be becoming more and more scattered as the week goes on. Bless you for being with me during this difficult time. I can't imagine how I Did it but I forgot Kimberly Price Feldman who, along with Adam Feldman have been..I don't have words for what they have done as individuals, a family and through their church Metanioa. They were also effected by this flood, yet Kimberly made it down to EC to help me and others. The work they did during the flood two years ago, as well as the kindness and giving they do every day, will surely earn them their wings:) Last edit! I think I promise. The Universe knew it would take a village to raise this idiot and blessed me with Lawrence Wilt (Larry), as my stepfather. He has always been there for me when I need him and is an unsung hero in my life. I love you Larry!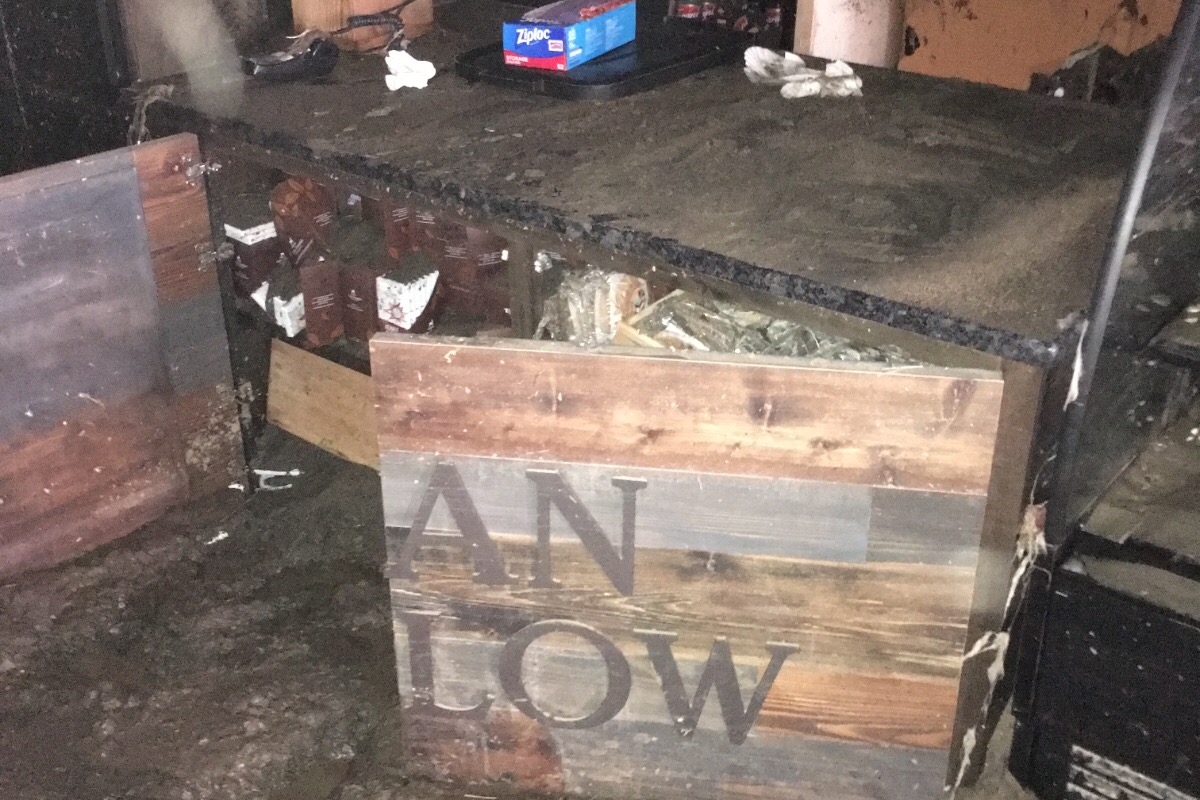 + Read More
Read a Previous Update