Bar Hop In! #1 Craft Beer Card Game
$1,372
of $2,500 goal
Raised by
21
people in 57 months
Our Prototype is IN!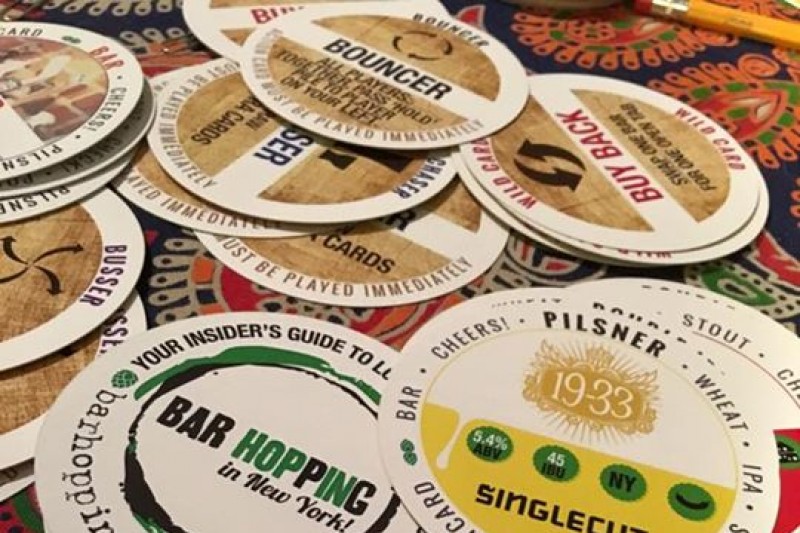 19-33 Pilsner by Singlecut Beersmiths.


The Bar Hop In! Game: What's brewing? 

'Bar? Hop In!' is a luck-based card game to serve as your insider's guide to local bars and craft beers. From the cards to real life, the game represents our natural desire to explore different places, taste a variety of awesome craft beers and connect with new people.

Our goal is:

- To increase craft beer branding awareness;
- To introduce the basics of craft beer and food pairing in a fun way, playing cards; and
- To support local businesses by promoting their products, services and activities not always found on traditional travel guides.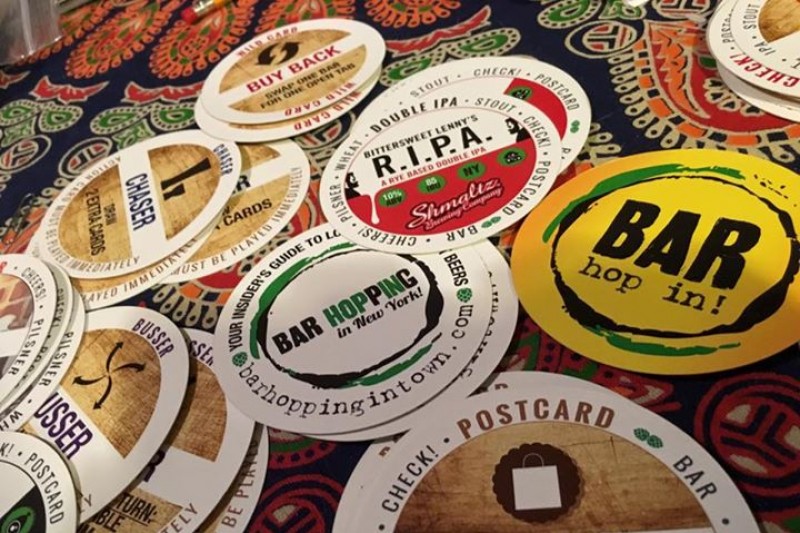 Bittersweet Lenny's R.I.P.A. by Shmaltz Brewing, Clifton Park, NY


Why Craft Beers? Opportunity to Create a Teaching Tool

Here is some interesting marketing demographic information to consider:*

- 46% of new craft beer drinkers are Millennials (25-34 years old)
- Even when craft beer drinkers commit to a brand, they seek variety
- 59% say they would try more craft or microbrew beers if they knew more about them
(*Source: Mintel Global Research, Brewers Association, Advertising Age)




With the growth of the craft beer industry, there are hundreds of great beers to choose from but new comers are overwhelmed and confused on how to make a smart choice.

The Bar Hop In! card game highlights a vast variety of craft beer labels and beer styles, featuring 40 craft breweries and 16 local craft beer bars to take you hopping from bar to bar across the State of New York!



BAR CARDS illustrates business logo, address and quick reference icons for services/features available: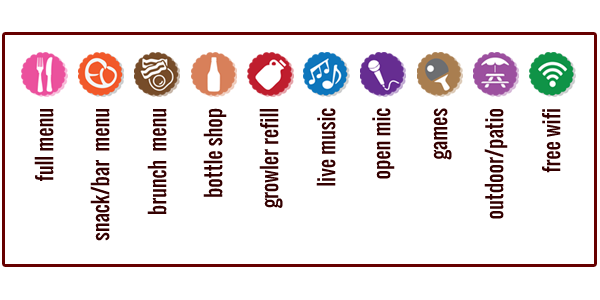 BEER CARDS feature brand labels and icons with simple information about strength (ABV%), bitterness (IBU), State of Origin and suggested pairing foods.

BEERS & BREWERIES ALREADY ONBOARD:

Pilsner, Golden Ales, Kölsch, etc
- 19-33 Pilsner by SingleCut Beersmiths  
- Easy Blonde Ale by Alphabet City Brewing  
- GH Gold by Gun Hill Brewing
- KelSo Pilsner by Kelson Beer Co.  
- Mama's Little Yella Pils by Oskar Blues  
- Mass Rising by Jack's Abby
- Mermaid by Coney Island Brewing  
- Ol' Factory Pils by Two Roads Brewing Co.
- Prima Pils by Victory Brewing  
- Steelhead Extra Pale Ale by Mad River Brewing
- Sugar Hill Golden Ale by Harlerm Brewing
- The Crisp by Sixpoint  
- Who You Callin' Wussie by Arrogant Brewing

Wheat, Saison, Cream Ales, etc
- Abbey Dubbel by Flying Fish  
- Angry Amel by Bridge & Tunnel Brewery
- Cream Ale by Newburgh Brewing
- Double Sess(ion) by Finback  
- F4 Brett Farmhouse Ale by Transmitter Brewing
- Field 2 by Third Rail Beer  
- I.P.W. (India Pale White Ale) by Upstate Brewing  
- Little Sumpin' Sumpin' Ale by Lagunitas  
- Merry Monks by Weyerbacher  
- Sour One by Big Alice Brewing
- Tripel Horse by River Horse

IPA, IIPA, Bock, Amber Ale, etc
- Bittersweet Lenny's R.I.P.A by Shmaltz Brewing
- Brooklyn East IPA by Brooklyn Brewery
- Flower Power by Ithaca Beer Co.
- Heady Hopper by The Alchemist
- Hercules by Great Divide  
- Porkslap Pale Ale by Butternuts Beer & Ales
- Ruination 2.0 by Stone Brewing Co.  
- Rye Pale Ale by The Bronx Brewery

Stout, Porter, etc
- Black Gold Stout by Rockaway Brewing
- Robust Porter by Smuttynose Brewing
- Speedway Stout by AleSmith Brewing



The beer labels (concrete vision), the color schemes (categorization) and the fact that the players are actively handling and playing with the cards create a memorable association with all featured breweries and brands making it easier for a new beer enthusiast to recognize these beers at a bottle shop, supermarket or at a local bar and make a conscious choice to buy it. Same concept of flashcards!


How is it played?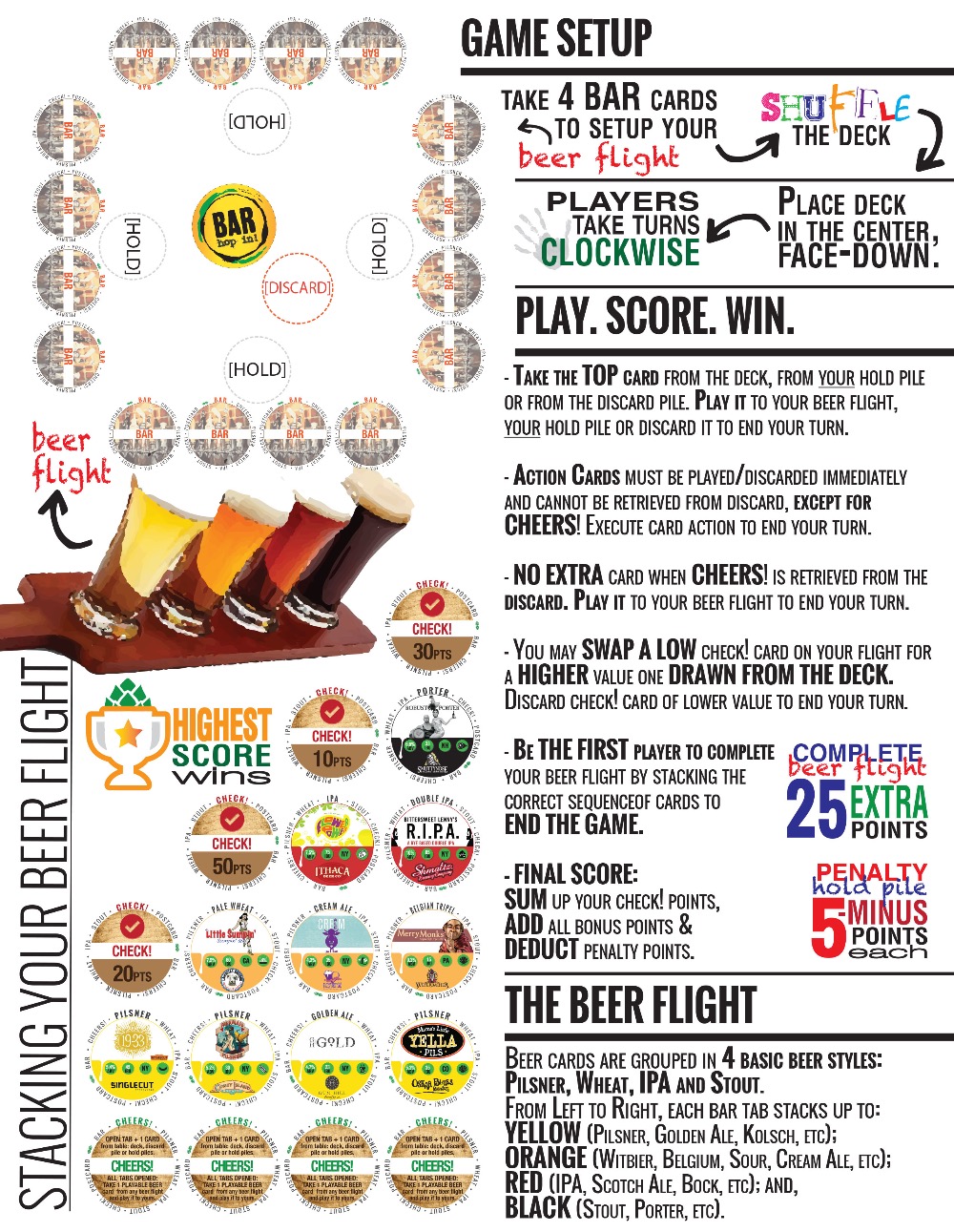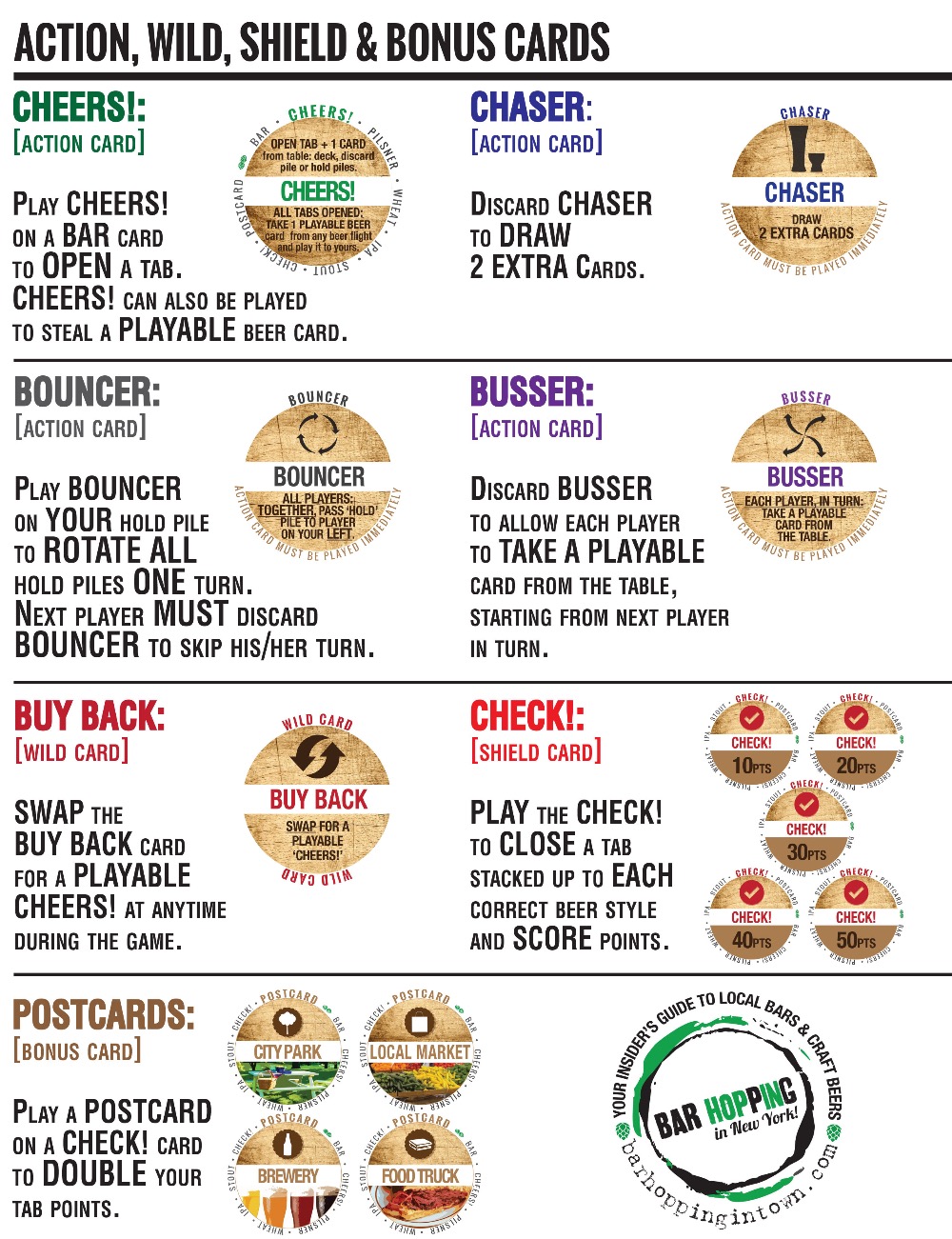 Where do your 'hops' go? Use of Funds Raised
To cover costs with production of our opening lot including playing deck, tin case and rules sheet. Funds will also be used to implement our mobile website  which will allow users to map/list locations selling craft beers as well as access beer profiles.



Tin metal case, plastic top, 100 playing cards. 100% Made in USA, easy to carry around. *For illustration purposes only. Actual product may differ slightly.

CHEERS!
+ Read More
Be the first to leave a comment on this campaign.