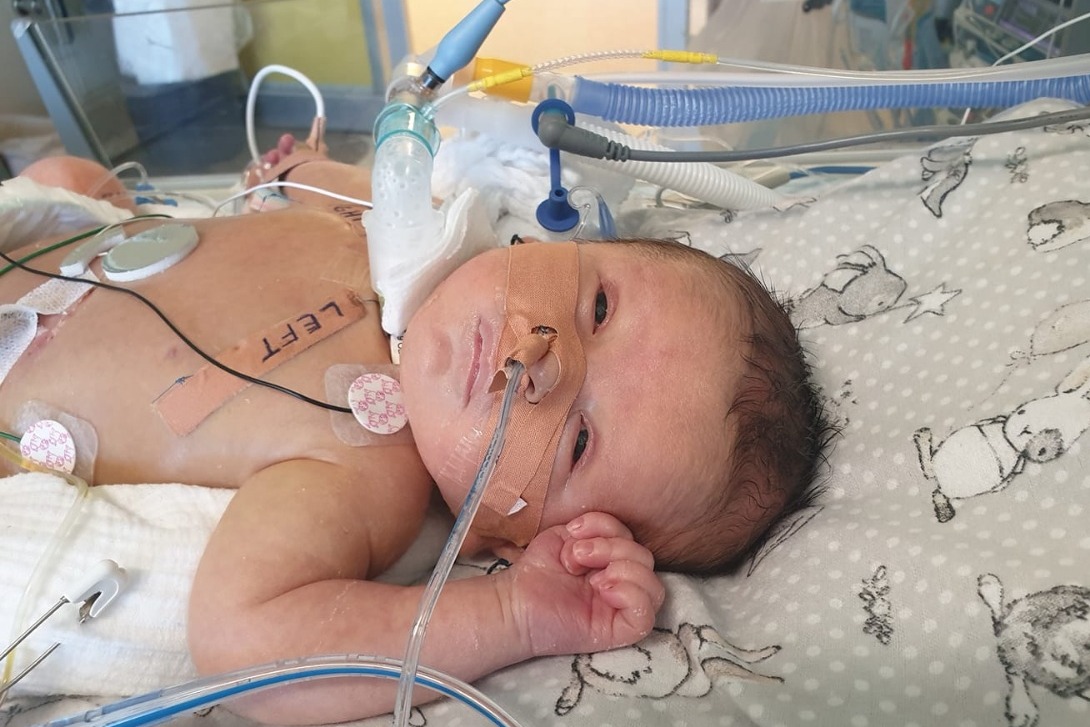 82
3
Baby Romeo
$7,285
of $1 goal
Raised by
77
people in 3 months
This is little Romeo Goodwin. The day after he was born, Dave & Amie were told that their perfectly imperfect son has only a 20% chance of survival. They cried, yelled, screamed, and asked why, and more importantly, why Romeo?  He has already undergone 3 surgeries for his bowel, oesophagus & trachea totalling over 11 hours, 8 of which were in his first 8 hours of life.

At 28 days gestation (before Amie and Dave knew he existed), and when Romeo was just a bunch of cells, his internal problems were already pre-determined and making the wrong connections. 

Romeo was born with multiple internal 'plumbing issues' involving his heart (which they only found out about 2 weeks before he was born), his bowel, oesophagus and his trachea. Basically, Romeo has plumbing in all the wrong places, with his 'pipes' stopping and starting where they shouldn't and joining to the wrong areas. None of this could have been diagnosed prenatally.

Romeo already has a tracheotomy fitted which will stay in until he is 2 years old. Amie and Dave will have to wait until then to hear their son cry again.

Surgeons tried to join his oesophagus, but it failed so that will be revisited when he is 3 months old. He has completed the first step to correcting his bowel.

This week, at 2 weeks old (36 weeks gestation) Romeo will undergo his first of three planned open heart surgeries. One now, one in 3 months and another at 3-5 years.

Amie, Dave and the kids face at least 6 months at the Royal Children's Hospital while they get Romeo sorted to finally come home. Nonetheless, the family literally couldn't be anymore obsessed or in love with him, and his big brother & sisters would agree!

This makes family life and their new "normal" very difficult. Dave has had to return to work after 1 week and the kids have been looked after by the village of amazing people that have helped keep their life as normal as possible. 

We want to raise as much money as possible to be able to help with every day essentials like daily petrol money from Bendigo to Melbourne (and back), hospital parking, healthy meals for the family, school lunches for the kids, and everything in between. This will be their life for at least the next 6 months, and then once Baby Romeo is finally able to come home, they will be hit with all the medical outgoings! This is a massive financial burden on a family of 6 living off a single (apprentice) income.

A special moment that most of us take for granted, is now one of the worst experiences a family could ever go through. Taking each step, day-by-day, one operation at a time. 

So let's help this beautiful family, and give them the opportunity to cherish every moment with their perfectly imperfect son, without the stress of a financial burden.
Any donation big or small will be greatly appreciated :)


+ Read More
Update 1
2 months ago
Share
This little legend started trialing CPAP today! Which means he's breathing on his own, and 1 step closer to being off the ventilator completely.
8 days post BT Shunt (heart surgery), we are out of PICU and back to NICU...and absolutely kicking goals!
Now we recover, wait & GROW before his next surgery in 2-3months.
Slowly getting closer and closer to getting this beautiful boy home where he belongs.
+ Read More