Help Eddie's Walk and Vets In Need
$5,025
of $5,000 goal
Raised by
78
people in 26 months
>>>>LATEST UPDATE, MARCH 30TH 2018<<<<

Eddie Gray has officially been walking the perimeter states of this country for TEN YEARS as of Tuesday 4/3/2018. And his 43rd birthday is Wednesday 4/4.

He is currently in Richmond, Virginia, heading north to D.C.

From Eddie and our humble AWWF team of Michael, Bob, and Rhonda, we are truly grateful for your support over the years. Our humble 501(c)3 set up to help Eddie continue his walk is 100% funded by grassroots supporters.

Eddie is meeting with more state representatives as well as local American Legions and VFWs this week and next week. Happy birthday Eddie and thanks again all for your support.
'Marine veteran circles America to focus attention on veterans' by Hugh Lessig


(Joe Fudge / Daily Press)






>>>>LATEST UPDATE, MAY 17TH 2017<<<<

Eddie and our small team here at AWWF are extremely grateful for the winter donations that were received to help Eddie continue his walk. Eddie depends on your generosity to keep going on behalf of vets. Thank you all.

A few quick updates:

-Eddie has had a really nice time in North Carolina, and specifically Fayetteville. He made a lot of friends in the Fayetteville PD, a lot of whom are veterans, and he was also gifted some gear by them and a new military pack by a local Academy Sports. You can see a cool new local news video here:

http://abc11.com/news/fayetteville-helps-trekking-veteran-replace-stolen-gear/1802606/

-The next big push for late spring & summer is getting Eddie to D.C. to be front and center with our government and military officials.  There are also a ton of bases in Virginia and D.C. that he'll be visiting. Look forward to a lot more content from those travels. Your donations for this would be extremely appreciated.

-We are also very proud to announce that our friends at LALO Tactical have offered to provide additional footwear to Eddie to continue his journey and will help spread the news of Eddie Gray's journey and A Warrior's Walk Foundation. Check them out! (Website, Facebook) They have some extremely rugged and awesome tactical gear and they have been extremely generous already.

-And lastly, we are in talks in regards to a partnership with Warriors at Ease to help with PTSD rehabilitation for vets. Looking forward to sharing more updates about our upcoming programs.

And here are a few new photos from his travels!






<<<<<<<<<<<<<<<<>>>>>>>>>>>>>>>>

Eddie's Story


Eddie Gray is walking the perimeter states of the US to help raise awareness and funds to help other veterans in need.



A Warrior's Walk Foundation is the 501c3 non-profit helping Eddie on his walk.

We are currently raising funds for Eddie's winter equipment needs as well as two new projects:
-feeding veteran families in need
-assistance for the children of vets' education

Please help us keep Eddie warm and walking this winter, and we are very excited about these new projects that will directly impact veterans in need.



(Photos of our September shipment, footwear courtesy of LALO Tactical )

And as the organization is now a 501c3, your donations are tax-deductible!

Merry Christmas and thank you!

Bob, Michael, and Jackson
Friends of Eddie, Co-Founders of A Warrior's Walk Foundation
www.awarriorswalk.org
www.facebook.com/awarriorswalk

And here's the short 5-min documentary that Bob directed about Eddie's walk:


Eddie on his journey: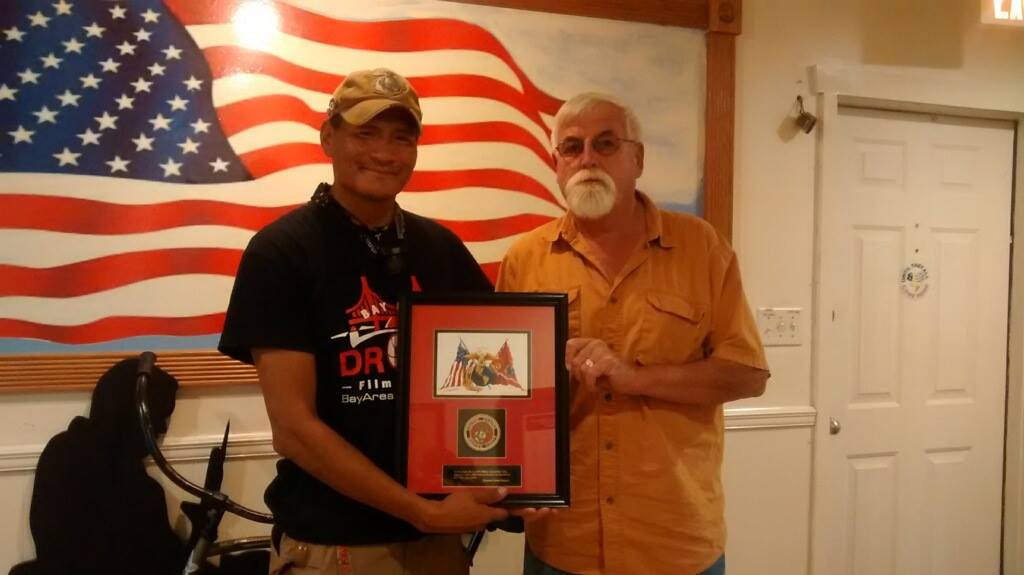 + Read More
Be the first to leave a comment on this campaign.