Arif Hasan's Training Camp Coverage
$5,115
of $4,000 goal
Raised by
147
people in 34 months
Once again, the Daily Norseman will be headed to training camp to provide the best coverage of any team by any organization. With that, Vikings Territory has been granted full media access to camp, where they'll sustain and complement that coverage better than most paid journalists have the ability to.
Unfortunately, Arif will need your help again in getting there. After transitioning to a full-time blogger, he doesn't have the funds to pay for even half his trip, like last he did last year.
In order to provide
the kind of comprehensive coverage
 that Vikings fans are used to with daily 5,000-word reports, interviews and up-to-the-minute updates, Arif needs your help getting to Mankato and staying there for the duration of camp.
Not only will he replicate his coverage, he'll improve it with higher quality video and photo than was available last year. Better than this, anyway: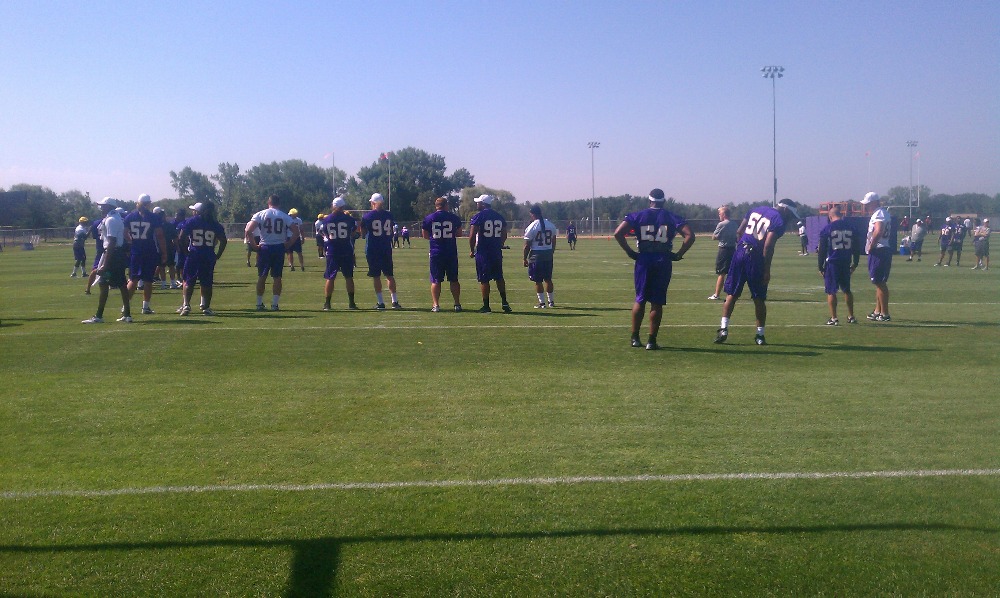 Anyone who donates at least $25.00 will be eligible to receive a Training Camp Guide written by Arif a week before training camp starts, with extensive scouting reports on all 90 players in camp, "what to watch for" guides and a predicted (and assuredly wrong) 53-man roster.
Before hitting $3200, a portion of the money (8%) will cover a charity of Adam Warwas' (of Vikings Territory) choice in order to help fundraise for a cause very dear to his heart. An identical portion (8%) will help buffer the costs of other attendees from the Daily Norseman.
After hitting $3200, those donations will reach 16% apiece. As an example, if we hit the $3200 goal, $256 of that will be donated to the charity of Adam's choice and $256 of that will help cover some of the costs of the other media members of the Daily Norseman. If we hit $3600, $320 will go to the charity and the same will go to the other Daily Norseman members.
The money will primarily cover lodging, although additional funding beyond lodging (projected to be about $2600, all told) will cover transportation, food, coffee and equipment (laptop repairs and an extended phone battery).
Anybody who wants to split any money donated a different way has the ability to "earmark" how they want it spent by ticking the "keep my donation private" box and leaving a comment.
Arif will be posting content both at
the Daily Norseman
 and 
Vikings Territory
, so be sure to check it out!
+ Read More
Update 2
Posted by Arif Hasan
34 months ago
Share
One more thing! If you've already donated a reward level, just message me with your desired reward and some details about your donation so I can confirm it's you.
+ Read More
Update 1
Posted by Arif Hasan
34 months ago
Share
Thank you so much for your support so far. We're so close to meeting our goal with training camp still weeks away! For those interested in the draft guide, it is shaping up well, and it looks like it will be longer than I thought; it could get to 100 pages.

There's a lot of content in there that I haven't put anywhere else, so it should be a really fun read before training camp (and if you're OK taking a relatively thick magazine, during training camp as well).

Beyond that, we also have raised more than $200.00 for Dakota's medical care. Pretty phenomenal stuff.

Previously, I had mentioned that money made above $3200 would be largely used as a means of increasing the share that goes to Dakota as well as other bloggers (like those at the Daily Norseman) to cover the event (originally, 8% went to Dakota's medical expenses and 8% went to other bloggers before hitting $3200. After hitting that amount, those percentages would double) with the rest going to cover my out of training camp living expenses.

The percentage doubling won't change at $3200, but I've encountered an opportunity to really make the coverage at training camp pop in a big way and increase the number of rewards I can offer people. In addition to the people offering their temporary camera services, I've been able to secure—contingent upon donations—the services of a professional freelance photographer who will also be able to do some video work. We'll get an exclusive gallery of shots for Vikings Territory and some great action photos from camp.

With that, I've also been able to provide different rewards for people donating (or people who have already donated). Anyone who has or will donate $45.00 or more can, in addition to the training camp guide, request one of the following:

- Be a guest on the Norse Code podcast
- Receive a 20x30 poster with a collage of all 90 players
- Receive a 20x30 poster with one pic of any player

If you want more than one of those rewards, each additional reward is $20 ($65 for any of the two rewards above, $85 for all three) and the training camp guide is still included at all those levels.

I cannot promise that the poster will be exactly 20x30—we're investigating pricing options and we may end up getting it between 22x28 and 24x36, but it will be in that ballpark.

If you've already donated a smaller amount and want to take part in any of the rewards, simply donate again with the difference (if, for example, you donated $40.00 and want an additional reward, simply donate $5.00 more) and the same name you used with your original donation, along with a message clarifying that you are eligible for another award.
Separate from all of those are two $10 rewards (if you donated $25.00 to get a camp guide or $45.00 to get one of the three above rewards, you would still need to donate an additional $10 to get the following rewards):

- An 8x10 photo of any player
- An article request (approved by me, of course)

An article request would basically be an email asking me to investigate or speak on a particular Vikings- or football-related issue.

With all that in mind, the new goal is $4000 even. This will cover the additional cost of a photographer and some additional expenses that have cropped up in the mean time.

If we do not reach $4000, but do reach $3200, I will still be going to training camp to cover it, but I will not be able to promise that I can fulfill the photo-related rewards (though I will still try).
+ Read More
Read a Previous Update
Be the first to leave a comment on this campaign.