Arte Pad Summer Love Festival
$160
of $25,000 goal
Raised by
4
people in 13 months
Arte Pad Organization is a team of artists and musician united together to revive and recreate the art and music scene in San Diego! Our vision is to open the 24 Hour Arte Pad in the old, abandoned San Diego City Public Library on 820 E St. Arte Pad provides the work space, tools, materials, supplies and education for artists, musicians, and crafters . From fine art and painting, to wood working, metal working, photography, jewelry,  fashion design, framing and more! Included in this vision is a 24 Hr Organic Café with healing arts and healing nutrition to support artists being prosperous, not only their creativity and careers but in their bodies--both mentally and emotionally. 
Arte Pad connects artists together in their individual crafts and passions, while having the support of a team. With Arte Pad Festival, we are designing the structure for the big vision of the 24 Hour building, without having the building. It's essentially like the end scene of The Greatest Showman when Hugh Jackman says, "We don't need a building, all we need is a tent!!"
 Arte Pad has hosted various pop up parties and gatherings as well as taught art classes and interactive workshops at local San Diego festivals and events. Arte Pad Festival 2017 was a great success with over 700 artists in attendance. 
We are thrilled to be continuing this year with Arte Pad Summer Love Festival! We are in a new, expansive location this year in Potrero, just 45 minutes Southeast of Downtown SD. The goal of the festival is to spread the vision to all of southern California and inspire artists to join us in the mission to connect in an inspiring summer love festival and create the 24 Hour Arte Pad in San Diego together!
Our new location in Potrero is set in the middle of nature on a breathtaking 80 acre mountain side property with lots more space to fit lots more people! This year we have three days and two nights of camping to live music, art workshops, creative vendors, interactive art camps, healing arts camp, organic juice and tasty treats, slip n slides, a summer love fashion show, a summer love parade, games, conscious children's camp, and so much more! This is our second year producing this event and we have been working very diligently on a volunteer basis and have a much larger and expanding team! It has been an incredible bonding experience and we have all grown closer as a team. There have been many hurdles to jump and we have been successful so far in conquering everything that has come our way!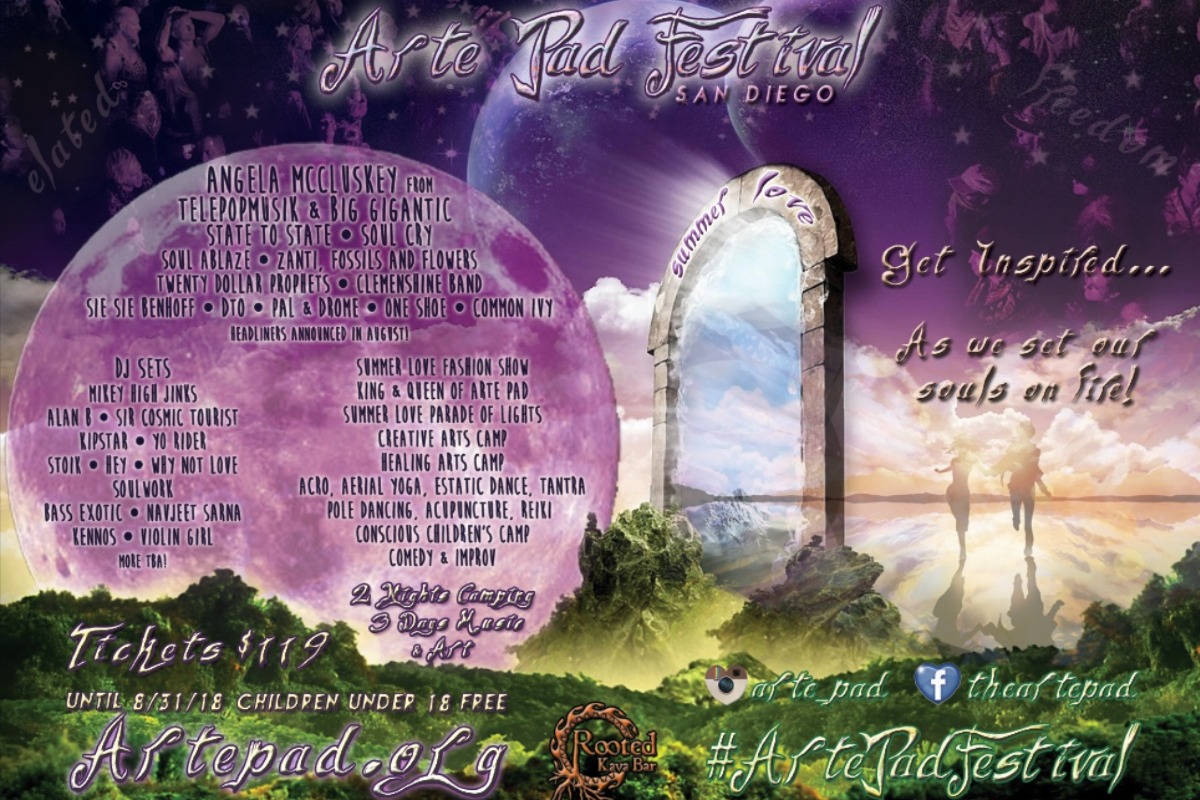 This is where you YOU come in...
As productive and efficient as our team has been at organizing, building, collaborating, recruiting, and scheduling, there are large overhead expenses required to make this event a success! Our target is $10,000 by August 1st to pay for initial clearing the land and to build the new stage for the bands and DJs. Any support you can give to make Arte Pad Festival an overwhelming success is greatly appreciated. We request you please share this campaign with those who are supportive of expanding the art and music community. We thank you in advance for all your generosity, love and contribution to bring a new active and united culture to the San Diego art scene!
With all the Love, 
The Arte Pad Team
You can see more about the festival and our vision at
www.artepad.org
+ Read More