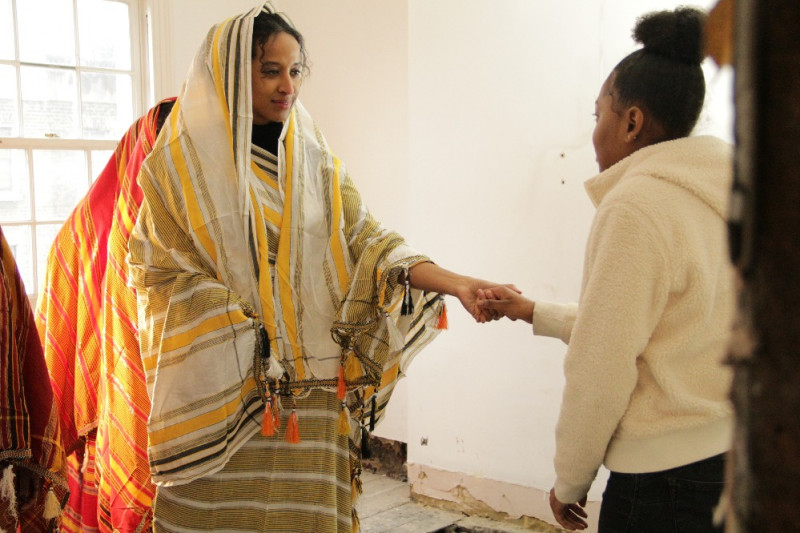 6
12
Arawelo: Production
£60
of £1,300 goal
Raised by
6
people in 9 months


Arawelo- Warrior Queen of the Somali people
A New Play by Demi Wilson-Smith in collaboration with Queen of Sheba International.
A story based on Somalia's most notorious WarriorQueen- Arawelo. In feudal nomadic Somali- the first East African feminist was born!
Who are we?
We are a group of young adults from across the UK, and internationally, we are working together to create a new library service in Somalia. We want to give as many people in Somalia access to library services and information. Access to libraries is an incredibly limited opportunity as there are only a few libraries in the ENTIRE country! We want to change this fact, we want to support local communities manage library services by giving the support they need to create libraries.
The Production Team 
What?
We are working on retelling one of the most famous Somali folklore using traditional performing arts and incorporating traditional storytelling techniques. Somali's are well known for their oral traditions and amazing skills in poetry. Somali culture has a wealth of beauty to explore and experience to the novice. With energetic dance rituals to soul-enriching poetry.
Why?
We want to share the deep culture and history of the Somali people. We want to share with our audience an insight into what the Somali people identify as representing them.
How?
We will tell the story of Arawelo the Queen of Somali, born in feudal Somalia. Her story is one shrouded in mystery and myths. Some say she is just a mythical legend while other argue her case as a living legend. Either way, they all agree on one thing, she was a pioneer in female empowerment, and a castrato of men. A femme fatal with a deadly aim, a badass warrior Queen who brought peace to her kingdom.
The production will showcase a range of Somali dances, music, poetry, traditional customs, nomadic stage props.
In order for our project to introduce Somali culture to the British community, we will open our auditions for anyone who is in the black community to portray the characters.
This play will be produced to help raise much-needed funds to support the development of Somalia. The Queen of Sheba International was founded to support developmental aid of Somali in the education sector. We want to create library services that meet the need of the Somali population and improve their quality of life. We are working on a not for profit basis; we work to incorporate ethical and sustainable principles in all of our fundraising projects. Because our core principles are being ethical, sustainable and transparent.
How will the funds contribute to the overall project?
The founder of Queen of Sheba International, Shukri, will withdraw the money to be spent as detailed below.
We will use the money raised to buy:
1) Pros, customs, make-up,
2) Transportation of props
3) Hiring venues and rehearsal space. Rehearsal materials e.g. printing script
4) Promotional materials e.g. prints, advertisement etc
We managed to host our first ARAWELO event and it was so amazing to see everyone there! We loved your suggestion of holding similar events in the near future. See our poster below for the details. Thank you to all those how supported us and made it possible to host this wonderful play. 

Queen of Sheba International, will withdraw the money to be spent as detailed above.
Thank you!
+ Read More