Animated TV Series Inspired by the Creators Dog
$100
of $50,000 goal
Raised by
1
person in 9 months
We need your help to create an  animated TV series that will benefit animation students and K-9 service dogs!
AGENT 00K9
is a new animated TV series parody centered on a spy dog detective who goes on missions solving crimes and mysteries in a wild animal-human fantasy world.   00K9 (
Pronounced Double Oh K 9
)  The series is also a tribute to the real dog
Cosmo
who inspired the concept. 
Official
AGENT 00K9
Website (
www.00K9.com
) 
IMDb
Link : (
https://www.imdb.com/title/tt5307638/?ref_=fn_al_tt_1
))
Created and produced by
Brian Neil Hoff
the who is also the founder and director of the
Palm Springs Intl. Animation Festival ( www.psiaf.org )
.  The purpose of this campaign is to raise the funds to create a 12 minute pilot episode of
"
AGENT 00K9
"  that can be distributed on various international online and mobile platforms.
The series was originally inspired by Brian's dog  
Cosmo
in 2004 when he looked out his kitchen window and thought he saw Cosmo spying on the neighbor house.  Over the years he created a series of cartoon books with veteran concept artist Alfie Vann who did the illustrations for the animated films "
Madagascar
" and "
The Prince of Egypt
,"  a kids spy watch, 3D printed models, over a hundred characters for the series, and a cool 3D teaser trailer.  The series pilot will also be
co-authored by 
Jorjeana Marie
who has been a comedy writer for
SNL
Saturday Night Live
.
AGENT 00K9
has been featured in
The Hollywood Reporter
,
Animation World Network
and including being presented at national and international film markets such as
AFM
,
Kidscreen
, and
Annecy
France. 
Brian has held book signings and benefits over the years for the
Palm Springs Police K-9 Unit
and the
Palm Springs Animal Shelter.
Cosmo used to join him a the many book signings and benefits but died in 2015.   To honor his memory,  he created a caricature of him who will also be a hero in the series. 
Brian's goal would be to produce the series by hiring animation students and giving them credit in the pilot episode as well as donating proceeds of the series sales to local and national Police K-9 Units.  Brian hopes to inspire kids and families to laugh and learn valuable lessons.  For the past 17 years Brian has had a dream of producing this fun animated TV series and would love your support! 
AGENT 00K9   ( Pronounced Double Oh K  9 )
Animated Parody TV Series
Synopsis :
Follow canine spy "Agent 00K9" and be whisked away to a world of fun animal-human characters in 'who dun it' mysteries. Using state-of-the-art spy gadgets and his own cunning instincts for adventure, 00K9 plies skills of detection across the city of Furrywood, a wild and woolly metropolis filled with animals of all shapes, sizes and schemes!
Images from over the years promoting "AGENT 00K9" locally and around the world :
AGENT 00K9  postcard distributed at AFM American Film Market October - November 2018
AGENT 00K9  postcard distributed at AFM, Kidscreen, Annecy, France and seen online
AGENT 00K9 Character sheet featuring more characters including creatures and robot operatives in the series.
Brian at the Comic Con Palm Springs Booth 2016 promoting the series.
Brian Neil Hoff with  Palm Springs Police Chief Bryan Reyes at Run For Ike 5K Benefit for fallen hero service dog "Ike"   2015
Brian Neil Hoff reading "AGENT 00K9" books to elementary school kids in Desert Hot Springs, CA 
2018 "Run for Ike 5K"  Benefit for Hero Service Dog "Ike" who took a bullet for his officer handler.   Brian in his booth with some of his local fans and his new dog Dino!
Books published on Amazon 2014-2018 and T-Shirt with Vintage James Bond Parody T-Shirt Design and AGENT 00K9 Kids Spy Watch with Pop-Up Scope  and LED Laser Beam.
Full Color 3D Printed Model of AGENT 00K9 made out of sandstone with 3D Printed Matching Base. 
Cosmo was one of the coolest dogs in the world and inspired the idea for  "AGENT 00K9" and to honor his memory Brian created a caricature of his dog who will be a hero in the series.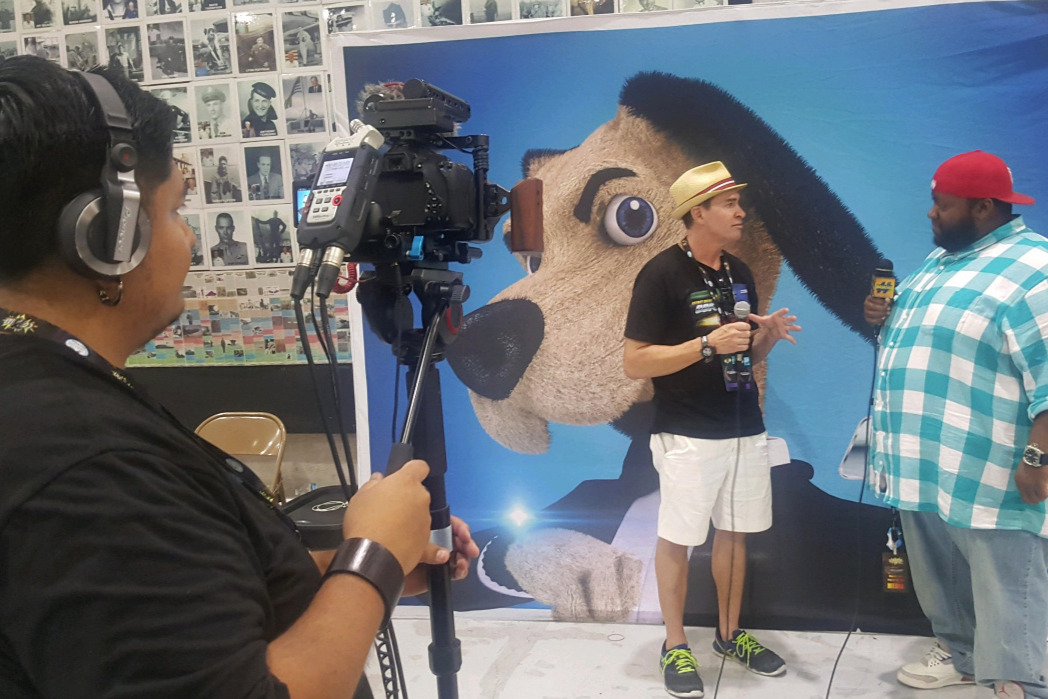 Brian Neil Hoff being interviewed on Hashtag TV promoting the animated tv series at Palm Springs Comic Con 2018
SUGGESTED DONATION LEVELS $25  - FRIEND
      Your support as at the friendship level helps Brian create the series benefiting animation students who will be hired to  
      work on the series and in addition to giving them screen credit their participation will help them with their future   
      careers in the field of animation.
$50  - SUPPORTER
      Your support goes beyond the friendship and helps change the world by providing opportunities to animation students
      and celebrating local and national service dogs. 
$100 - COMRADE
      Your generous donation goes to a new level getting us closer to seeing the dream come to life including having your name
       in the closing credits under special thanks.
$250 - COLLEAGUE
     At this donation level you're helping us get closer to our goal in helping animation students and building an animated
     series that will help educate kids and adults with proceeds from each sold episode going to support local and national   
     Police K-9 Units.  Your name in the closing credits on each episode in the special thanks.
$500 - SILVER ALLY
     With your generous donation we get one step closer to seeing the dreams of the creator of the series come to life
     celebrating the real life dog Cosmo.  Your name will appear in the opening and closing credits of the pilot series along    
      with additional notices from our studio with updates on the progress of the series. 
$1000  - GOLD ASSOCIATE
    Your position as an associate is an most important role in the development and completion of this animated series that
     will benefit animation students and service dogs from around the country.  Your name will appear in the opening and
     closing credits as a top supporter with special thanks for your dedication to reaching our goal and receive exclusive
      invites to premier events for the pilot episode.

$5000  - PLATINUM EXECUTIVE 

    Your support at the executive level is the most important role in the development and completion of this animated series
    that will benefit animation students and service dogs from around the country.  Your name will appear in the opening and
    closing credits as a top supporter with special thanks for your dedication to reaching our goal and receive exclusive
     invites to   premier events for the pilot episode and a rare collectable
AGENT 00K9 Kids Spy Watch


Copyright 2001-2018 Secret Agent 00K9 All Rights Reserved

+ Read More