Baby Chet's Medical Bills
$27,580
of $40k goal
Raised by
357
people in 33 months
Chet Oliver Smith was born on Tuesday, May 27th by the loving parents of Samantha Smith and Kyle Smith. With no prior indication, Chet was born with Anophthalmia, which is a medical term for the absence of one or both eyes, (in Chet's case both). Anophthalmia is an extremely rare disease that is estimated to affect 1 in 250,000 individuals. Chet was also born with a blocked nasal passageway that has been fixed with surgery. He has been held in NICU at the Rocky Mountain Children's Hospital for over 3 weeks and has undergone surgery 3 times. Fortunately to the friends and family of Samantha and Kyle, we are certain that Chet was born to the most loving and supporting parents, and because of that, we are here to help and support them in any way we can. Please send your donations, big or small, to help with the expense of medical bills for baby Chet's long stay in NICU.
+ Read More
Update 2
Posted by Samantha Blymyer
32 months ago
Share
It saddens me so much to say, on the morning of Tuesday, July 29th, baby Chet passed away. We ask that you keep Sam and Kyle in your thoughts and prayers and send all your love their way. Chet is, and will always be a huge part of their lives. In only two months, he had more love and support from our community than we could ever imagine, not to mention two of the most loving parents he could ever ask for.

Both the money we have raised and the money we will continue to raise has/will still be going towards baby Chet's medical bills. We truly thank each and every one of you helping us raise an unbelievable amount over the past months.
+ Read More
Update 1
Posted by Samantha Blymyer
33 months ago
Share
In case any of you missed it, baby Chet had his first TV debut last night on Fox 31 news and Channel 2 news. "At just shy of one-month-old, baby Chet is cornering the market on cuteness." During the news story, Kyle says they have wanted kids since they've been together and Chet is their miracle. "It's the best thing that's ever happened to us.", Sam says, "It is definitely a hard road. Something pretty unexpected. I thought they would just put him on my chest and we would go home the next day." Doctors say Chet will eventually need more surgery to ensure his quality of life, including prosthetics for his eyes. Kyle ended the news story by adding, "We just want him to lead as normal of a life as possible."

I know that I do not only speak for Sam and Kyle, but all of their friends and family when I say that we are so thankful for all of your generous donations. It's amazing watching a community come together to support one another. Chet is definitely a fighter! Let's keep our fingers crossed that Sam and Kyle can bring home their baby soon!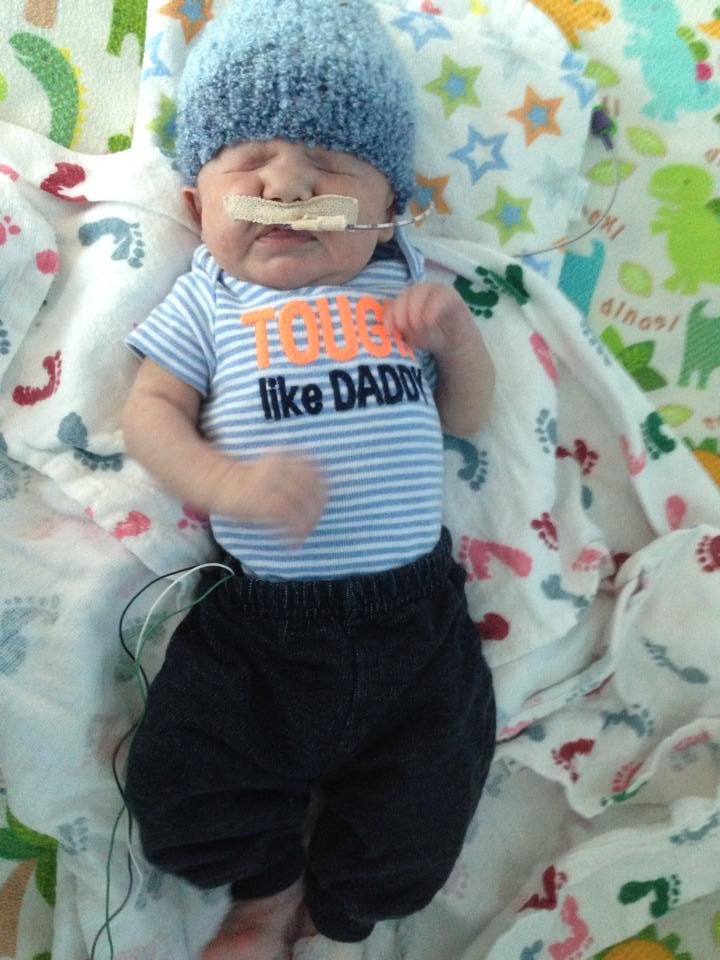 + Read More
Read a Previous Update