Directorio de Afrocubanas
€2,360
of €3,000 goal
Raised by
50
people in 27 months
Hello,

I am Negra cubana or Sandra Alvarez, you can call me both, a Cuban blogger.

For 10 years, I've been gathering in my blog-diary, Negra cubana tenía que ser, the most important events that have taken place in Cuba on the topic of race. As I'm a woman descendant of African heritage, this is the essential subject of my work as communicator and activist.

Since four years I'm administrating the project "Directory of Afro-Cuban Women", which tries to visualize the life and work of Cuban women descending from African heritage by creating a digital tool that all persons can consult on the Internet. Usually these women are excluded from anthologies, compilations or encyclopaedias. Therefore, it is my particular interest to concentrate all information in one place.

The hours spent on information management, data collection, editing, etc. have been long and only driven by the objective that "my black women" (as I lovingly call them) be visible in the net of nets. Nonetheless, if you right now search for information about the writer Daysi Rubiera or the poetess Georgina Herrera, you will find the files of my blog or the copies I made, archived in Wikipedia or Ecured.

Presently, the "Directory of Afro-Cuban Women" is only one page within my own blog. But with the help of Alejandra Aravena, a computer scientist and friend, we have decided to convert it into an independent site so that the project can gain publicity, since we think it is worth it and altruistic.
The funds collected through this campaign will be utilized essentially to buy and maintain the domain, hosting as well as for the programming of the site.

The work of elaborating the files and publishing them will be continued on the basis of my voluntary work, since it is all I can give to these women who have been my comrades on this journey in what we call "our small fight", which means to support ourselves to reach racial and gender equality.

We thank you in advance for your interest in this campaign, which will allow the lives and work of Afro-Cuban women to become known more widely, these same women that have been excluded of Cuban history and the official narrative of culture.
For them and their daughters and sons and their spiritual heiresses and heirs we thank you for your contribution, no matter what amount it may be. We would especially appreciate it if you could make this campaign attain a large spread by sharing it with your friends.
A warm embrace from
Negra cubana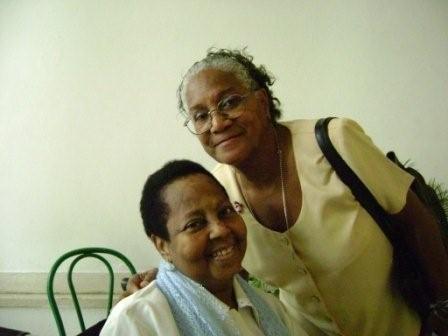 Hallo, 

Ich bin Negra cubana oder Sandra Alvarez, Sie können es sich aussuchen wie Sie mich nennen möchten, eine kubanische Bloggerin.

Seit zehn Jahren habe ich es mir zur Aufgabe gemacht, in meinem Blog Negra cubana tenía que ser, das Wichtigste was in Kuba über das Thema Rasse passiert, zu sammeln. Da ich eine Frau afrikanischer Herkunft bin ist dies ein grundlegendes Thema meiner Arbeit als Kommunikationswissenschaftlerin und Aktivistin.

Seit vier Jahren führe ich das Projekt "Lexikon Afro-kubanischer Frauen", welches versucht Leben und Werk kubanischer Frauen afrikanischer Herkunft sichtbar zu machen, ausgehend von der Erstellung eines digitalen Werkzeuges, das jede Person im Internet abrufen kann.

Für gewöhnlich werden diese Frauen aus Anthologien, Sammelwerken oder Enzyklopädien ausgeschlossen. Daher mein Interesse jegliche Information über sie an ein und demselben Ort zu sammeln.

Viele Stunden des Informationsmanagement, der Datenerhebung, des Editierens etc. sind in diese Arbeit eingeflossen, nur mit dem Ziel, "meine Schwarzen Frauen" (wie ich sie liebevoll nenne) im Netz der Netze sichtbar zu machen. Wenn Sie heute z. B. Information über die Schriftstellerin Daysi Rubiera oder der Dichterin Georgina Herrera suchen, werden die Dateien meines Blogs auf Ihrem Bildschirm erscheinen oder Kopien davon, die ich in Wikipedia oder der Ecured eingestellt habe.

Augenblicklich ist das "Lexikon Afro-kubanischer Frauen" lediglich eine Seite innerhalb meines eigenen Blogs. Aber mit Hilfe von Alejandra Aravena, Informatikerin und Freundin, haben wir beschlossen sie in eine unabhängige Webseite umzuwandeln damit das Projekt einen höheren Bekanntheitsgrad erreicht, denn wir glauben, dass es das Wert ist und uneigennützig ist.

Die durch diese Kampagne gesammelten Gelder werden im Wesentlichen für den Kauf und die Wartung der Domain, das Hosting sowie für die Programmierung der Webseite genutzt werden.

Die Arbeit der Erstellung von Dateien und ihre Veröffentlichung wird weiterhin aufgrund meines freiwilligen Einsatzes geschehen, denn dies ist alles was ich diesen Frauen geben kann, welche mich auf meiner Reise begleitet haben, die wir alle "unseren kleinen Kampf" nennen, d. h., wir unterstützen uns alle gegenseitig um Gleichheit der Rassen und des Geschlechts zu erlangen.
Wir bedanken uns im Voraus für Ihr Interesse an dieser Kampagne, welche es ermöglichen wird, dass das Leben und Werk genau derjenigen afrokubanischen Frauen bekannt gemacht wird, die von der Geschichtsschreibung und der offiziellen Lesart von Kultur in Kuba ausgeschlossen wurden.
Für sie und für ihre Töchter und Söhne und ihre spirituellen Erben und Erbinnen bedanken wir uns für Ihren Beitrag, egal wie hoch der Betrag sein mag. Ganz besonders dankbar sind wir, wenn sie dafür sorgen, dass diese Kampagne weiter verbreitet wird und sie sie mit ihren Freunden und Freundinnen teilen.

Eine herzliche Umarmung.

Negra cubana




Olá

Sou Negra cubana ou Sandra Alvarez, como preferir, uma blogueira. Fazem dez anos que trabalho para reunir no meu blog, Negra cubana tenía que ser, o que há de mais transcendental sobre o tema racial em Cuba. Sou uma mulher afrodescendente e portanto este é um tema fundamental no meu trabalho como comunicadora e ativista.

Fazem quatro anos que desenvolvo o projeto "Directorio de Afrocubanas", que tenta visibilizar a vida e a obra de mulheres cubanas afrodescendentes, partindo da criação de uma ferramenta digital em que todas as pessoas possam consultar na internet. Geralmente essas mulheres são excluídas das antologias, compilações ou enciclopédias e por isso meu interesse em reunir toda a informação em um mesmo lugar.

Foram longas sessões de gestão de informação, recopilação, edição, etc., com o objetivo de que "minhas negras" (como as chamo carinhosamente) estejam visíveis na rede de redes.  Quem pesquisa agora mesmo informações sobre a escritora Daysi Rubiera ou a poeta Georgina Herrera vai encontrar as postagens do meu blog ou as réplicas feitas a partir dele na Wikipédia ou na Ecured.

Neste momento, o "Directorio de Afrocubanas" é só uma página dentro do meu próprio blog. Mas com a ajuda de Alejandra Aravena, especialista em informática e amiga, decidimos convertê-la num site independente para que o projeto ganhe notoriedade, pois acreditamos ser valioso e altruísta.

A verba levantada com esta campanha será utilizada fundamentalmente na compra, na manutenção do domínio, no hosting, no design e na programação do site. Uma vez finalizado o site se sobrar algo da verba iremos investir no pagamento do hosting e no domínio dos próximos anos.

O trabalho de elaboração de matérias e postagens continuará sendo realizado como minha contribuição voluntária e gratuita, pois é tudo o que posso entregar a estas mulheres as quais tem sido minhas companheiras de viagem no que nós chamamos "nossa pequena luta", ou seja, nos apoiamos para conquistar a equidade racial e de gênero.

Agradecemos de antemão seu interesse nesta campanha, que permitirá conhecer a vida e a obra das afrocubanas, as mesmas mulheres que tem sido excluídas da história e da cultura oficiais em Cuba.
Por elas e por suas filhas e filhos e suas herdeiras e herdeiros espirituais agradecemos a sua contribuição, não importa o valor. Seremos muito gratas especialmente se esta campanha conseguir chegar muito longe com seu compartilhamento.

Um abraço

Negra cubana



Hola, 

Soy Negra cubana o Sandra Alvarez , como prefieras llamarme, una bloguera cubana.

Llevo diez años trabajando para recoger en mi bitácora, Negra cubana tenía que ser,  lo más transcendental que sobre el tema racial ha tenido lugar en Cuba. Como soy una mujer afrodescendiente este es un tema fundamental en mi labor como comunicadora y activista.

Desde hace cuatro años llevo el proyecto "Directorio de Afrocubanas", que trata de visibilizar la vida y obra de mujeres cubanas afrodescendientes a partir de la creación de una herramienta digital que todas las personas puedan consultar en internet. Usualmente a estas mujeres se les excluye de las antologías, compilaciones o enciclopedias. De ahí mi interes de concentrar toda la información en un mismo lugar.

Han sido largas sesiones de gestión de información, recopilación, edición, etc, solo con el objetivo de que "mis negras" (como les llamo cariñosamente) esten visibles en la red de redes. Sin embargo si Ud. ahora mismo busca información sobre la escritora Daysi Rubiera o la poeta Georgina Herrera le van a salir las fichas de mi bitácora o las réplicas que he hecho de estas en la Wikipedia o la Ecured.

En este momento, el  "Directorio de Afrocubanas" es tan solo una página  dentro de mi propio blog. Pero con la ayuda de Alejandra Aravena, informática y amiga, hemos decidido convertirla en un sitio independiente para que el proyecto gane en notoriedad, pues lo creemos valioso y altruista.

Los fondos recogidos con esta campaña se utilizarán fundamentalmente en la compra y mantenimiento del dominio, el hosting, así como el diseño y la programación del sitio. Si luego de que salga el sitio quedase algún dinero sobrante este se dedicará a pagar hosting y dominio de los siguientes años.

La labor de elaboración de las fichas y su publicación se seguirá realizando sobre la base de mi trabajo voluntario, pues es todo lo que puedo entregar a estas mujeres quienes han sido mis compañeras de viaje en esto que nosotras llamamos "nuestra luchita", o sea, apoyarnos nosotras mismas para lograr la equidad racial y de género.

Agradecemos de antemano vuestro interés en esta campaña, que permitirá conocer la vida y obra de las afrocubanas, esas mismas mujeres que han sido excluidas de la historia y la cultura oficiales en Cuba.

Por ellas y por sus hijas e hijos y sus herederas y herederos espirituales les agradecemos por su contribución, no importa el monto que esta sea. Le agradeceremos especialmente si hace que esta campaña llegue más lejos al compartirla con sus amistades. 

Un abrazo,

Negra cubana

Foto de portada: Taylor Torres Escalona


+ Read More