Gideon & Lillian's Hospital
$960
of $4,750 goal
Raised by
9
people in 57 months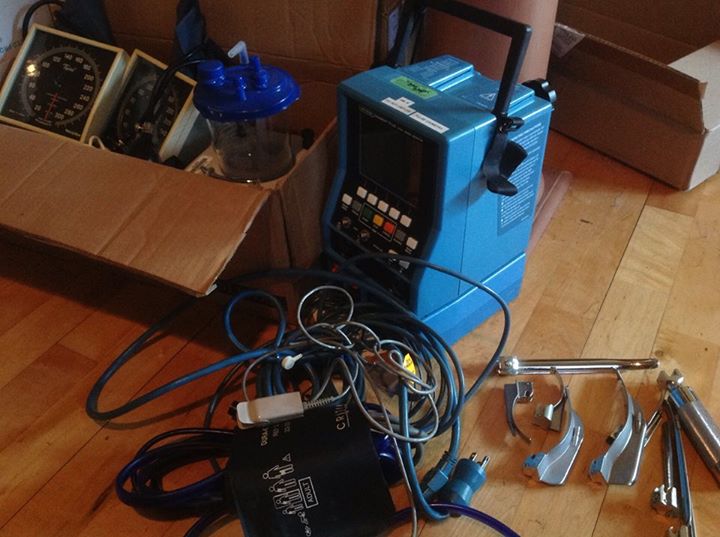 My friends...I am reaching out to each one of you again for the help that is needed in bringing a dream...into a reality.
I have been busy collecting...buying...packing...and...um...soliciting some more!...for donations and supplies for the hospital.
And guess what? I am so excited to share with each one of you that...in addition to the surgical instruments that I sent 3 months ago...the many many medical and surgical supplies that I have packed...(5 duffle bags so far!!!...49.75 lbs each!)...AND in addition to what you see in the photo above....(there needs to be a drum role)...I have acquired a mini c-arm...yes! A mini c-arm!!!!
And it is fully functioning! WAAAAHOOOOO!!!! So...what does this mean? That NO PERSON IN TORORO UGANDA THAT HAS A BROKEN ARM OR LEG OR MAYBE SOMETHING IN BETWEEN...WILL HAVE TO TRAVEL 45 KM AWAY TO GET AN X-RAY!!!!!!!! AND....NOT ONLY WILL IT WILL BELONG TO GIDEON & LILIAN's HOSPITAL....IT CAN BE USED IN SURGERY FOR REPAIRS OF THE BROKEN ARM OR LEG AND...NO ONE CAN COME AND SELL IT TO SOMEONE ELSE FOR MORE MONEY!!!!
Am I excited? Nah....I'm BEYOND excited!!!!! And I have my friends to thank. You have opened your hearts and helped people you don't know and have never met and you are following God's design for us. That is AWESOME!!!
And now you want to know why I am here again...asking for more?
We need to get these things to Tororo, Uganda! I have spent many hours researching the ways to do this and what makes the most sense right now...and really...the safest way to ensure the supplies get there...is through KLM. They can be packed...wrapped...insured...and placed on a 'combi' plane and sent directly to Uganda. And this is another cool part of all this...I'll be going with it. The 'combi' planes are a combination passenger/cargo plane that fly out of Houston...to Amsterdam and on to Entebbe. So...when the equipment lands...so do I...right with it. This makes me feel good. I love each of you for opening your hearts and helping make this dream a reality for so many. My plan is to go in April, 2014...please...help me make this a reality!!!!
Thank you again.
+ Read More
Be the first to leave a comment on this campaign.