The Poem Guy goes to Ireland
$1,577
of $3,200 goal
Raised by
29
people in 13 days
POEMING
: a verb for composing poems upon request, live and on-the-spot.
My name is Bill Keys and this is my 1917 Corona #3 typewriter, Mighty Little.  She's a mighty little machine wieghing 6 pounds, and folds up into a little box.
I found her, I can't remember the exact date, during the last two weeks of April, 2010.  I had just moved into a new place and the folks that lived there previously, left her. She was in mint condition.
I had just started using a typewriter to create poems for pedistrians a year before. 
EARLY POEMING CLIP, PORTLAND, OR 2010
This gorgeous, light wieght machine was a huge god send, as my back was  in pain from carrying the 33 pound machine (a Smith-Corona Galaxie 12) I had been hauling around cities and festivals
.
Working with Mighty Little and I attracted enough attention and money to survive.  Almost simultaneous to this discovery was the desire to go to Ireland. 
I've composed over 6,000 poems for people.  Most of those on this little machine.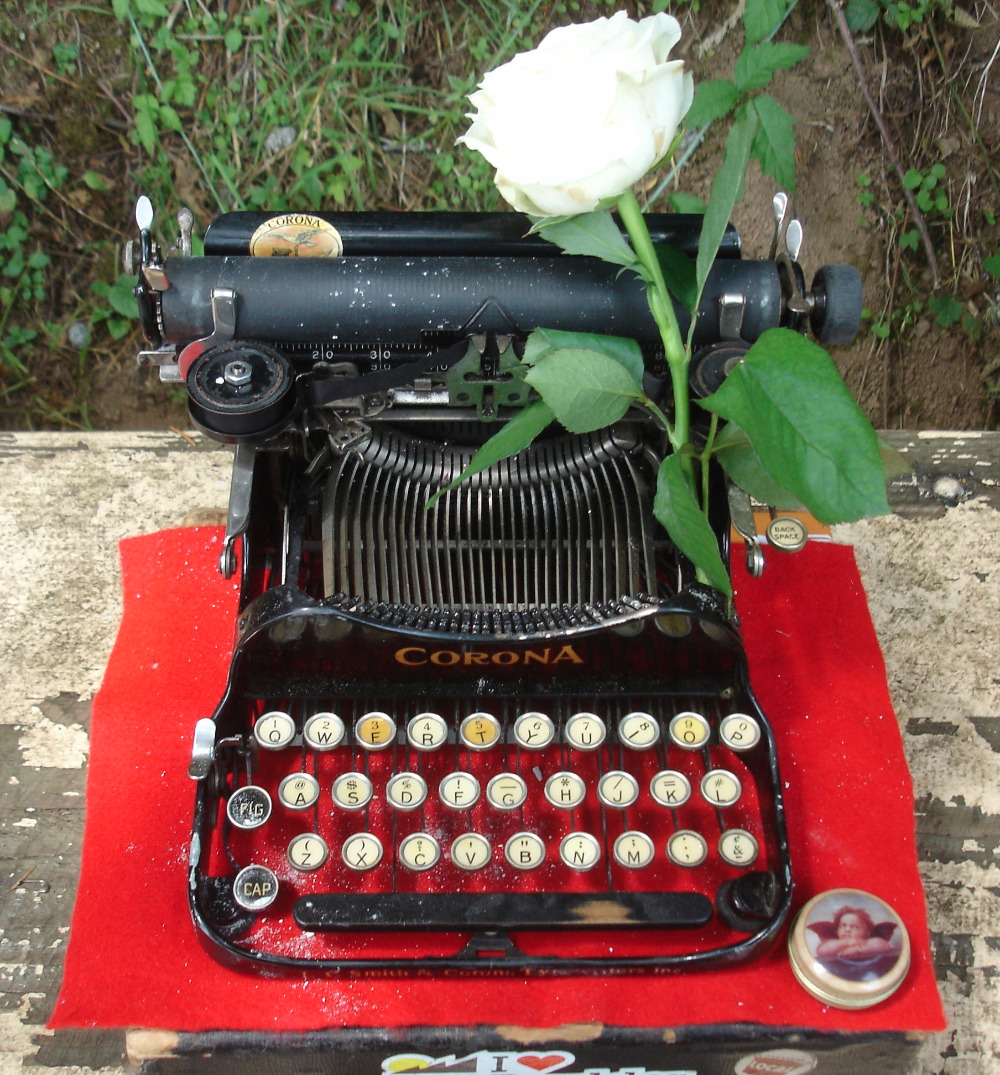 This year she will be 100 years old.
This trip is not only to celebrate my machine, it is also to celebrate my entire career as a public poet.  When I return from Ireland I will no longer work the street. Weddings and events?  Yes, but not on the street.   
On this trip I want to visit old folks homes, hospitals, schools, any institution that will benifit from my talent and heart.  I want to share all I've learned and become from having composed 6,000 plus poems for people.
I've had unforgettable eye contact with a man given two weeks to live, on his first trip west of the Mississippi,  "collecting memories" with his wife. I poemed for a woman who's daughter had been killed in a car accident just three months, two weeks before her 21 birthday.  A High School kid once got in touch with me to set up a situation where he'd bring by his girl and I would write a poem that ended with, "Will you go to the prom with me?"
I've often recieved reports later, regarding the outcome of poems. Once in Maui a seven year old girl, Juliette, completely dressed in pink, wanted a poem about….that's right, Pink. Two years later they saw me in Boulder, Colorado. The mom informed me that after receiving her poem about pink, they went out to dinner and Juliette wrote two poems. Two years later she was still writing poems. She had a journal that she carried with her and she showed me a poem she'd compose only hours before.
                                    The fantastic Juliette
                        A beautiful and empowered poem
A beautiful young mama from Arizona got a poem about her baby girl. Two years later she sent me a photo of the last line of the poem tattooed to her arm, "It still perfectly describes her."
      Beautiful young mom (above) new tattoo (below)
I have held sobbing strangers, have had belly busting laughs with people who would up hanging out all night. A woman once kissed me and asked me to write a poem about that. I have shared every emotion I know over the poems, with every demographic I know of.  It has healed me and made me a better human being.  Now my heart knows how to be broken, now I know how to give you something to celebrate us through you.
Before I retire (at least take a long long break) I want to bring all I have to a land I love and have never been to. (well there was this one time I was there for a quick week, but...)
CLIP RECORDED BY WOMAN WANTING TO KNOW ABOUT MY POETRY
I have a great new buddy who has encouraged me to video tape the journey and he will apply his professional, post-production, skills to create a short documentary.
My mother was a nurse of the elderly for as long as I could remember. (Her family name, the Kelletts, are from Cork.) I want to go to senior centers and nursing homes, and hang out, write poems, listen to poems, listen to stories. The Irish are famous for telling tales of beauty and entertainment.  Providing smiles to the elderly was my mother's primary soul medicine.  So I want to share the pleasure in her honor.
My father died when I was a baby. (His family name, the Kellys, are from Galway.) Because I never knew him, I never felt his absence. His presence in my life emerged in my late twenties when I began delving into the creative process, mostly through storytelling, one-man shows. I have many many stories about his interjection in to my creative vaults and follies. He himself wanted to be a writer but having dyslexia never learned to read. Bringing the poems to Ireland is also about connecting to him.
The only thing I've ever owned of his was his motorcycle license plate. There are two things that he loved: dancing, and riding motorcycles. I've never ridden a motorcycle, but want to ride through Ireland, to share that with him, father and son style. 
+ Read More
Update 1
Posted by Bill Keys
1 day ago
Share
I'm leaving from Newark Airport, landing in Shanon, on April 4th! I had originally planned to leave the 1st and be in Cork to celebrate my Moms birthday on the 2nd. However it is best for a number of reason to stay in visit my mom's grave down on the shore in Jersey instead.

On Friday the 31rd, I will be interviewed by Fox 5 here in NYC. The producer made a really great connection. The magic is strong with this one. I do believe it will be a good piece and will help me reach my goal.

Getting excited
+ Read More