87 yr old RED SOX fan's FENWAY DREAM
$6,585
of $5,000 goal
Raised by
161
people in 71 months
To begin, I want to say that I realize setting up this page and hoping it is at least somewhat successful is a long shot, but I also believe that
if you don't take a chances, your dreams are not likely to come true at all.
We added donation levels centered on giving back to the community, because if grandpa were physically able, he would be helping others right now.
My grandfather is worth taking this chance, and if everyone that sees this even donated a dollar, it might just be enough to make his dream a reality. Thank you for your time. Just some of the reasons he deserves to live his dream while he is still here are written below. Don't forget to check out the photos at the bottom :)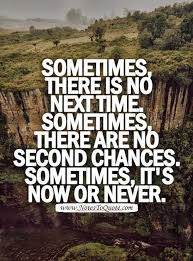 Now
is the time for my grandfather's wish come true, because no one is guaranteed tomorrow.
Please share the link to this page with others
to try and help our families plight to take my grandfather to Boston so he can watch the Red Sox play at Fenway Park on September 14, 2013 (or another date if it isn't possible to get tickets for that game, we were trying for that because it's the only day game).
Even as a young girl it was easy to see that my grandfather (Allan Munroe) was passionate about two things - my grandmother and the Red Sox (we like to joke that it wasn't always necessarily in that order, although I'm not sure if grandma found it funny). For his birthday a couple of years ago we were able to get one of the Anniversary bricks that have been placed at Fenway Park and it says "Allan Munroe has 2 tru loves, Norma & the Sox" (photo taken by a friend that was at Fenway is attached below). He liked his replica brick, but sadly hasn't been able to see the real brick at Fenway (or a game even though he longs to see one) because he was busy helping take care of my grandmother who was diagnosed with stage 4 lung cancer almost 4 years ago.
After a rough battle she passed away this past May. If you have ever had a loved one that was terminally ill and had dementia set in, you can relate to how extremely difficult it was for everyone, especially grandpa. Before she passed, he would sit in a wooden chair next to grandma in her hospice bed in their living room, hold her hand and watch the Red Sox play on television while likely trying to block out how heartbreaking it was to see her so confused and in so much pain. Although they were both very active before she got sick, it was difficult to get him to leave her side when her cancer progressed, but watching the Sox play gave him something to look forward to.
The love of his life is now waiting (probably not so patiently) for him in a better place, and losing her left a hole in his heart. Grandpa's other love can be found over 1000 miles away playing baseball in Fenway Park. He hasn't seen a game there in over 50 years but frequently mentions wanting to go watch a Sox game at America's Most Beloved Ballpark "one last time". He doesn't ever ask for anything, so it's obviously very important to him. He also has family in the area that he would like to visit. More than anything our family wants to help make his dream a reality, and we know it would be an amazing family memory.
I think my grandmother thought of the Red Sox like they were "the other woman". I can't count the amount of times my grandfather would be watching a Red Sox game late into the night and my grandmother would yell, "Allan, come to bed!!" Grandpa would always answer, "in a minute" to appease her, even if he knew the game might go into extra innings and he wouldn't really be going to bed any time soon.
Although I love the Red Sox now, when I was a kid road trips were brutal for me and my grandmother because instead of listening to music during the trip, grandpa would find the ballgame on the radio and we would have to listen to the radio crackle and announcers giving boring play by plays of the game (no offense to
Don Orsillo or Jerry Remy
, I'm sure it would have been more enjoyable if they were the commentators back then!).
Besides being a wonderful husband, he is an amazing father to 4 children, and has 5 grandchildren and 3 great grandchildren who have always looked up to him in admiration. He raised the family right because we are all die hard Red Sox fans. He grew up in Andover, Massachusetts and enlisted in the
Air Force
at a young age. After he retired from the Air Force and moved to Florida, he wanted to continue to serve his community and started a career in law enforcement and eventually retired from
Brevard County Sheriff's Department
.
After retirement he became active in the church and loved to volunteer. He even delivered Meals on Wheels to the "old folks" until he was in his early 80's. I could go on and on about the good deeds he has done, like helping a local homeless man and even letting the man come into their home so he could clean up (despite how dangerous the family thought it was to let him in their home), but there is no stopping grandpa when he is doing something he believes in or when he is trying to help others in need. There just isn't enough space to write all of the good deeds he has done while asking for nothing in return, and the family could not have asked for a better role model.
Grandpa broke his hip not long after grandma passed away, and is currently in a rehabilitation hospital. He is expected to be released in 3 weeks. He has had heart problems in the past (some of this I blame on the Sox's past seasons....) and he is getting confused and forgetful, but he remembers important things like rooting for the Red Sox and anyone playing against the Yankees (unless it's the Rays right now, considering the standings). He also has the impressive ability to always have a sense of humor and positive attitude, even in the darkest of times.
We could only find one afternoon game at Fenway (night games would likely be too late for him to enjoy) that was scheduled for when he is expected to be doing better and that's a game on September 14th against the Yankees. We realize that it will be extremely difficult to find affordable tickets to watch the Sox beat the Yankees, so if that isn't a possibility, an evening game is still better than nothing and we will just try to make sure he gets some rest during the day and we can leave early if we have to.
Being able to sit in the stands at Fenway Park and watch the Red Sox play would also somewhat lessen the pain the what a difficult month that will be, because Grandma's birthday is in the beginning of September, and September 11th would have marked their 64th wedding anniversary. He tries to stay positive despite everything that has happened, but he is still lost without grandma and deserves a special day that would mean the world to him. Although grandma didn't care much about baseball, she would want this dream to become a reality because above all else, she has always wanted nothing more than to make him happy.
To get him to Boston would be an expense that isn't financially possible for the family at this time without assistance. We would need to make arrangements with work, rent a vehicle that he can be comfortable in on such a long trip from Florida, find lodging and probably the most difficult task will be finding affordable tickets in an area of Fenway that he will be physically able to walk to. It would also likely require more stops and a bit of a longer stay than would usually be planned depending on how he is feeling. This site takes a small percentage, and any other amount donated will be used to make grandpas dream a reality.
We realize times are difficult for most, but every little bit helps and it would contribute towards fulfilling a dream of a man that could not be more deserving. We were hesitant at first to make this page to try and raise money, but then realized we had to do anything possible to try and make this a reality.
Thank you for taking the time to read this, and even if you aren't able to contribute please share with others.
One last story for anyone still reading:
I think the "competition"between my Grandmother and the Red Sox started on their wedding day, if not before. An infamous story in the family is the huge mishap on their wedding day, when the Red Sox were also playing a double header. They were married earlier that day, and in the evening they went to Boston with some friends. The Red Sox lost the first game of the day,and as my grandparents were leaving restaurant in Boston later that evening, he asked an employee the outcome of the 2nd game, and was informed that the Red Sox lost. After hearing that news, my grandfather (referring only to the Red Sox games that day) made the comment "It's been a bad day all around" --- with his new bride standing right next to him. These are words grandma never forgot, and never let him forget! One day not long before grandma passed away, my aunt told me just that grandma had actually cheered for the Red Sox during a game the day before. Miracles do happen!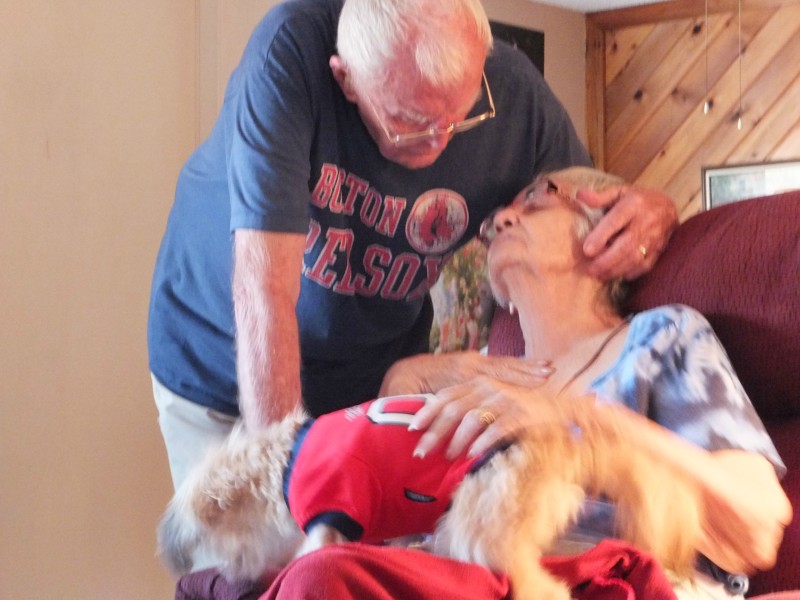 Grandma, grandpa and our puppy Fenway
It's easy to find grandpa a birthday gift he will like, but it was never easy to help grandma understand why he loved the Red Sox so much
Hospital stay a couple of years ago. He's still smiling, and still representing the Sox (blanket) while watching the Sox game on the computer.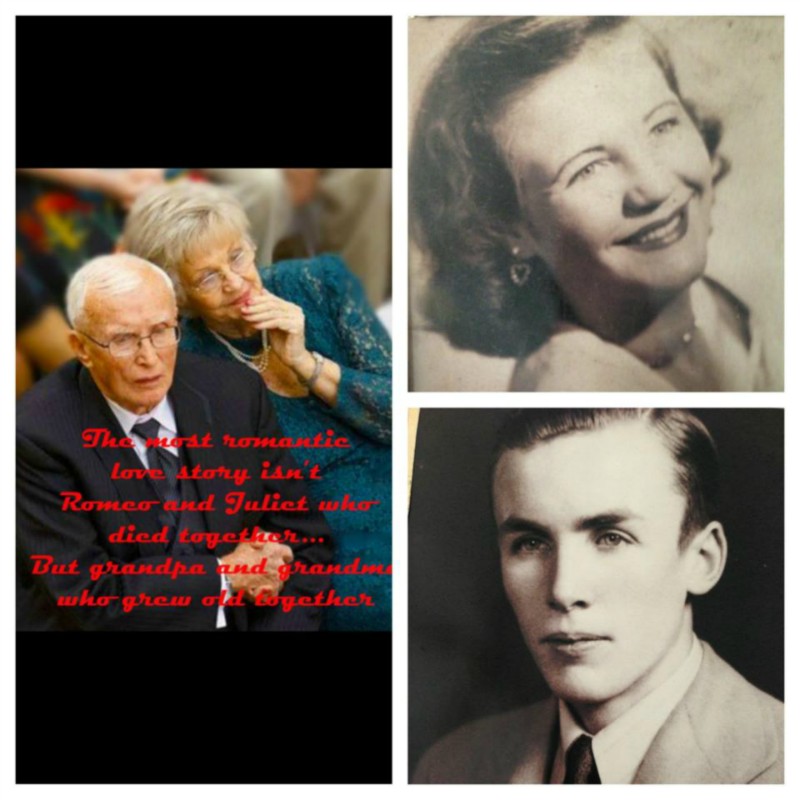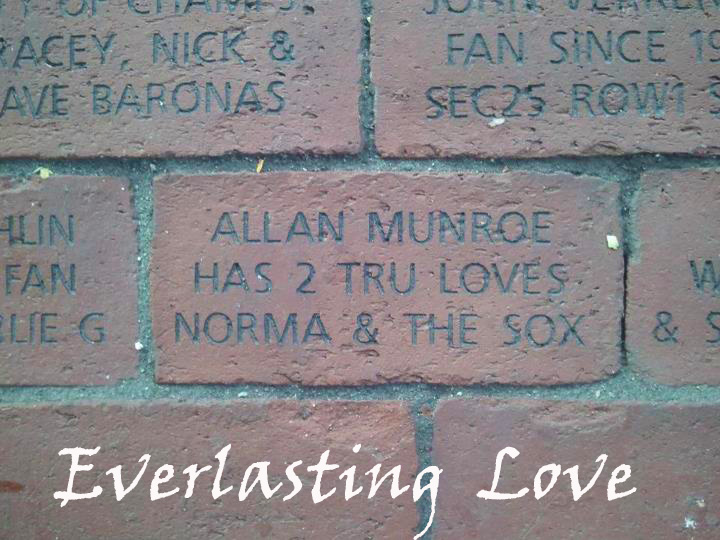 We want him to be able to see this brick placed at Fenway Park in person. A friend was nice enough to take this picture while she was at Fenway watching a game.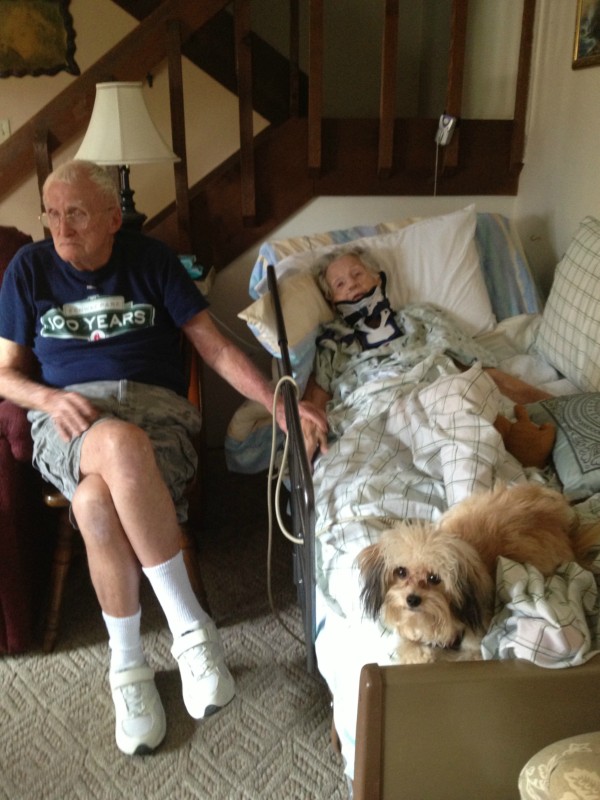 Watching the Red Sox play while holding grandma's hand. By the look on his face, the Sox weren't having that great of a game : /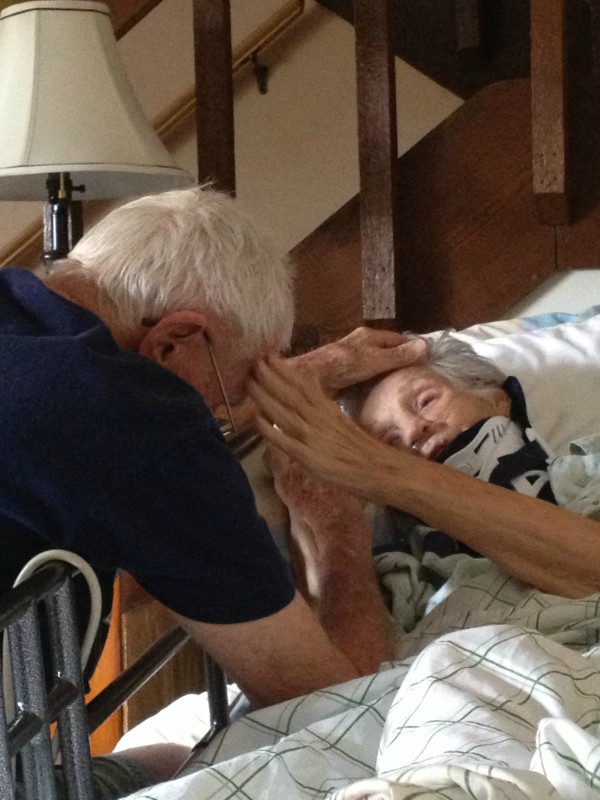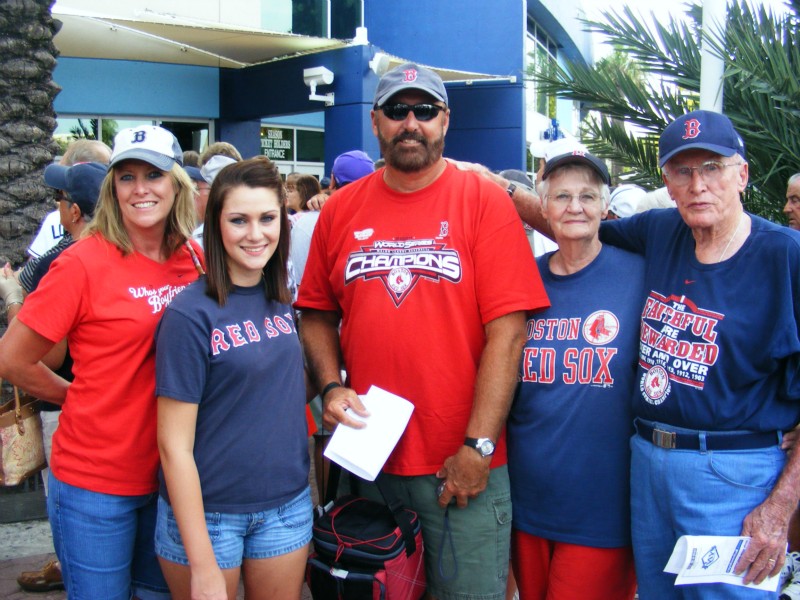 Some of the fam in 2008 at the Sox / Rays game in Florida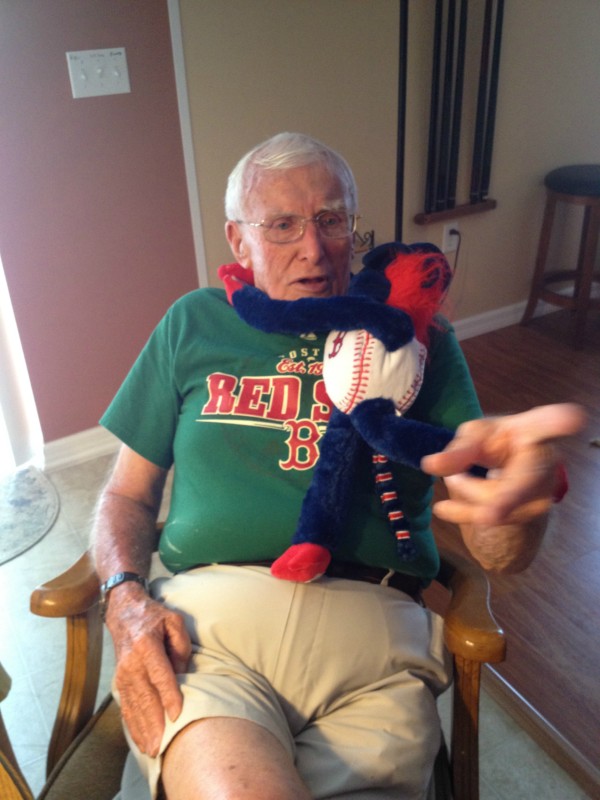 Monkeying around
+ Read More