Saving Little Fiji Boy Ashmit
$57,174
of $100 goal
Raised by
569
people in 42 months
Saving Little Fiji Boy Ashmit

Ashmit is a 10 year old boy from a remote, rural area in Fiji's Sigatoka Valley.
Over the past three months a huge growth has appeared above his left ear, and tragically we have been advised that this is Angiosarcoma, an aggressive tumour.  Doctors have told us there is no treatment available in Fiji for such a disease.  There is nothing they can do.

The tumour is growing at an extraordinary rate and the little boy is in the most terrible pain.  The pressure on his brain puts him at risk of brain haemorrhage at any time.

There are no medical facilities in the remote area where this family lives.  The medical reports are difficult for this father to follow but he can see his son in terrible pain and understands this is a life and death situation.

Ashmit's only chance is emergency surgery, radiation and chemotherapy treatment. With no facilities in Fiji, we have managed to secure a neurosurgical team who are on standby in Australia.

Ashmit would be treated as a full fee paying overseas patient, and we need $60,000 right now.

Funds are the only thing standing in the way for this little boy, but time is not on our side.


About Ashmit
We met Ashmit when he was just 6 years old through our educational charity Fiji Kids! Learning for Life.

Ashmit and his 2 younger brothers (Amish and Aarav) were referred to us by a school principal as his family were so poor they could not afford basic educational costs.

Their Dad is a single father who picks vegetables for a living, earning a few dollars a day.  He combines hard labour with caring for three little boys – now aged 10, 9 and 7.

We visited the family and found them living in an abandoned farm house.  They had no furniture other than a bed they all shared. An elderly grandmother was bed-ridden in another dark room.  There is no electricity and running water is limited to one tap.

Despite their circumstances we were impressed by the hard work, love and dedication this father showed towards his family.

Now at school, all three boys are first in their class, with perfect attendance. They are described by their teachers as modest and delightful boys.  They try hard in class and enjoy playing soccer after school.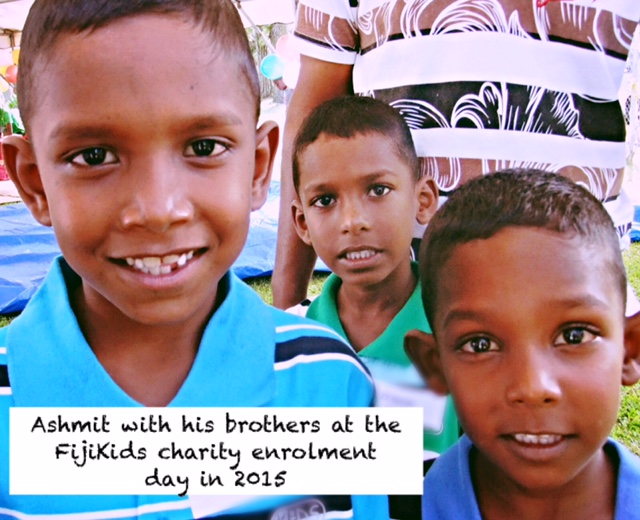 The medical situation

Angiosarcoma is an extremely rare cancer in children and even more rare in and around the brain.
It is a cancer in the lining of the blood vessels.  Ashmit's tumour is very aggressive and growing incredibly fast, doubling in size in the last 6 weeks.  It has encroached on his sinuses, causing tremendous pain. 

Last week he and his father made a trek to the nearest town, travelling 2 hours on the back of a carrier van to see a doctor for some stronger medicine for pain.  It is the only treatment available.

The neurosurgeon in Australia has recommended urgent action and is ready to admit Ashmit now.





Our Goal

$60,000 will allow us to secure a medical emergency visa, and book Ashmit for emergency surgery in Australia. 

($20,000 has already been pledged through charity Fiji Kids! Learning for Life and 2 donors).

It is a lot of money ~ but not if 600 people felt moved to give this boy a chance at life – and had $100 to give. 

We have no more than 4 weeks to make a miracle happen.

We are determined, hopeful and eternally grateful for your support.

Please Join Us. 
Please Give. 
Please Share.  
Vinaka (Thank you)



About Fiji kids! Learning for Life

Fiji Kids! Learning for Life is a grassroots charity run by a group of volunteers in Australia. We provide financial assistance to help the neediest children attend school.

Learning for Life refers to the commitment sponsors are asked to make in supporting a child for the duration of their primary and secondary education. Since 2009 we have assisted over 100 children to attend school and now have a number of graduates attending university and vocational studies through our teriarty program.

We are small, with only a program co-ordinator on the ground in Fiji  and the rest of the charity operated  by a group of volunteers in Australia and Fiji who fit our charity around their fulltime working lives.  Despite this we have a big heart and are not shy to do what we need to do in the best interests of the children within our program.

This includes Ashmit. If you require more information please contact me. 

Contact details:

Rachelle  Matousek (Trustee)
1300 721 121 or +614 09 774085
rachelle@fijikids.org
www.fijikids.org

We are a registered charity in Fiji - registration number 879.
+ Read More