41
11
Rohming Robots World Champs Fund
$7,030
of $6,885 goal
Raised by
53
people in 4 months
HELP ROHMING ROBOTS GET TO WORLDS

FIRST Tech Challenge Team #8477 - The Rohming Robots, a homeschool 4-H team, began its fourth season last May with the goal to make it to the South Super Regional Championship and then set the goal to earn a judged award, which would allow them to advance to the next level of competition.

The team has achieved this goal and earned the chance to compete at the top level of competition - The FIRST Tech Challenge World Championship in Houston, Texas which takes place April 18th-21st.  We can't wait to represent Charleston and South Carolina on FIRST's biggest stage.

Now that we have accomplished these two goals by first winning the Inspire Award (the most prestigious award) at the SC FTC Championship in February and by earning the Think Award (the second most prestigious judged award) at the 2018 FTC South Super Regional in Athens GA , we need YOUR help to get to Houston!  

Our team is covering some of our travel and meal costs, but we require funding to cover hotel rooms, food on competition days, expenses to get our robot and equipment to Houston, and other competition costs associated with the World Championship. We have a larger team made up of male and female team members, so our hotel costs are significantly higher than last year.

Tax-deductible robot sponsorships are also available. Please email rohmingrobots@gmail.com for more details on those. 

Even if you cannot help us directly, please share this with others about our GoFundMe campaign. The Rohming Robots will be forever grateful for your assistance!


 TEAM BACKGROUND and GOALS

Our team is a 4-H project club focused on the FIRST Tech Challenge competition. We have twelve team members from the 8th-12th grade. We love learning about science and math, and FIRST robotics gives us an amazing opportunity to learn more and demonstrate our knowledge while having fun. FTC teams build robots with metal pieces and use sensors and Android devices to program the mechanisms we build. We keep an award winning engineering notebook to document our discoveries during the design process and to track our season's journey as a team. Since our team began, we have received either 1st or 2nd place awards for this at the SC Championship and now we have received 1st place for it at the Super-Regional level competing with 71 other teams!

FIRST (For Inspiration and Recognition of Science and Technology) is more than just building robots, though. The mission of FIRST is to inspire young people to be science and technology leaders, by engaging them in exciting Mentor-based programs that build science, engineering, and technology skills, that inspire innovation, and that foster well-rounded life capabilities including self-confidence, communication, and leadership. 

Our team has spent more than 525 hours of outreach to other students and the community in the last year in addition to spending 6-8 hours per week in robotics meetings. We ran 2 weeks of FIRST Lego League (FLL) camps, mentored an FLL team and several FTC teams, including one in Albania. We have shared about robotics at several STEM festivals and a number of other community events.



Our team is learning and using important skills required in today's workforce: 3-D modeling using Solidworks, programming using Java in Android Studio, problem solving, following a design process, marketing, budgeting, fundraising, project management, and teamwork. Our students are future leaders in the workforce!



Our overall objectives for this year:
1.  Create a fun team culture - accomplished!
2.  Improve team member communication - did this by adding Discord!
3.  Accomplish strong autonomous program by state competition - Done!
4.  Scout every team in-division for every competition - done so far!
5.  Post regularly on social media - doing this well!
6.  Develop and fully implement new design process - done and effective!
7.  Create an award-worthy Engineering Notebook beyond the state level - definitely did this since we won Think 1st place at South Supers!
8.  Be fully funded through Super Regional competition - fully funded except for hotel costs.
9.  Encourage three FLL teams and inspire at least three FTC teams - did not meet FLL team goal, but did meet FTC goal.
10. Harness knowledge of mentors more (especially for programming) - have been pretty much been forced to do this with so many new programmers.
11. Retain all new team members through entire season - YES!
12. Advance to South Super Regional and be a judged award finalist - YES!

Super Regional Goals:
1.  Be a judged award finalist - We got 1st place Think!
2.  Have more fun than anyone else - yes, we think we did!
3.  Make friends - definitely did - especially bonded with 'Lectric Legends, our pit buddies from Kentucky!
4.  Finish in top half of our division - didn't quite do that b/c of communication delays between the phones during matches :(
5.  Have more advanced/consistent autonomous - Successfully added jewel mechanism in 4 weeks.

World Championship Goals:
1. Be nominated for Think award from field of 128 teams.
2. Try our best in the robot competition.
3. Make lots of new robotics friends.
4. Have the most fun by experiencing all that this World Championship event has to offer.

We have already come a long way toward reaching our goals, and we hope you will help us finish this amazing journey!

Join the Resistance!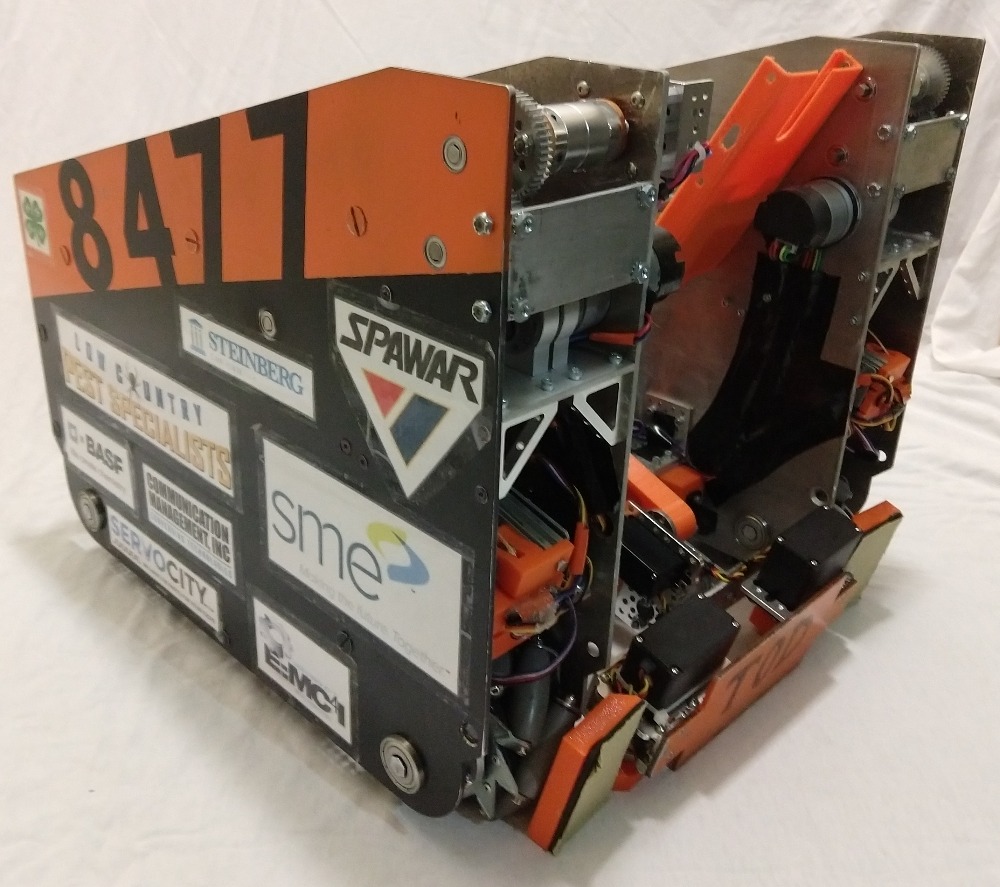 Many thanks to our Diamond and Mercury Level sponsors this season for getting us this far:
Diamond: 
   SPAWAR
   SME, Chapter 430
   Low Country Pest Specialists
Mercury: 
   Communications Management Inc.
   BASF Dispersions
   Steinberg Law Firm
   Nottoc Farms
   Dustin and Rachel Speer
Special In-Kind Donations:
   ServoCity - Actobotics FTC kit of parts
   E=MC4I - aluminum and waterjet services
+ Read More