The Oldhouser Home Flood Fund
$28,635
of $22,000 goal
Raised by
1,104
people in 40 months
On October 4, Hurricane Jaquin brought unprecendented rainfall in the Midlands area of South Carolina. My family home, located in Sumter, suffered extensive water damage after a nearby dam gave way and disgusting lake water flooded every room.
While I was not living there, I regularly made trips back home. There was a family wedding on Oct. 3, so my mom and grandmother were going to be out of town and she needed me to take care of our disabled cat (he's very personable, but his legs don't work).
Here's my mom and our little disabled buddy:
When the flood began, I immediately started putting important photo albums and electronic devices on higher ground. It quickly became obvious that the water was going to keep rising and rising, but I had nowhere to go. The front yard was replaced with a lake that rose as high as the raised flag on our mailbox. Even if the street wasn't a stream, I'm a mostly blind guy that can not drive. So, I was stuck.
Here's a look at our front & back yards, before the water rose way higher and got inside the house: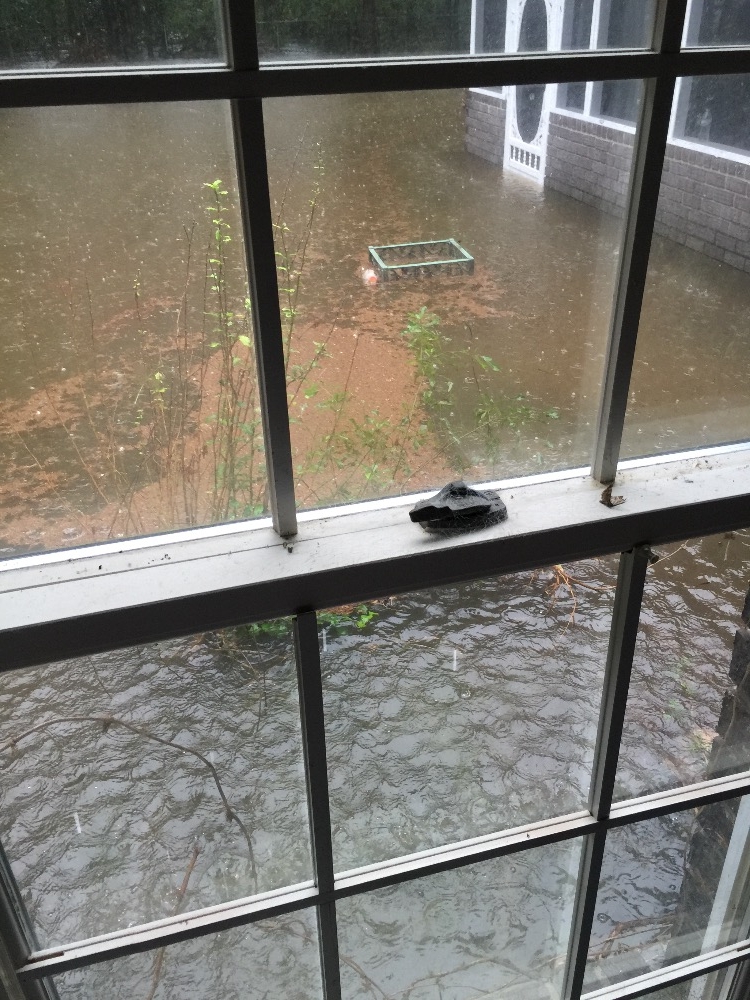 Here's some pictures after the water first got inside the house: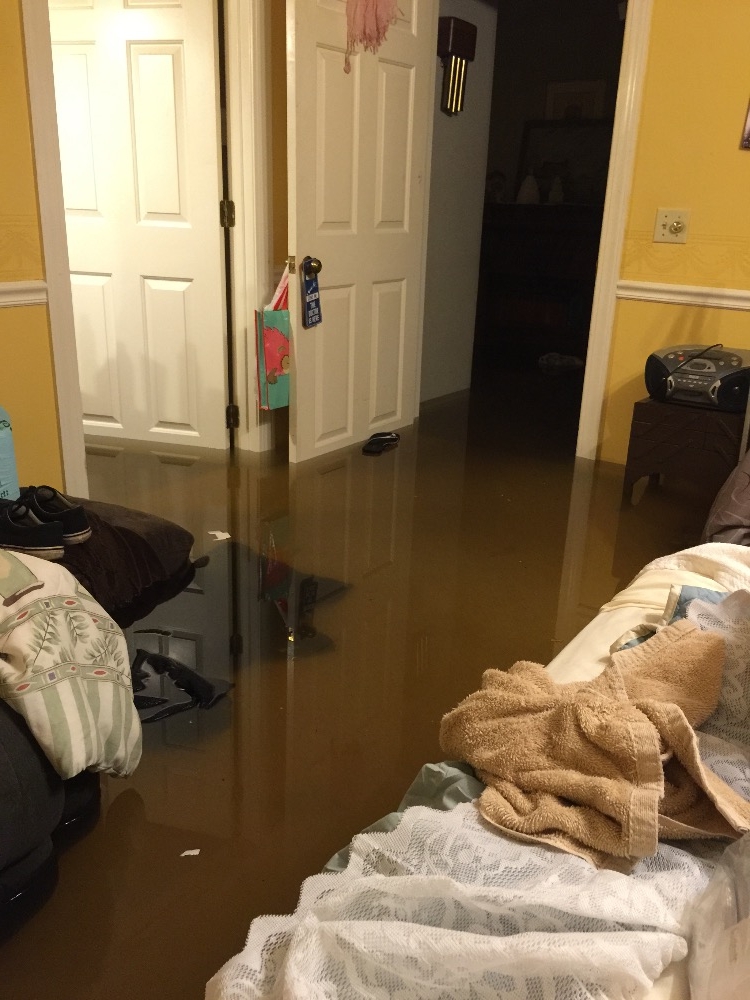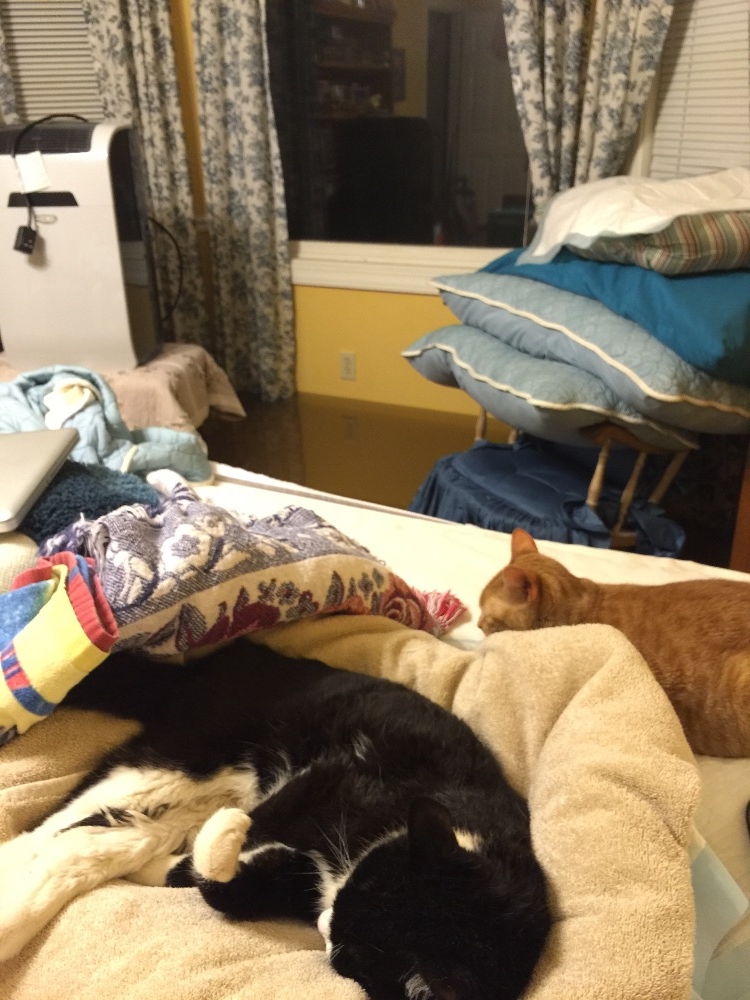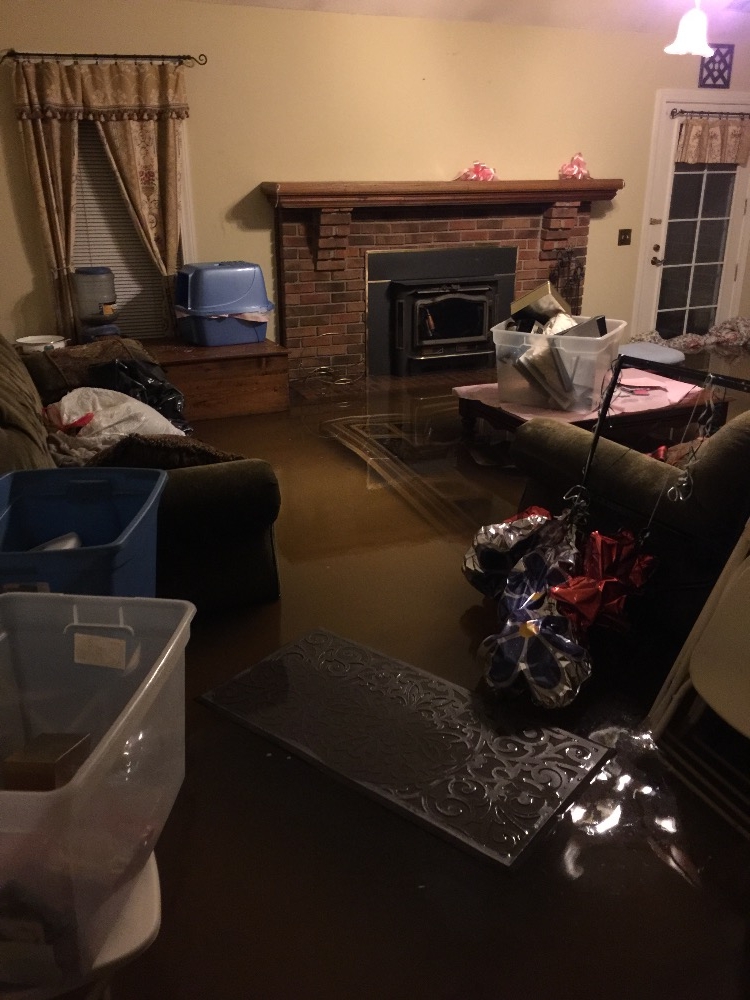 By the time the water was reaching wall sockets, I splashed my way to the breaker and shut everything off. I then sat on my mother's bed with her animals, listening to podcasts  while I watched the water reach the previously dry higher ground. Sometime after midnight, my neighborhood was bad enough for rescue workers to pull people from houses by boat. The rescuers would not allow pets, so I asked them to come back after getting others while I wrestled with staying vs leaving. I called my mom and she assured me that my saftey came above the cats (though it still broke her heart).
I returned, by boat, as early as possible to retrieve the cats. They all thankfully survived (I put them on as high of ground as possible), though a bit in shock. My mom returned from the rain-free wedding and, after we could access the house by car, we evaluated the damage.
Here's a few pictures of some immediately apparant damage: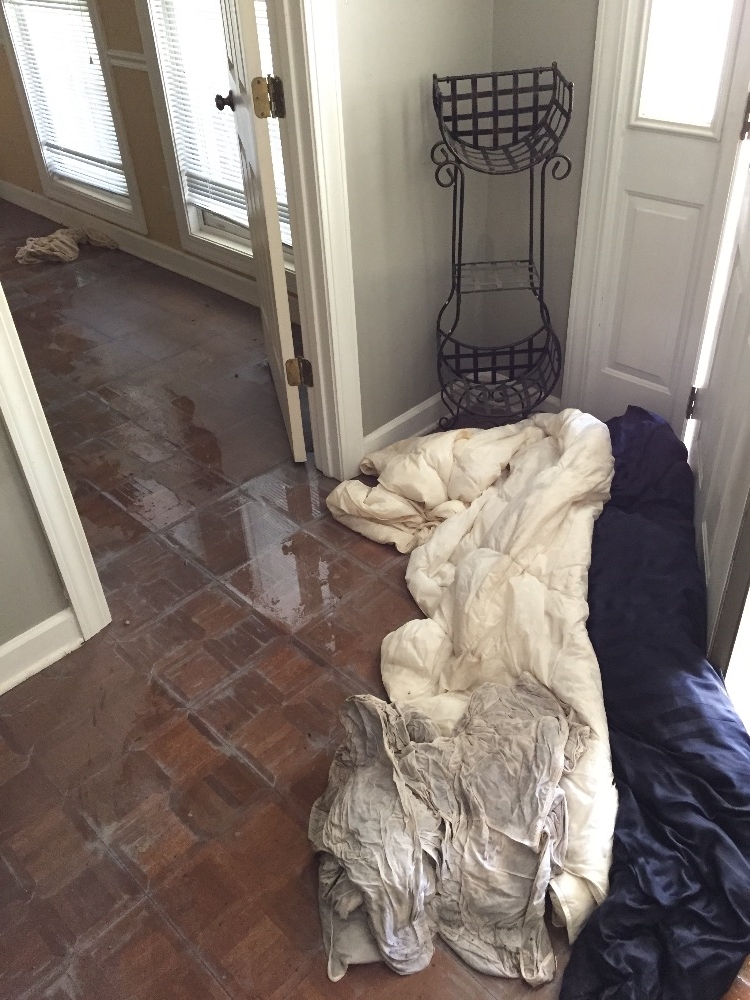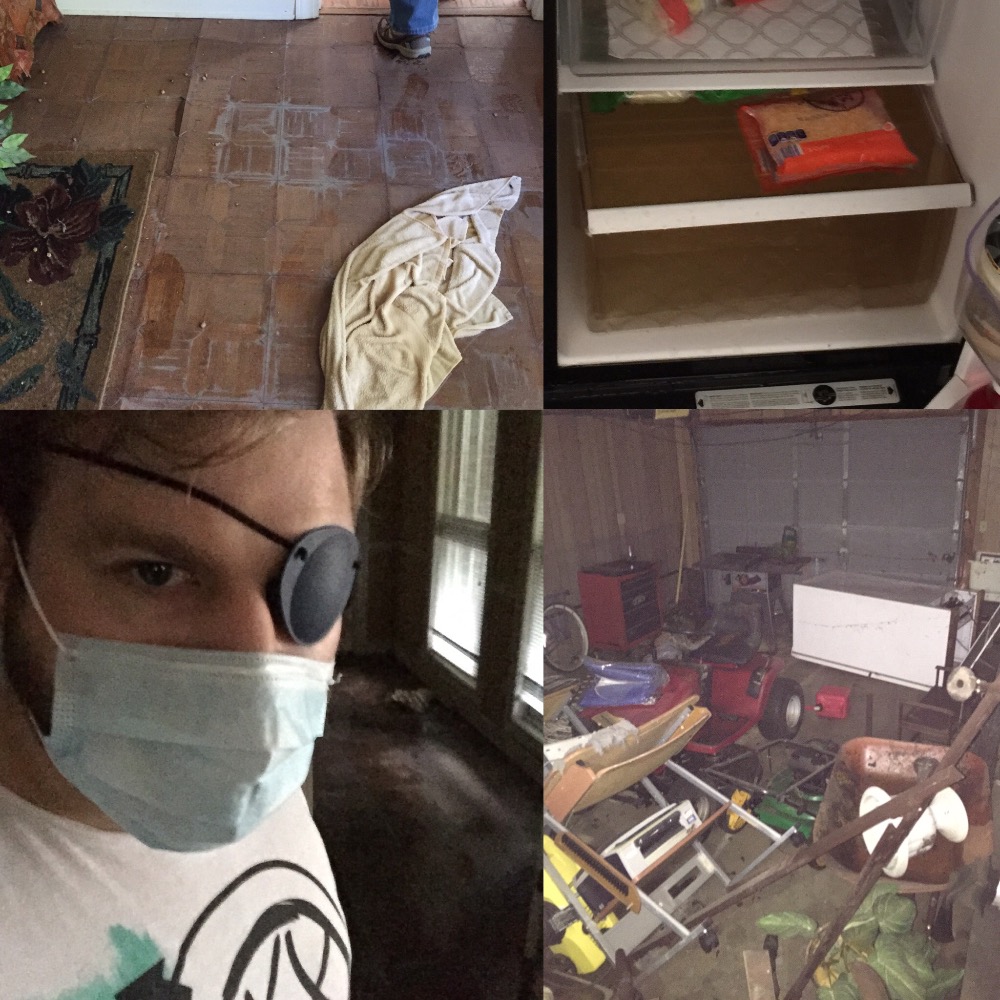 Mold  already began to grow. The smell was so awful and nauseating, you had to wear a mask to enter. Everything was soaked: beds, couches, counters, dressers, clothes, carpets, appliances, photos, home videos, childhood stuffed animals, vinyl records, Christmas decorations, and more. It turns out the water reached nearly waist level. Floors were buckling, walls were growing mold, and all carpets were forever unclean, so we acted fast and hired a clean up crew to rip everything out and chemically treat the house. 
Instagram Video of Our Pile of Destroyed Stuff
Here's the gutted house: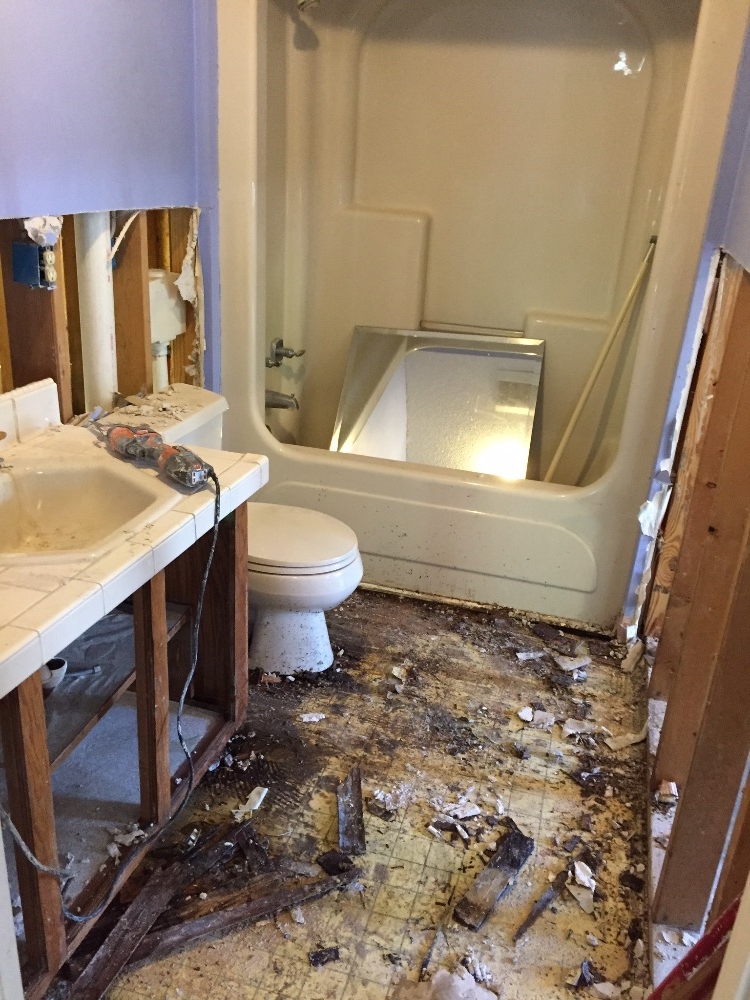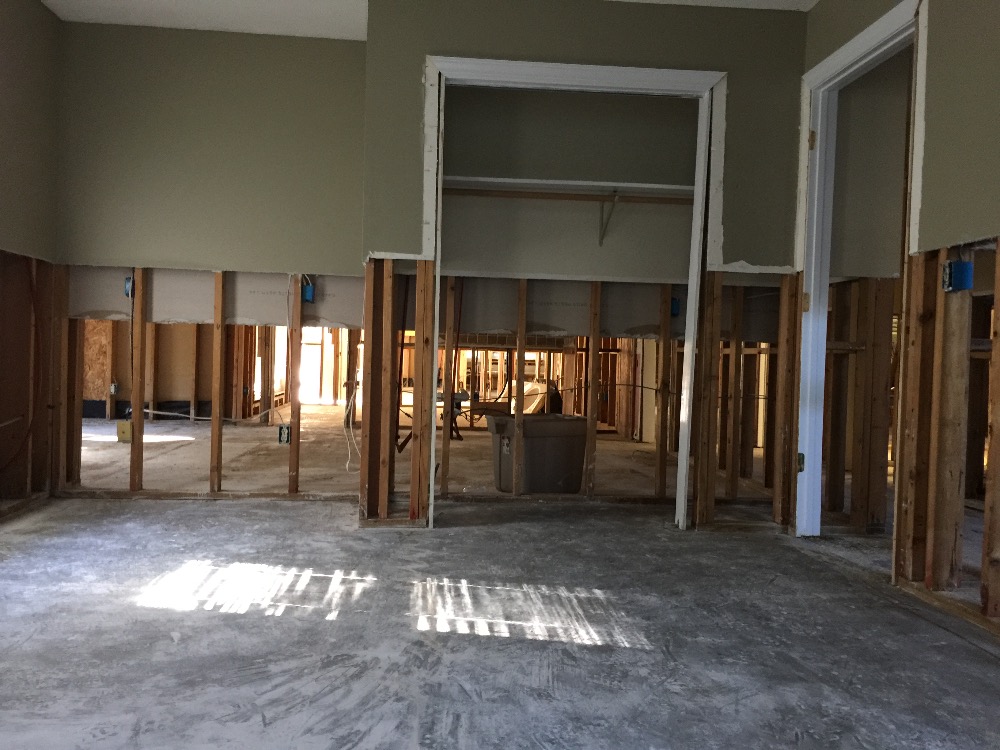 The goal is set at $22,000. We don't realistically expect to reach that amount, but I guess there has to be a substantial goal in this type of scenario. FEMA inspected the house and gave $28,000 but ServePro (the clean up crew) cost $22,000. That leaves little for my mom to rebuild the house, especially considering the lowest quote for reconstruction is around $30,000.
Fortunately, this gofundme is not our only potential resource. A few local strangers have graciously given what they can. My brother and I also have some money saved up between us (he's a tattoo artist and my income is Social Security Disability). She is apprehensive to the idea of accepting , as she puts it, our "money for the future."(Obviously we won't listen to her and will put what we can into reconstruction when the time comes). Also, we will continue to seek out any qualifying govenment or relief aid.
As you can expect, this has been an emotionally draining time for my mother. I may be biased, but she is the greatest woman I know and she deserves a place to call home. This is all so surreal, especially for her (looking through moldy family photos isn't exactly uplifting). Any person that helps us out will forever have our gratitude.
Thank you for taking the time to read our story. This house means so much to us and we just want it back.
-Alex Oldhouser
+ Read More