Help Mike Rescue More Animals in Need!
$11,020
of $10k goal
Raised by
160
people in 35 months
I don't know anyone else like my friends Mike Stura and his wife, Wendy.
They are not your ordinary animal lovers and animal advocates. They don't wait for paid jobs in animal rescue or for support for their work – Mike just does it, with Wendy as his support team – and they do it all on their own dime. Because of them, so many animals have gotten a chance at a life free from harm. In particular, because of Mike's choice to be a person of action, instead of someone who waits for other's to act, life after life has been saved.  He has proven time and time again he is willing to do whatever it takes to get an animal who is in trouble to safety.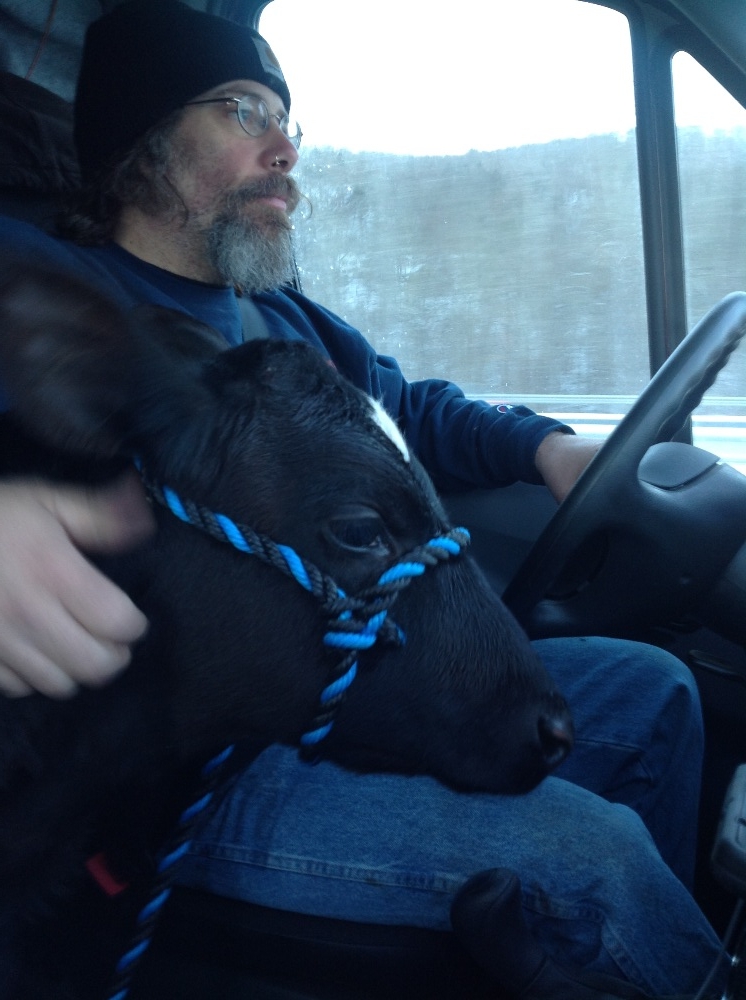 (Mike transporting Jimmy, a recently rescued cow, to the vet - he has now given Jimmy a home!)
It all started a few years ago, when Mike and Wendy learned more about the cruelty and suffering so many farm animals face. To say that this changed their lives is an understatement: it became their mission to save animals.  Although he and Wendy both have day jobs, Mike put to use his skills in the trucking industry, and whatever resources he personally had, to rescue and transport hundreds of animals to safety:
See Mike, fast becoming known as "The Cow Rescuer" - featured in this Channel 4 news piece:
But he hasn't stopped there. Faced with the reality that there are not many safe forever-homes available for rescued farm animals (the few accredited sanctuaries are often operating at full capacity and can't take in every animal in need) Mike has started building a haven for farm animals of his own.
So far, with his own limited funds, he has done the following:
- Purchased a sturdy trailer that enables him to rescue and transport several large farm animals at a time from situations of neglect and danger
- He has sold his own car, a Jeep, to be able to buy a second rescue vehicle: a large van that could more comfortably and safely transport smaller and mid-size animals, leading to even more animals being rescued
- Learning that three goats he rescued needed a permanent home, he then fenced an area on the property of his family business and created housing and pasture for them, and is paying for all of their medical expenses
- He recently rescued a young male dairy calf that had been destined for slaughter (they are the cast-offs of the dairy industry). Finding that there was no sanctuary able to take the little cow, Mike didn't hesitate: He used his own funds to purchase a small barn so the calf, Jimmy, could remain safe.  This was a huge expense, but the reality is there was nowhere else for the growing calf to go.
- He has done volunteer transport of dozens of animals on behalf of other rescues and sanctuaries: pigs, sheep, llama, alpaca, goats, cows, ducks and chickens to safety… and 
at one point being the person to safely transport hundreds of chickens to sanctuaries
after a massive rescue of birds from an abandoned egg factory farm (see NY Times link below).
Mike's efforts are tireless.
What he does is
WAY 
beyond transport: it involves working into the night for hours to locate animals in distress, as well as spending hours and days and even weeks calling sanctuaries around the country in efforts to secure safe and loving homes wherever they can be found. And he has done all of this (with Wendy at his side in supporting these efforts, assisting and caring for many of these animals) without seeking any support or financial assistance.
It doesn't stop there:
 Mike has spent much of the last four years volunteering at animal rescues, doing educational tours on weekends as well as contributing
untold hours
of labor helping repair and maintain the outbuildings and vehicles at local non-profits.  His voice as an educational tour guide was so powerful and affecting that word has spread and he has started being invited to do talks, such as one opportunity recently for students at 
Monmouth University,
by invitation of the school's Veg Society. 
****
Everyone who has ever met Mike knows he has everything it takes to run a top notch sanctuary:
* He knows animal care inside out from his years doing volunteer work and educational talks
* He understands shelter staffing and responsible management from helping run his family's trucking business for years, and on top of that he took the FS course in shelter operations, management and animal care, as well as breed-specific education at Cornell... and...
* His ethics are unparalleled, for animal rights issues and beyond.  
Reading the comments from so many of the donors who have been moved to support this, it is amazing to see how Mike's big-hearted efforts and advocacy have reached so many people.
****
The financial reality is Mike can't keep going like this forever without our support, and he is not the type to ever ask for help. So I am moved to reach out to the larger animal-loving community to ask:
if we can fund vegan shoe, hand-bag or condiment kickstarter campaigns, or raise $80,000 for a new food truck for the (vegan geniuses) at Cinnamon Snail, then I KNOW we can support what Mike is doing and help him help more animals!
With our support, these direct action rescues can continue and a new sanctuary can be built! Let's show Mike we have got his back - the way he has the back of so many animals who have been lucky enough to be rescued by him.  In raising $10,000 we start to show the love: we help pay for the new barn and medical expenses of the animals currently in their care, and it means Mike and Wendy know they are not alone in their efforts.  If we raise more,
A NEW WORLD-CLASS SANCTUARY COULD BE BORN.Read below for more information, watch the video, and see the faces of some of the animals Mike has helped… now, with our help, Mike can help so many others! Thank you, hugely, for your support!
Mike with Otis, helping lead this little goat to a safe haven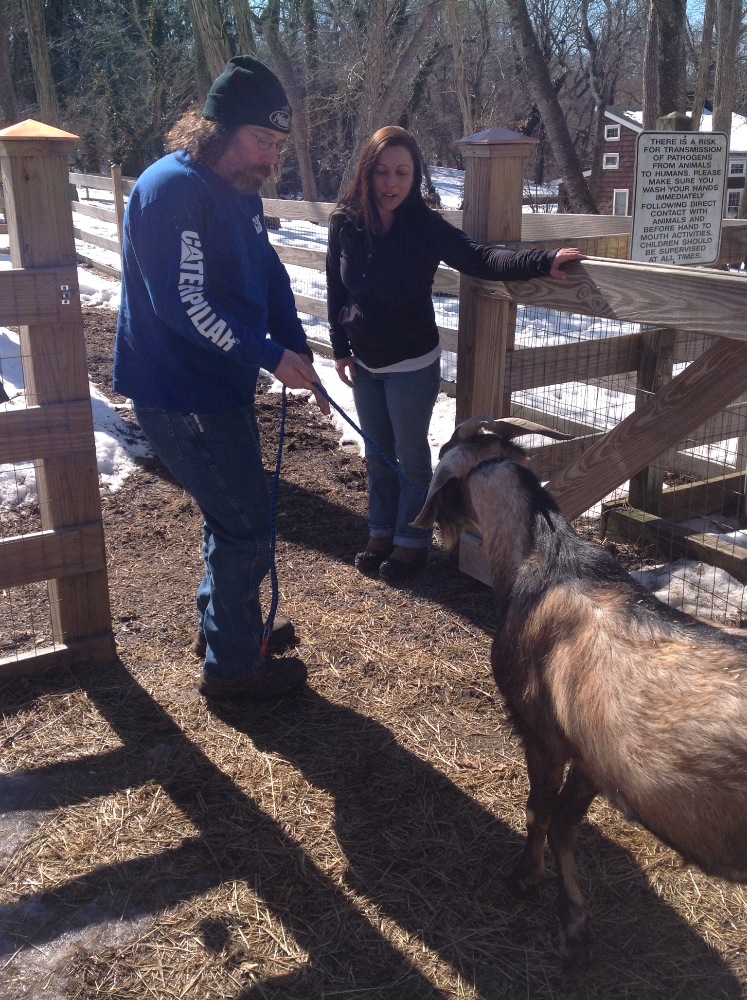 Jimmy on his rescue day: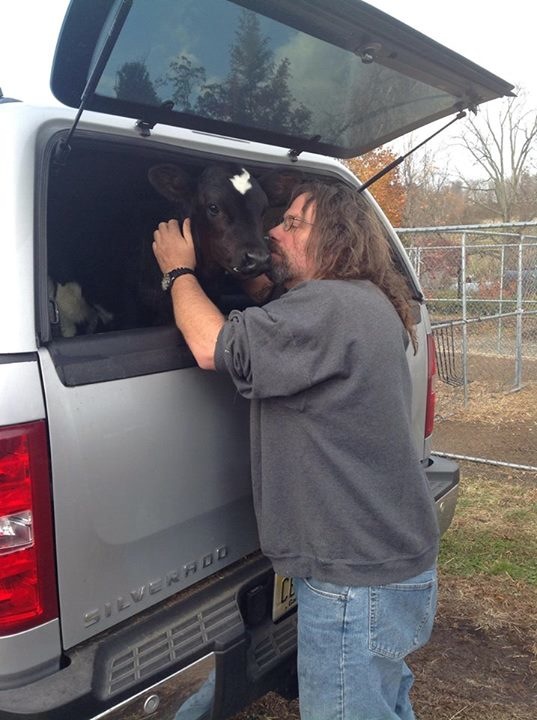 Beautiful Aysha.  Mike entered a slaughterhouse and his words of simple compassion led to him being able to walk this sheep out of hell, to freedom: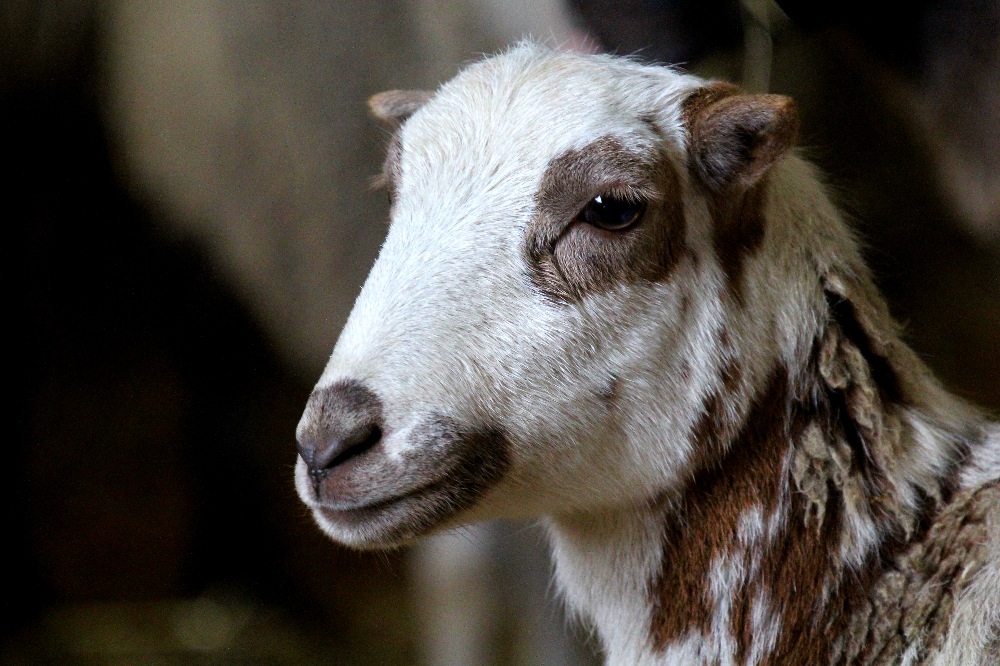 Wendy with one of the rescues they brought to Farm Sanctuary! "Michael," whom has since been featured in FS's news and in their Calendar.
Links to beautiful stories of animals Mike has rescued and brought to Farm Sanctuary:
Aysha the Sheep
Michael the Dairy Calf
FS's Blog post about the chicken transport (Mike drove the eastern, post-flight leg):

400 Chickens Transported
Mike and other good souls unloading the rescued chickens for the next leg of their journeys to sanctuary in Mike's Trailer: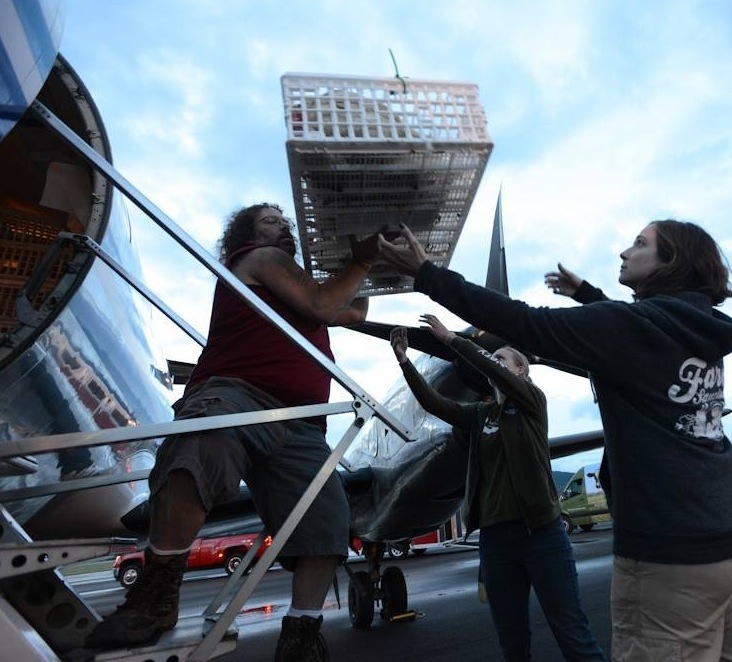 Going to get a sweet little Bohr Goat out of a city shelter, to sanctuary:
The New two-stall Barn, just getting set up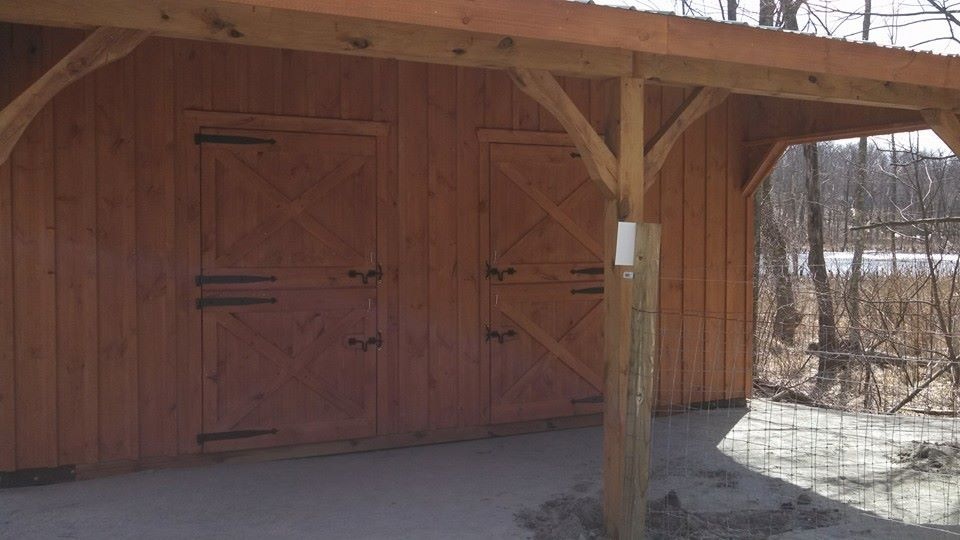 To sum it all up in another way: If we all just contribute the cost of one vegan latte or what we'd pay for one yoga class, Mike can translate it into saving lives.  
There are not many people, ordinary citizens, who learn about a farm animal in need (especially a cow or a pig) and get off the couch, let alone be immediately moved to act to save that animal.  There are certainly not many people who go out and spend money on a trailer when they learn that no one else has the ability to transport a large animal who needs help.  
There are not many people who, upon rescuing that cow and finding that no shelters have room for him, will dig deep into their own pockets to PURCHASE a small barn, do all the labor putting up fencing that is needed and provide all the medical care and food so that cow and others can be safe from harm...
Mike and Wendy have what it takes and are doing so much more in starting to create a haven of their own for formerly abused, rescued animals.  They have not just opened their home and hearts to only Jimmy the sweet little rescued calf (who is growing, fast!) but the new barn which has two stalls houses three goats Mike rescued as well, and at their home they give haven to smaller rescues: ducks, chickens and dogs.
Their coffers are not endless, but they are showing by their ACTIONS that they will help all the animals they can, with whatever they have.
As someone who has worked at sanctuaries, I can tell you: so many souls have to be turned away due to lack of space.
 We need more havens for rescued farm animals - and Mike and Wendy are doing the work.  Let's show them that we appreciate and support their efforts - for the other animals like Jimmy, who are out there waiting for someone like Mike to come and get them to safety.
Thank you so very much!
Sincerely,
Rebecca Moore
P.S. As a humble offering, the first 20 people who donate $100 or more will get one of my ANIMAL LOVER=VEGAN HATS, as seen below on Mike (with a rescue) as a token of gratitude. 
Some more rescues of Mike's: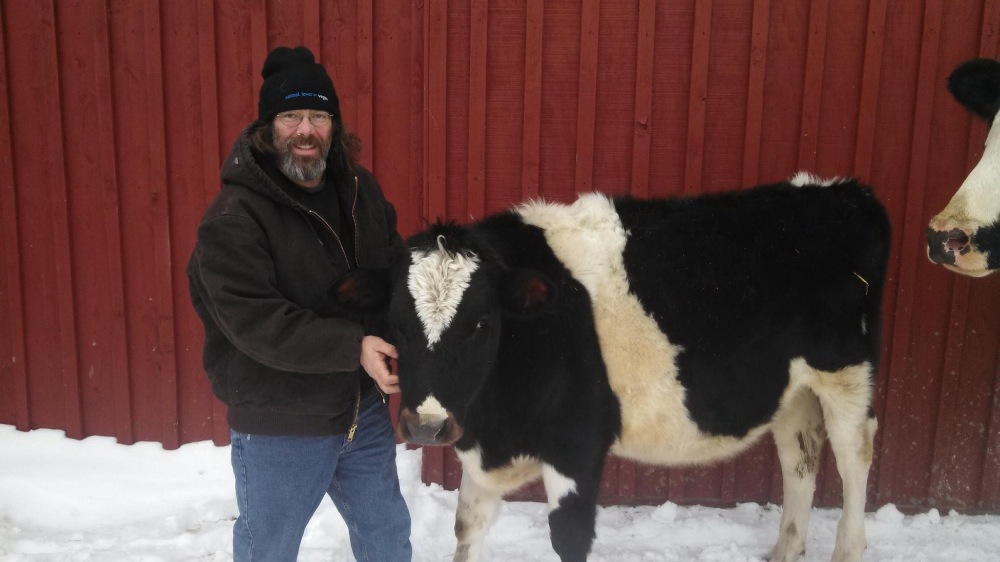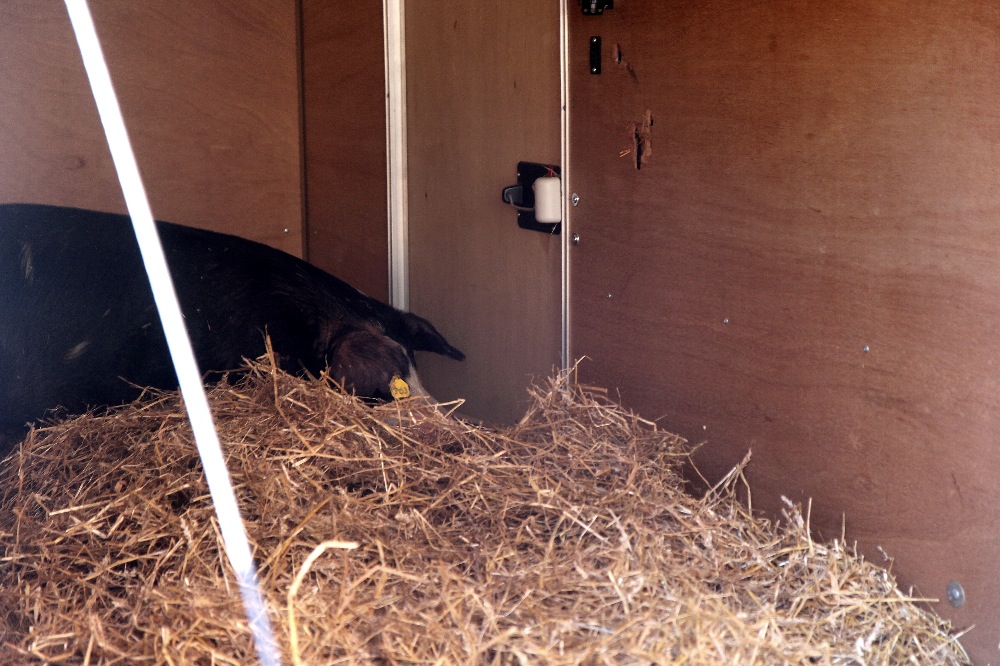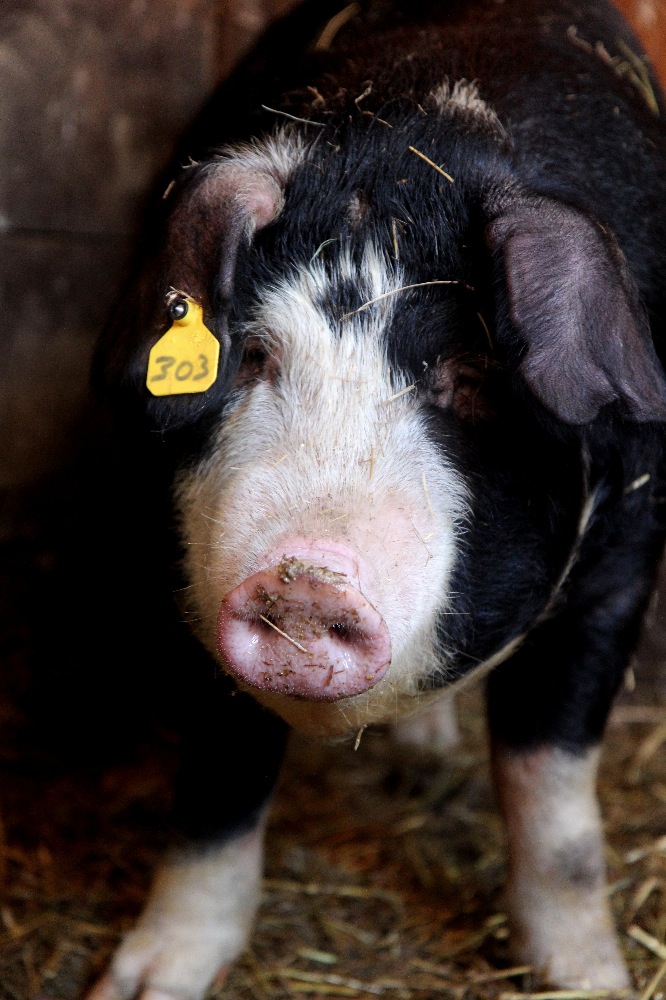 Wilfred, Churchill and Sadie getting used to a lovely life with the Stura's: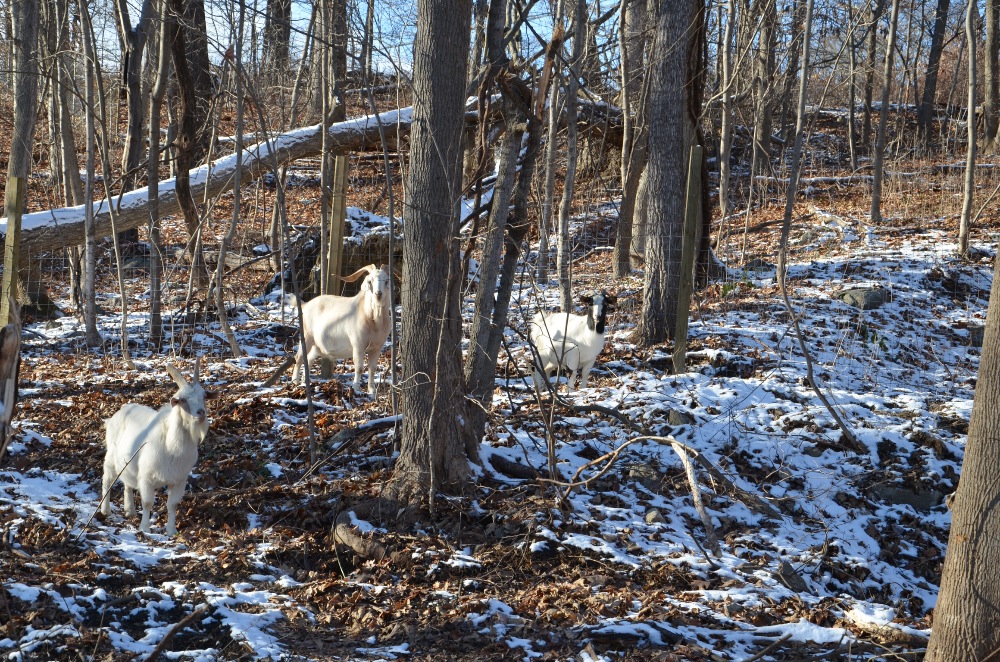 Hanging in the new barn with Jimmy - and Sheila's picture, overhead:
Wilfred, Churchill and Sadie getting used to their new digs!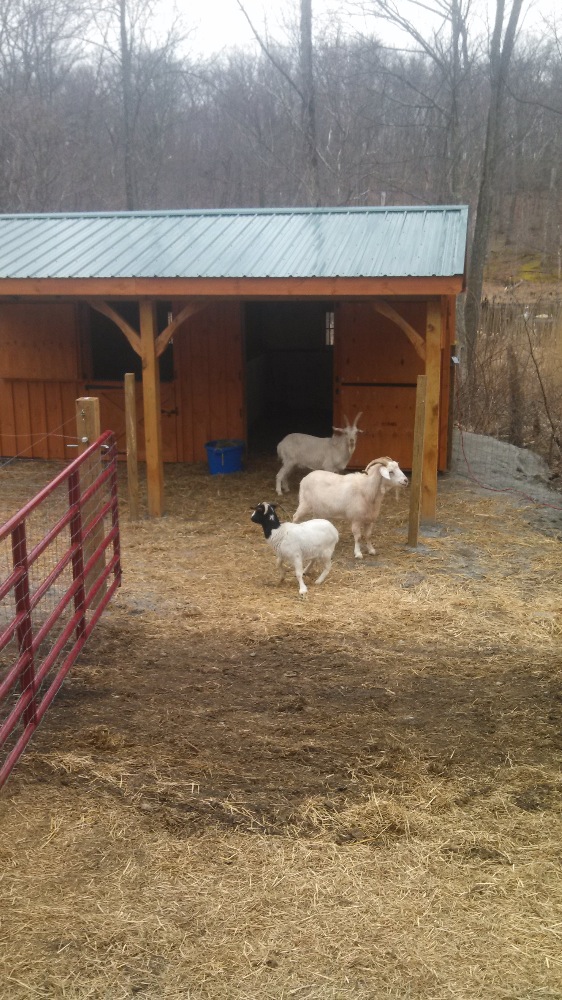 THEIR EFFORTS IN THE NEWS:

Photo of Mike in the NY Times picking up 400 Hens for Transport to rescues!
Hooray! Mike & Wendy received a Pollination Grant for the work they are doing! This kind recognition is truly meant to be a more-than-symbolic seed that will help their sanctuary grow:
http://www.huffingtonpost.com/ari-nessel/protecting-the-sanctuarie_b_5442559.html
Mike, with Wendy assisting, did a talk with presentation in Union Square this weekend for the 4th National Animal Rights Day (photos):
https://www.facebook.com/photo.php?fbid=10152296302903229&set=a.10152295629198229.1073741942.576343228&type=1&theater
FOLLOW MIKE AND WENDY ON FACEBOOK TO SEE AND READ ABOUT RECENT RESCUES, WHICH CONTINUE!
Mike on facebook:
https://www.facebook.com/friendsnotfood.org
Wendy on facebook:
https://www.facebook.com/wendy.stura?fref=ufi
Mike on Twitter:
https://twitter.com/CritterMike
Wendy on Twitter:
https://twitter.com/CritterWendy
Rebecca on Twitter:
https://twitter.com/MikeSavesCows
Ski Caps for the first 20 people to bid $100 - you'll be ready for next years' winter animal rescues!

There is still time to get your name added to the final version of the barn sign!  We have a temporary one that will get updated:
Dear little Andrew the Duck thanks you for your support, too (pictured taking a swim in their tub on rescue day, before the outdoor home was installed for him at the Stura's!)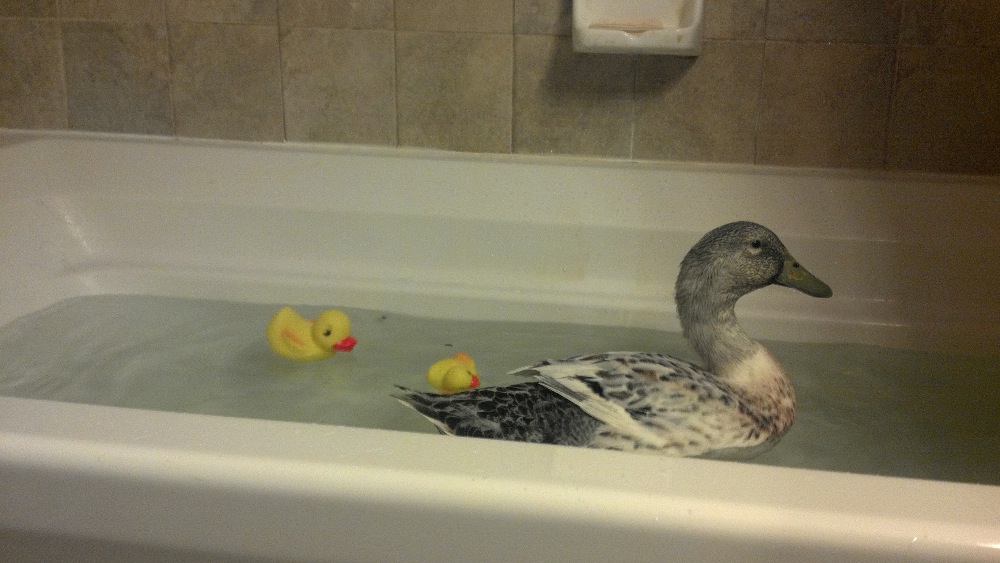 A mission as indelible as the tattoo ink on the man's arms:
(This photo of Mike by Debra Roppolo)

POSTED 6/19/14:  Mike and Wendy posted this sweet thank you, below, from Jimmy (of course!)  Thanks for your kind support in helping them pay for the house for dear Jimmy and be able to keep rescuing more animals.  The names of each and every person who donates to this "barn-raising" will have their names on a sign in the barn forever more, for being a part of this!



The rescues continue!  Find out more at:
https://www.facebook.com/friendsnotfood.org

+ Read More
Be the first to leave a comment on this campaign.