Medical Fund for Marivic Apelinga
$552
of $5,000 goal
Raised by
11
people in 8 months
We are knocking at your benevolent hearts to kindly help us in this campaign to raise the much needed financial aid for a Public School teacher in the Philippines,
Marivic C. Apelinga
.
In her pink of health, she used to mold the minds of the youths but because she was diagnosed to have
complex autoimmune disease
, her physical health gave up and it sapped her not only of her usual energy and zest but also of her monetary resources. She had to endure a massive drain of funds so she can undergo a surgery to get rid of the burgeoning knee caused by
septic arthritis
.
With the precarious health care system in the Philippines wherein you have to fund your own self in order to get the care and treatment needed and to secure a good if not quality service from hospitals, Marivic was left with little choice but to take various forms of government loans so she can continue to undergo treatments and medications which left her literally penniless and in deep debt. She still owe the hospital  for her recent surgery.
BACKGROUND:
In February 2014, Marivic had these symptoms: massive hair loss, butterfly rashes, fever was on and off; she was diagnosed to have
Raynauds phenomenon
; she had
lupus
as a symptom. She had discoloration too; she became faint, bluish or blackish at some point.
The doctors initially suggested for her to undergo chemotheraphy if she did not opt for the surgery to remove the huge accumulation of pus on her knees.
Only a small percentage of people who have Raynauds phenomenon develop
scleroderma
. Unluckily, Marivic was among them. It is a chronic ailment with NO cure; it means she will have to deal with it her entire life. However, it can be managed by undergoing treatments and medications. She will need USD 5,000 to be able to religiously undergo treatment for two years.
Marivic is on leave without pay for two months now and is strapped in a wheelchair. She was advised to undergo another round of surgery to get rid of the lump of pus on her knees but she is incapable of financing for it.
We are seeking for your help and support to somehow alleviate Marivic's plight. Any amount would mean so big!
Thank you and God bless your kind and generous hearts!
NOTE:
This campaign was initially spearheaded by our Grade School classmate Erickson when he got wind of Marivic's condition in 2014.
We thought of  setting up this page so we can get wider reach  and mileage thereby  quickly benefitting Marivic once the goal is reached.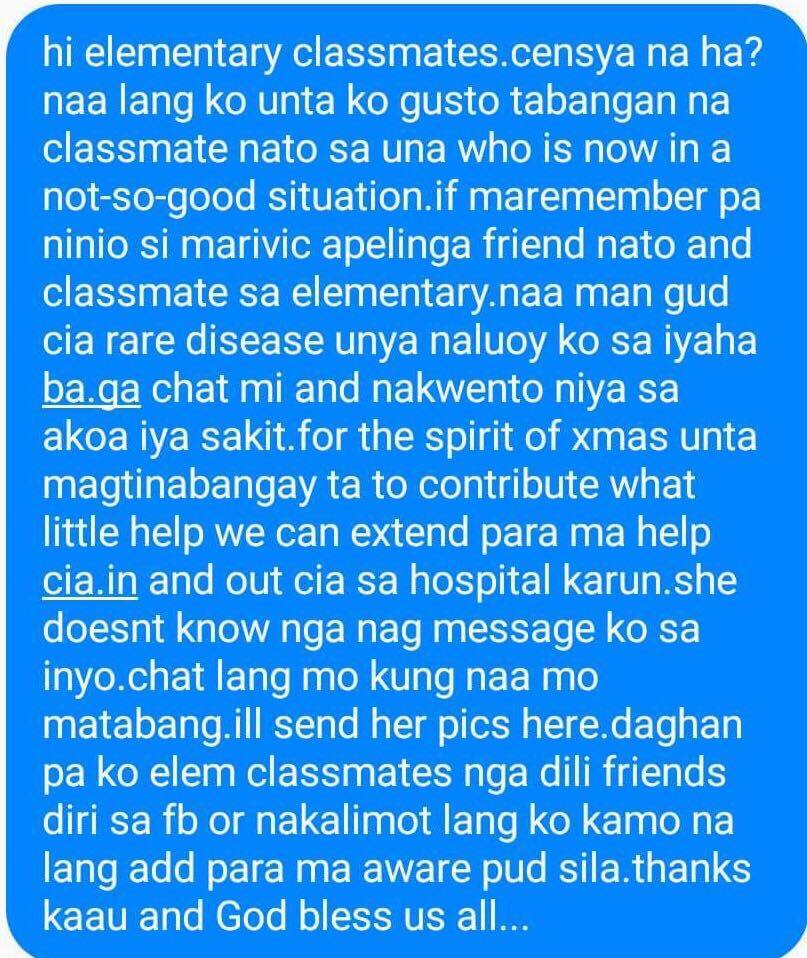 + Read More
Be the first to leave a comment on this campaign.