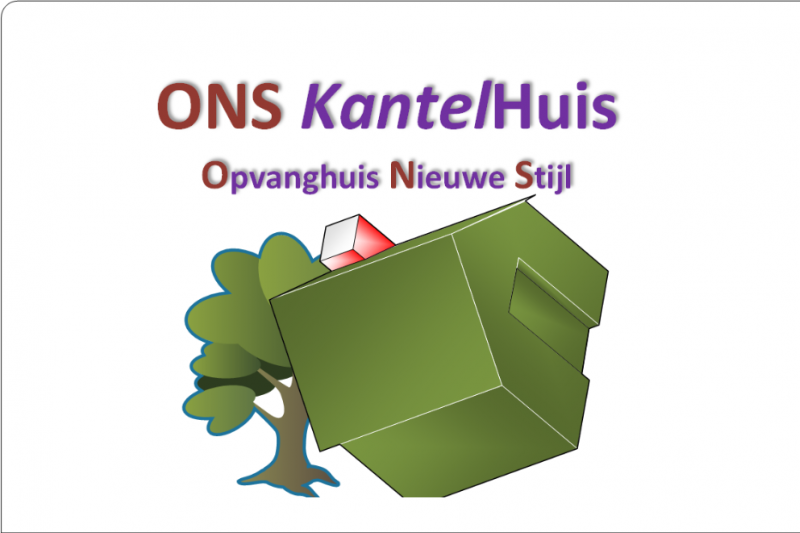 14
12
Opvanghuis Nieuwe Stijl
€7,167
of €500,000 goal
Raised by
33
people in 8 months
ONS KantelHuis - The House of Shift - 
Ik droom van een plek, mensen en mogelijkheden om  een dynamische community voor sociaal kwetsbare mensen te realiseren. Een time out plek met een deel vaste bewoners 'the keepers van het huis' en een deel tijdelijke bewoners. Dat deel is voor sociaal kwetsbare mensen.  Daar doe ik het voor. 

Elke euro is welkom en als je het minimale bedrag van 5 euro je nu 'teveel' is of je hebt geen creditcard,  je kan ook rechtstreeks naar Stichting Herkansing je bijdrage overmaken. NL 93 INGB 0000 7737 64 o.v.v. ONS KantelHuis.

Berichten van mij over ONS KantelHuis delen met jouw contacten is ook fijn.  Zo help je mee aan het verspreiden van deze Droom.

Ons KantelHuis, een plek waar mensen even een time-out kunnen nemen. Waar ze meedoen aan het huis realiseren en in stand houden. En waar ze met een programma voor persoonlijke ontwikkeling en bewustzijnsvergroting, daarna met een andere blik hun leven weer kunnen oppakken. Ik zie een centraal gebouw voor me met daaromheen tiny houses of ander manieren van 'wonen' en zoveel mogelijk 'of the grid' gebouwd. Met een eigen voedselvoorziening en bijvoorbeeld een zwemvijver en nog meer... Voor iedereen die daar woont is er sowieso een programma (gebaseerd op de Past Reality Integration theorie) het eerste wat je kunt leren eigen te maken. Een programma wat helpt om bewuster te kijken naar 'wat er gebeurd in de interactie met anderen en jezelf' en vooral hoe dat 'reageren' anders kan worden als je 'eigen reageren'  belemmerend is voor jezelf en voor het open samenleven binnen ONS KantelHuis. Deze kennis neem je mee wanneer je weer je eigen leven oppakt. 
Dit programma is er om een menswaardige (emotionele) basis te hebben voor een gezonde manier van zelfreflectie waarop een 'open hart samenleving' kan worden gebouwd en iedereen een bedding in kan vinden om een herstart te kunnen maken. Ik heb een plan voor wie dit wil lezen met nog veel meer ideeën dan hier beschreven staat. Hierin staan ook ideeen om  zo goed als 100% zelfstandig te kunnen worden en op den duur zo 'of the grid' als mogelijk te zijn.
Waarom in Nederland? En niet in Frankrijk, of Portugal of zo, waar  vergelijkbare communities zijn en ontstaan?

1. Omdat we hier vele armen en uitgeslotenen hebben die door ons systeem vaak nog verder 'gekwetst' worden  waar ik graag iets 'ondersteunend' voor wil realiseren en
2. Omdat ook die communities die nu aan het ontstaan zijn vaak alleen toegangelijk zijn voor mensen die enige vorm van kracht en financieen hebben om zichzelf 'in te werken/kopen'. 
Waarom een duurzaam, of the grid community voor sociaal kwetsbaren?  Omdat er van alles te 'koop' is voor persoonlijke ontwikkeling, maar slechts betaalbaar voor mensen met voldoende inkomen. Terwijl ik denk dat juist deze groep hier zo ontzettend veel aan kan hebben.  En juist deze instrumenten wil ik beschikbaar stellen via een 'ander uitwisselingssysteem'. En omdat de meeste communities die in Nederland aan het ontstaan zijn, net zoals die in het buitenland voor en door mensen zijn die het zich kunnen veroorloven, waardoor de 'nieuwe samenlevingsvorm' helaas de sociaal kwetsbaren (weer) uitsluit. Dat moet toch anders kunnen? 
Dat wil ik anders. Ik wil een beweging starten van dit 'opvanghuis' nieuwe stijl. Een beetje in de lijn van 'De Nieuwe GGZ ' waar de mens weer centraal staat. De vragen die in ONS KantelHuis gesteld zodat iemand aan de slag wilt gaan zijn vergelijkbaar, Vertel 's, hoe heeft u uw leven tot nu toe geleefd, wat heeft u allemaal al gedaan, waar zit u het meest mee, hoe wilt u dat het wordt en hoe kan ONS KantelHuis u daarbij helpen? 
ONS KantelHuis zal via Stichting Herkansing gerealiseerd worden. Mensen die meedoen (werken, leven, wonen, vast of tijdelijk) blijven autonoom.
De € 500.000 zijn om een basisplek te kunnen 'aanschaffen' en een start te kunnen maken met het uitbouwen van de community, het andere opvanghuis. Dat kan een bestaand gebouw zijn, een voormalige campingplek, een boerderij waar de bestemming van gewijzigd kan worden, of een stuk land waar dit op kan ontstaan.  Het hoeft niet meteen af te zijn, juist niet. Want dit huis gaat samen met de bewoners ontstaan. Zo zie ik het voor me. 
Jouw steun hoort hierbij en is precies wat er nodig is om vanuit de mensen zelf dit idee te laten ontstaan.
Het is te gek dat we dit samen gaan realiseren en ik zie er naar uit om jullie, als donateurs, in ONS KantelHuis te verwelkomen voor een 'eigen' time out moment. Een time out moment welke dan als 'gift' voor jullie terug komt. Deze eigen time out is in overleg te plannen, zodra ONS KantelHuis er is en er voldoende 'plek' is voor 'bezoekers'. Wil je op nog meer manieren meewerken, neem dan contact met me op door dit bij je donatie aan te geven met de wijze waarop ik je kan bereiken erbij. 
 We doen het gewoon zelf en jouw bedrage hoort hier absoluut bij. Het kan wel!
Quinta
+ Read More